Mobile devices are getting to be pretty great for gaming. If you have an iPhone or iPad, you could be playing original titles that are absolutely incredible or ports of PC games that look as good as they would on a laptop or desktop. However, they do get a bit restricted, as you are limited to the portable device. What if you wanted to play it on a larger screen? Well, with a GameSir GTV100 , it is possible. One cord and one compatible iOS device is all you need to get gaming.
The GameSir GTV100 is a plug-and-play cord for iOS devices with iOS 8.0 or higher, with iPhone 5 being the earliest phone model and the iPad mini 2, iPad Air 2, and later devices being among the tablets that support it. You take the cord and plug the lightning to USB cable into the GameSir GTV100's USB port. The GameSir GTV100 HDMI cable is plugged into a TV, monitor, projector, and its USB power cable is plugged into an outlet. Your game, or whatever you are doing on your iOS device, will be streamed onto the device of your choice without any extra work on your part.
It is all thanks to the GameSir GTV100 GPU. This cable actually has a dual-core CPU and quad-core GPU. The goal is to reduce latency, so there's no lag, render your game in up to 1080p, and run at 60hz. It should be a perfect transfer that keeps everything running smoothly and at the same speed and clarity you normally see on your phone or tablet. You just get the benefit of up to a 1920 resolution and big screen display. The ThunderTrans technology is designed to keep it looking good while avoiding framerate drops.
You might wonder about the cord length. After all, this can be a problem with these sorts of cables. Can it stretch far enough to help you play? Well, its cables are 3.28 ft. long. The lightning cables that come with iOS devices tend to also be about three feet long total. It should be enough to get by, though picking up another lightning cable that is a bit longer, like six feet perhaps, would allow you to still use your device as a controller while you enjoy watching what you are doing on the big screen. In fact, it would probably make games with virtual joypads, like Fortnite, Jade Empire, or Skullgirls, more enjoyable.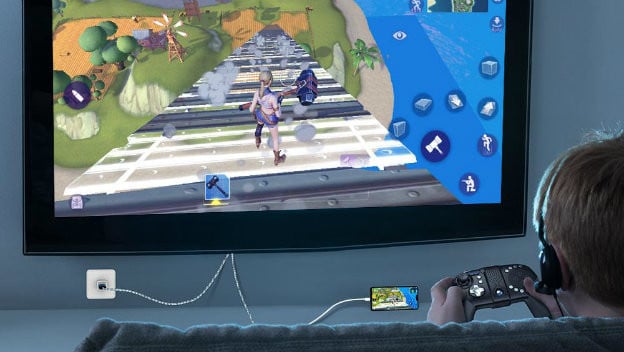 However, you could go a step further and end up considering your iPhone or iPad a little console with the GameSir GTV100. If people have a wireless Bluetooth controller that works with their iOS device, then you could use that to enjoy all of your games. GameSir even has G3s, G4s, G5, and T1s controllers that pair perfectly with phones or tablets and allow people to use this special cable to make your device even more of a microconsole. It's all about adaptability. $19.99 gets you a cable that can go anywhere, connect to lots of different displays, and enjoy a more versatile experience.
Think of it as an option for people who might want to try doing more with an iPhone or iPad. After all, people are paying hundreds, or even $1,000, for these devices. There is a huge game library there. Getting a different way to play and appreciate those titles could be great. Especially with the GameSir GTV100 being only $20. It's the sort of thing you may want to take a risk on, then discover it was worth the investment for giving you more options for some games you love.