Publish Date: Thursday, June 25, 2020
If you game, there's one certainty in your life. You very likely have a lot of controllers lying around. Each console has its own default controller. But you might not like those, so you buy extra ones that are a bit different. And if you have multiple systems, that's even more. Even if one is compatible with PCs or mobile devices, you might want something else with that. The GameSir T4 Pro helps eliminate some of the clutter and confusion with a $39.99 controller that covers multiple systems at once.
First, the GameSir T4 Pro keeps things clearer since it covers a lot of platforms people might already own. If you have a PC, you can use a wired connection to play it with your computer. If you have a Nintendo Switch or either Android or iOS device, you can connect it via Bluetooth. It even has a phone holder, if someone is going to use it with a phone, so you don't have to worry about propping that up somewhere while you play.
As for the controller itself, it is a pretty standard one. On the front you have your standard ABXY inputs, both a right and left analog control stick, a D-pad, and start and select buttons. The analog sticks are especially notable, as they have anti-slip rubber caps on them. The ABXY inputs and analog sticks also have what feels a lot like mood lighting, to make everything easy to see no matter hwen you're playing. There's a Turbo button and a Switch Home button as well. Not to mention its two left and two right trigger buttons are linear triggers with a nice degree and angle to make them easier to push.
What's handy are the other accommodations the GameSir T4 Pro offers. It has 6 axis gyroscopic support. This means Switch games with motion controls can be played as intended with this controller, as though you were using an actual and official Switch Pro Controller. It also has additional programmable buttons on the back. Near the grips on the back of the device are M1, M2, M3, and M4 buttons perfect for helping you customize your efforts if you, say, were playing a more complicated PC game. It even has some rumble elements, as there are asymmetric motors built in to vibrate and provide feedback when things happen on-screen.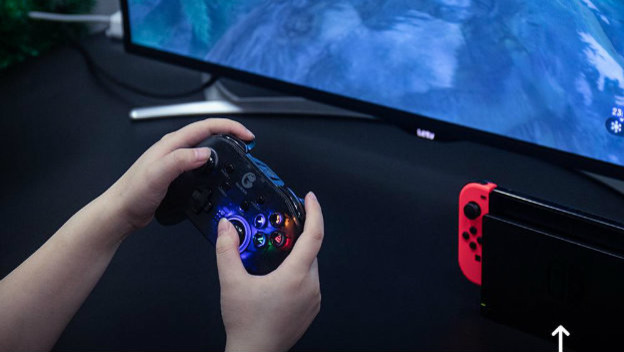 Even handier is how the GameSir T4 Pro even has a list of games cultivated by the company to show what it works best with. Of course, mobile ports or adaptations of titles like Call of Duty: Mobile, Fortnite, Minecraft, Grand Theft Auto, Monster Hunter Freedom Unite, and Don't Starve: Pocket Edition are there. But it also reminds people this would work perfectly with Adventures of Mana, Altered Beast Classic, Bendy and the Ink Machine, Bully, DOOM, Final Fantasy, Metal Slug, and other classics.
The GameSir T4 Pro is a good way to consolidate. It's a solid, handy controller. It works with one of the major current consoles, the Switch. It's compatible with PCs. You could also use it with your phone or tablet, thanks to Android and iOS support. It's affordable, which is always nice. It also has customizable elements, like the four M buttons on the back. It gives you different ways to easily play both wired and wirelessly.