A Relic Reborn
The original Homeworld made its debut way back in 1999, where it reaped several Game of the Year awards. The first fully three-dimensional real-time strategy game, it was a marvel of engineering. Now, fifteen years later, we marvel at how far graphical technology has advanced, with this gem of a game given gorgeous new life by developer and publisher Gearbox Software. With the story and gameplay left largely untouched, Homeworld Remastered Collection has faithfully given this cult classic a makeover unlike any other game remade in high-definition. The detailing is amazing, the audio pitch perfect, and the game still able to pull you into its gripping story without ever leaving the void of space.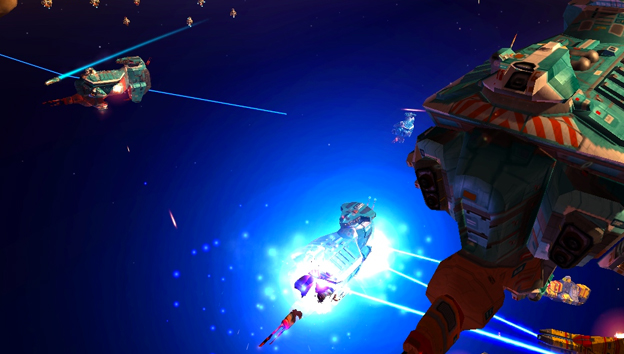 Unlike the cinematics pervading big budget titles these days, the pencil drawn cutscenes that presented the story arch from the original Homeworld games have remained, though polished with smoother lines and more fluid animations. It scrawls a harrowing story of the Kushan civilization exiled to a desert world – a history they had long since forgotten – where an ancient vessel is found buried deep in the sand. This highly advanced relic holds the key to their past and the technology of faster-than-light speed. This discovery brings the once hostile factions of the planet together in kinship, though their pursuit to advance into a spacefaring age and seek out their true homeland is thwarted by sinister forces who would see their accomplishments undone and their civilization wiped from the universe.
The excellent voice acting from the centrally integrated being named Karan S'Jet, (referred to as Fleet Command) straight down to the radio affirmations of the military units delivered with a steadfast demeanor even in the face of danger, all provide the warmth in the cold space. So simple yet so well delivered, you'll feel sympathy for every ship lost in battle. A dwindling race fighting against overwhelming odds, with not a single attempt at dramatic overtures through cinematics, and yet every destroyed ship cuts to the core. It's amazing. The subtle ambient soundscape, the angelic chorale of Samuel Barber's Adagio for Strings , and the gripping battle orchestrations only heighten this immersion.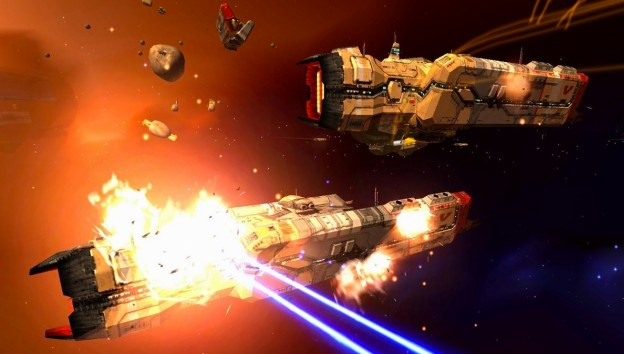 As noted earlier, Gearbox was assertive in keeping Homeworld 's gameplay untouched. The fact that it remains an engaging experience without feeling the slightest bit antiquated since the fifteen years of its conception speaks volumes to its quality. The game provides the very basic tutorials of navigating the 360 degree void in space, how to construct ships, and the a crash course in combat. The rest of the deep strategy must be learned on the fly, no pun intended. With your mothership providing the nativity of your fleet, its protection is paramount, thus you must work quickly but smartly in order to provide the proper cycle of offense, defense, and resource acquisition. A single resource, aptly called Resource Unit, is the commodity used to construct new vessels and research upgrades. From small but agile fighter units to massively armored capital ships, along with support vehicles, probes, and utility platforms, the breadth of strategy to employ as you progress through the campaign merits replayability.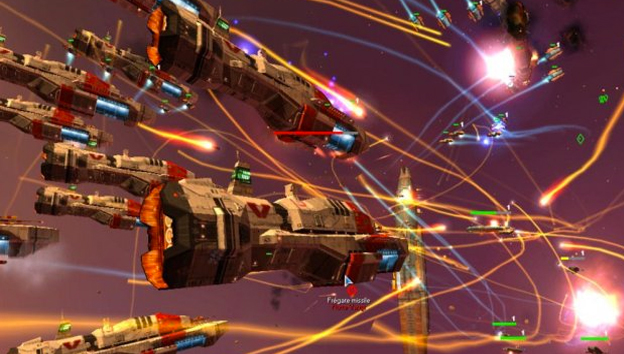 Outside of the campaign, there is a large selection of multiplayer maps, ranging from two player skirmishes to eight player conflicts. These matches can be customized with added features, such as challenges to perform certain tasks, relics that appear randomly to provide a resource boon to whomever controls them, bounties awarded for kills, and various other options to test. With limited diversity in the void of space, the variety between maps comes from asteroid (resource) placement and the gorgeous yet superfluous backdrops, ranging from nebulae to light echoes to various planetoid configurations. At the time of this review, only computer controlled matches were available, though the online multiplayer beta is expected to be available on launch day.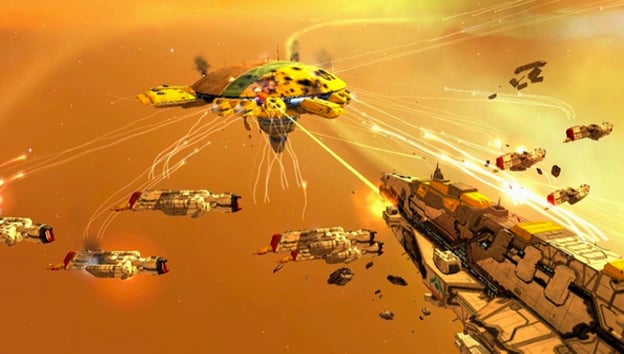 The display of combat was a fluid experience in the original Homeworld , and flows like a symphony in the remastered version – albeit a somewhat confusing one. With the ability to zoom out to where your units are mere specks or zoom in to scrutinize every panel of a ship, controlling the camera and issuing commands is a monumental task. There is a steep learning curve to organizing your units into separately controlled squads, mastering tactical formations, and memorizing the effectiveness of each unit type against the enemy's armada. Trying to discern your own ships during a heated engagement with hundreds of vessels whisking around is a challenge in itself. The game tries to differentiate between teams via the color of the plasma stream from the engine's exhaust, though it is nonetheless daunting at first. Of course, the cult community of aging fans of the series will find no issue with the controls, and those freshly plucked gamers who become enraptured by the Homeworld 's beauty will likely wield a craving to become masters of the formula themselves. When figured out, a massive engagement between several players is a glory to behold, and one I personally cannot wait to see with the new graphics.
To see a fading classic rejuvenated with such a clear display of visual craftsmanship sets the bar going forward for any other would-be remastered title. And yet the untouched gameplay manages to stand the test of time, offering an engaging and challenging experience able to stand on equal ground and even eclipse some of the more recent RTS offerings. Homeworld Remastered Collection is a testament to game development done right, both in its original form and in the meticulously updated version, and one that should not be overlooked by any fan of the genre.
RATING OUT OF 5 RATING DESCRIPTION 4.6 Graphics
The amount of work done to enhance the visuals of this classic series is mind-boggling. Only when you zoom in to where you face is plastered against a capital ship's hull can you spot where the detailing becomes washed. 4.0 Control
It's a monumental task to control every aspect of your fleet and the camera in such a large space. But once you master the steep learning curve of this real-time strategy game, you'll be beckoning your enemies to test you. 5.0 Music / Sound FX / Voice Acting
Flawless. A perfect blend a various music types to simulate the action and the emptiness of space alike, and impeccably executed voice work on every level. 4.7 Play Value
The campaigns of both Homeworld and Homeworld 2 have enough allure to replay again to improve your performance. Add in a dynamic multiplayer mode, and you've got the revitalization of a series worth the long wait. 4.6 Overall Rating – Must Buy
Not an average. See Rating legend below for a final score breakdown.
Review Rating Legend
0.1 – 1.9 = Avoid
2.5 – 2.9 = Average
3.5 – 3.9 = Good
4.5 – 4.9 = Must Buy
2.0 – 2.4 = Poor
3.0 – 3.4 = Fair
4.0 – 4.4 = Great
5.0 = The Best
Game Features:
Experience the epic space strategy games that redefined the RTS genre. Control your fleet and build an armada across more than 30 single-player missions.

Choose unit types and fleet formations and flight tactics for each strategic situation.

Utilize advanced research to construct ships ranging from light fighters to huge carriers and everything in between.

Bonus archival versions of Homeworld Classic and Homeworld 2 Classic, preserving the purest form of the original releases with compatibility for modern operating systems.