I tested out xCloud during its beta and now that it's coming out as a part of Game Pass Ultimate, it would be good to see what, if any, kinks were and still are a part of the system. So, did the original demanding, but effective beta improve at all?
During the original beta, game options were a lot more limited. It was, at the height, around 50 games that were accessible. And quite a few of them were good games. After xCloud fell under the umbrella of Game Pass Ultimate, it gained the ability to stream around 100 of the games on Game Pass. So, there's a definite improvement there. Going forward, hopefully Microsoft gets some more partnerships to bring even more hard-hitting games and third-party publishers to the service. Another thing to hope for is that it will include games that you've purchased. This will offer up the adaptable "play-anywhere" mentality that Microsoft is shooting for with Xbox going forward.
The demanding nature is also something can be limiting. It's also part of the reason why Xbox game streaming probably won't ever come to iOS devices. Yes, there are issues with Apple's standards that are making things difficult. But for the most consistent performance, the required wireless connection should've been running at around 5Ghz, both from the router and the wireless card within your phone or tablet. It lessens the potential interference and increases performance. However, some iOS devices, unlike Android devices, still seem limited to 2.4Ghz so far. While that is capable of the necessary speeds to run the streaming program (10MBps down), network interference will affect things like lag and latency. While calling out questionable Apple iTunes policies, it would also do to call out the hardware element as well.
Aside from calling out the hardware element, another thing that would be wise is if Team Xbox lowered the demands so it would work more consistently with 2.4Ghz networks as well. That'll help people who don't know how to shift their routers to 5Ghz connection, and it'll help everyone just dive in, which will make the service even more compelling. Something that could help is just playing up the scalability that Microsoft has been banking on for its next/cross-gen pledge. Xbox's game streaming is capable of 1080p streaming, which is commendable. For 2.4Ghz connections, Team Xbox could try to optimize for 720p on 2.4Ghz, which could still be good if the framerates are strong and latency is low.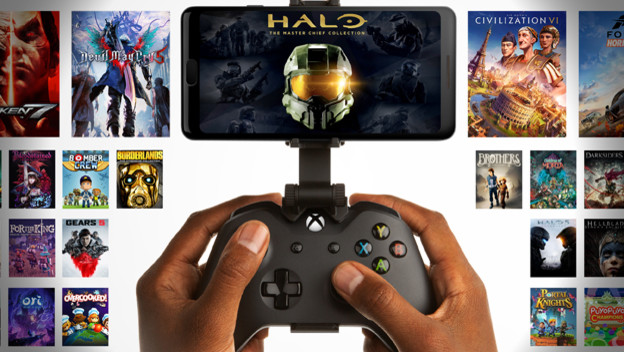 One other touch that would be great is also bringing the service to Windows. Since Microsoft owns Windows, it is kind of weird that the Xbox cloud gaming service hasn't been brought to Windows yet. Sure, you can stream from your console to your Windows device, but that's still pretty limited. If they bring the cloud gaming to Windows devices, that'll make the Xbox platform more versatile and the cloud gaming service more compelling.
Where things stand now, it's a good start. But it's only a start. There's room for growth and improvement. Since it's included in Game Pass Ultimate, it's also sure to grow as more people start testing out and start demanding more games and more performance. I'm looking forward to seeing how this grows and improves. This has a lot of room to grow and become something truly special, possibly also outpacing both PlayStation Now and Google Stadia. If you're interested in follow up coverage, let us know because I'll be diving in over time.