Wrangling enough technology to warrant calling it a "setup" can be a real pain. You have to make space for everything, try to keep it clean and functional, and maybe even try to make it look nice. But if you're a console gamer in addition to the ol' reliable PC, things get more complicated. Now you have multiple sets of controllers, services, and accessories to deal with. But perhaps IOGEAR, a producer of technology solutions for home and work, can make things a bit easier for you. With the new KeyMander 2 and Quantum Docking Station, your setup will be cleaner, more efficient, and much more versatile. You may even get a competitive edge against your console buddies.
The KeyMander 2 is an impressive device that gives you unprecedented control over your gaming mechanisms . Maybe you game primarily on PC, but have a PS4 ready to get extra Fortnite or PUBG rounds in. Maybe you have a squad to catch up with. Either way, being stuck with a DualShock 4 isn't great for your score. With the KeyMander 2, you can use a keyboard and mouse with your console. And the same holds true no matter what box you're using, as the KeyMander 2 is compatible with the PS4, Xbox One, and Nintendo Switch.
Maybe you aren't a keyboard/mouse fiend, but you prefer one style of controller over another. You can also use the KeyMander 2 to swap your pads around, enabling use of a DualShock 4 on a Xbox One, or a Nintendo Switch Pro Controller on your PS4, or any combination you may want. Still rocking a PS3 or Xbox 360? KeyMander 2 works with those platforms as well.
And don't fret if you have a particular keyboard/mouse style. Thanks to an app available for Android and iOS, you can set up macros, sensitivity, key bindings, and more. Using Bluetooth, you can even set the app up while you're gaming, and make adjustments to your settings in real time. You can also download game profiles, and back up your custom settings via cloud support.
The KeyMander 2 comes at a suggested retail price of $99.99. It comes with several pre-tuned game profiles for popular video games, including the likes of Overwatch, DOOM, PUBG, Fortnite, Apex Legends, Borderlands 3 , and multiple Call of Duty iterations. An official forum gets you free access to more profiles made by the community, as well as giveaways, support, and news.
You've used the KeyMander 2 to set up your dream video game input systems. But you still have a ton of cords to wrangle, and you need to make sure your audiovisual needs are met on top of everything. Also, you gotta have a phone charger ready just in case. And probably something for your controllers, too. You can meet all those needs with IOGEAR's Quantum Thunderbolt 3 Docking Station Pro 85. You may also have workstation needs, whether in the office or at home. If you're running a Macbook or Thunderbolt-enabled Windows machine, this bad boy has got you covered.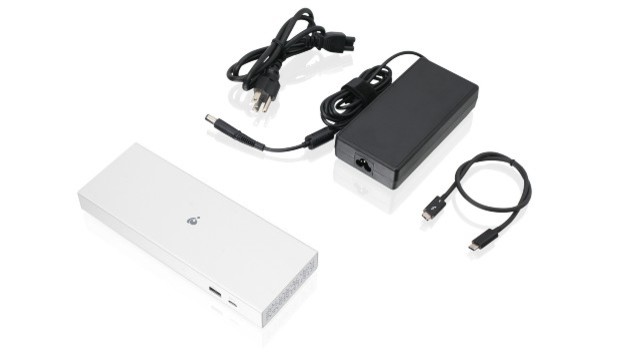 The Quantum Thunderbolt 3 Docking Station Pro 85 meets the standard requirements for what you'd expect from a modern docking station, but that's only where it starts . With a single plug that both powers the docking station and charges your laptop, the options only expand from there. IOGEAR's premium docking station includes an audio/speaker jack, Gigabit ethernet port, display port, and two Thunderbolt 3 ports. The Thunderbolt 3 ports can support daisy-chaining up to five Thunderbolt devices. There's also a USB 3.0 port and USB-C port for charging needs.
If you're running a docking station-powered workspace, chances are you're in the media business. The Quantum Thunderbolt 3 Docking Station Pro 85 can support two additional displays via the display port and Thunderbolt 3 ports,depending on the power of your machine. You can choose between a dual 4K setup, or even a singular 5K display if you have the muscle for it. The Thunderbolt 3 ports are also capable of speeds up to 40Gbps, which means even large video files can transmit from other storage devices in seconds, leaving plenty of bandwidth to spare for your monitors. You can find this fantastic workspace solution for a suggested retail price of $299.99.
Whether you're on your home gaming console and trying to hang with your PC friends, struggling with multiple platforms and a favorite controller, or simply trying to organize your gaming setup, IOGEAR has you covered. The KeyMander 2 can meet all your needs and more, and let you adjust on the fly with the free K2 app. And if you're running off of a laptop and need to really maximize your workspace, you can rely on the Quantum Thunderbolt 3 Docking Station Pro 85 for all your external port needs. Whether you're gaming at maximum intensity or working on your next big multimedia project, IOGEAR's high quality and reliable hardware solutions will get you where you want to be, and then some.