Publish Date: Thursday, July 30, 2020
There are certain companies that make names for themselves in the gaming sphere. You know you can always go to them for peripherals and accessories. While most people think of Logitech as a company for keyboards and mice, they're also adept at making headsets too. Which brings us to its latest, the Logitech G PRO X LIGHTSPEED Wireless Gaming Headset. Of course, it's basically the sort of headset someone could use if they're a casual or a pro.
So, the first thing you're going to want and need with a headset is great speakers. The G PRO X LIGHTSPEED has it. It has the Logitech PRO-G drivers, with a 50mm design. These are in place with a hybrid mesh construction to help make it easier to hear the more subtle sounds. Playing The Last of Us: Part II and trying to hear the enemies around you? This will help. Going into Call of Duty: Warzone? You'll hear your enemies around you. There's highly cinematic audio support too, so you'll have a better idea of knowing where everyone is in-game due to what is basically 3D sound.
Also important is the actual mic. After all, the Logitech G PRO X LIGHTSPEED is something you could end up using for playing against other people or streaming. You want to be certain that you're heard properly. Well, Logitech is calling upon its Blue Microphones company for help with the mic this time. Its microphones are known for stellar quality and high reviews, and that's what you'll have on hand. The new BLUE VO!CE software can recognize your voice tone and volume to help create preset filter profiles to help you in case you're recording for a let's play. BLUE VO!CE is completely Logitech G Hub compatible, so you could even have certain filters set up for different games or different activities. Want one for gaming with friends, one for more serious gaming, one for streaming, and one for recording? You're real good.
As for the wireless element, the G PRO X LIGHTSPEED won't tie you down. Which is good because frankly, in the pandemic situation, gaming situations change. You might be in a different room than usual. You could want to stand up or sit down. Maybe you even move your system or PC to the living room. This has a 13m distance. It also has a battery that can last for up to 20 hours. So maybe you're in the middle of a match. You step away for a second to get something to drink. You can still be talking to your teammates and be connected.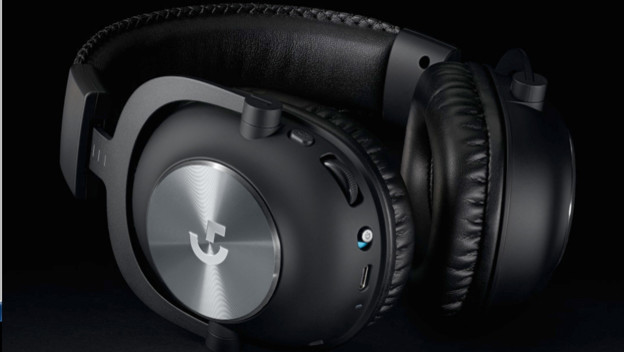 Which is honestly great, because we're in a new normal. You might be using this headset for more than just gaming. Because gaming is about socializing too, which is something you might not get to do in person anymore. Which could mean you'd be wearing a headset more than usual. Well, the Logitech G PRO X LIGHTSPEED is also designed for comfort. It has earpads with memory foam padding and leatherette and velour coverings. It has noise isolation tech to keep other sounds out. It is designed to be comfortable on your head, but also be made of high quality materials to last for the long haul.
The Logitech G PRO X LIGHTSPEED is going to be the headset for you. Of course in the new normal, it could be a way to talk and socialize with people. You could use it for casual gaming. You could get competitive or be professional with streaming or let's play videos. It has the PRO-G 50mm drivers, Blue Microphone, and preset filter profiles you need to always be accurate. Plus, it has you covered for any distance.