Mario Kart 8 is one of the best-selling video games of all time. It's a staple for any Nintendo game player and is one of the most beloved games in the Mario Kart franchise. With over 62.25 million sales, Mario Kart 8's success can be attributed to many factors. This includes careful map planning, excellent graphics, and art style. Overall, it's one of the most enjoyable party games. 
If you own a Nintendo Switch, you should add this game to your library. Here are a few reasons why Mario Kart 8 is a worthy purchase for anyone.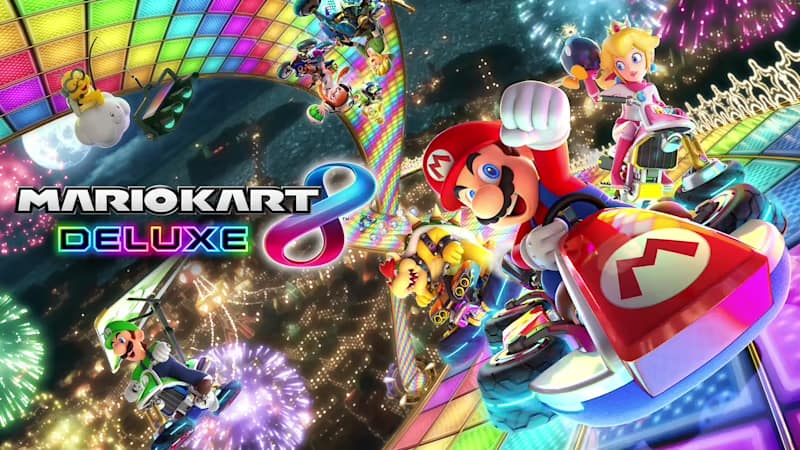 The Perfect Party Game
Mario Kart 8 becomes a whole new game when playing split screen with some of your best friends. Excitement is aroused, friendly competition reaches an all-time high, and all attention is directed toward winning the tournament. Nothing beats the feeling of hitting your friend with a red shell, passing them to take first place and the roar of excitement you let out when you just barely win the race. Mario Kart was meant to be enjoyed in a social setting with friends sitting around the couch honing in on their skills, figuring out how to beat one another, and debating which tournament to do next.
Selecting a game to play with friends that appeases everyone can be tricky. Mario Kart 8 is a universal favorite, and you can always rely on it to entertain everyone. It is a simple game to learn but difficult to master, making it a compelling and attention-hooking game. Whatever the occasion, you can trust Mario Kart 8 to create a fun-filled night with friends.
The New Classic Mario Kart Game
Since its release in 2014, Mario Kart 8 became the most loved game in the franchise by its players. The game was improved more in 2017 with the release of its deluxe version, solidifying it as the quintessential game of the series. No sequel has been made or announced since its release over nine years ago, owing to the success and adoration of the game. Instead, Nintendo focuses on improving the already successful game with new, exciting, and innovative downloadable content (DLC), such as the "Booster Course Pass" released in 2022. DLC's add more tracks and tournaments, making the game more novel and exciting for veteran players who may feel like they have already seen it all.
Awe-inspiring Graphics and Details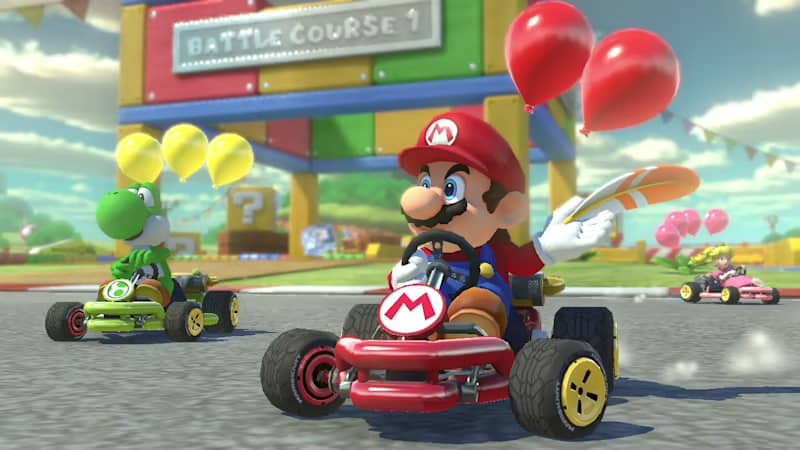 The graphics, textures, details, and shading make this iteration revolutionary in its visual displays. Explosions, shimmer, and other effects of items make this game visually remarkable.
The characters, items, karts, and—most importantly—maps are full of vibrant colors that seem to pop out at you through the screen. This gives the game, and its atmosphere, an awe-inspiring feeling. Flying at the speed of light through Rainbow Road once is enough to make any player understand and appreciate the graphics and color design of the game. The game has a feel-good attitude due to many factors. Its shimmering lights, multi-palette color scheme, and fanciful atmosphere blend together perfectly into a multicolored spectacle. The game's original art style will impress anyone considering buying Mario Kart 8.
Engaging, Well-Planned Tracks and Courses
Mario Kart 8 features carefully planned tracks and courses, making it a universal fan favorite game that frequently brings people back. Many of these courses have become fan favorites, such as Mute City, Rainbow Road, and Mount Wario. These courses became favorites for a reason. The layout and design of the tracks encourage players to develop their skills, whether it be drifting, using items carefully, or learning the map.
Each track is incredibly unique in its story and atmosphere. Many courses are based on other Nintendo games. Hyrule Circuit comes from the Legend of Zelda series. Mute City is based on the F-Zero series. Every track makes players almost believe they are in an entirely new game. There are many courses to pick from, and any new player will quickly find the ones that are their favorites.
Is Mario Kart 8 Worth Purchasing?
There are many reasons to purchase Mario Kart 8. It is a reliable party game in your library to enjoy with a group of friends. The incredible gameplay, graphics, course design, and mechanics make it worth playing solo too. With a price point of $60 USD, the price is standard for any video game. This is worth the purchase for how much is included in the game, including 32 courses over 8 tournaments and 36 different playable characters. Mario Kart 8 is a timeless game that is worth purchasing, as it is the quintessential game in one of the most widely known and beloved franchises ever released.