Let's face it, cosplay is not for everyone. I know we all want to become our favorite character from something every once in a while. But there are times you need to take a look in the mirror and just say no. Or your friends, instead of being a-holes and letting you make a fool of yourself in public, should try to stop you or join in the idiocy, because we all know that there is safety in numbers. The last guy or gal you want to be at a function like SDCC or DragonCon is a fan boy or girl in a crappy costume. So without further ado, let's roll through some of the worst cosplay issues and why some of them are actually pretty epic in their awfulness, as well as how to survive should you be faced with an upcoming con and no real way to rock an awesome cosplay.
Transgender Nightmare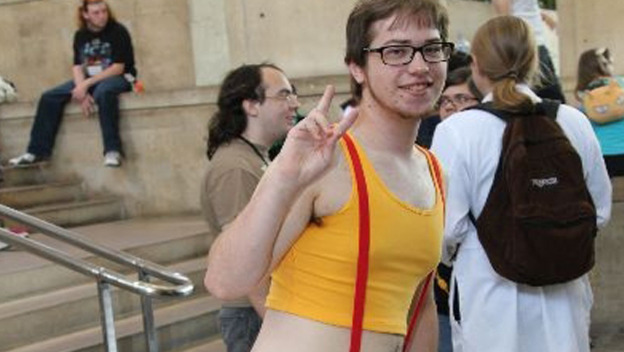 Seriously folks, I am not condemning any particular kind of lifestyle here, but if your favorite character happens to be the opposite gender of you, find someone else to cosplay. It's not about gender roles and blah, blah, blah. It's about maintaining the integrity of the character that someone poured themselves into creating. And more to the point, it's about you screwing that up by being the ugliest dude in the universe cosplaying a female character. So please…don't. Just don't.
Safety in Numbers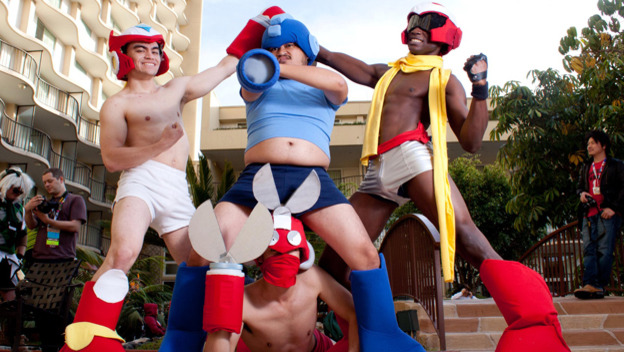 Here's a tip that I have seen save many a geek from total annihilation at a convention. Bring friends and get them all to partake in whatever insanity you have concocted for your cosplay adventure. The fact that your boys (or girls) are willing to be as big or bigger a dumbass than you in public is a testament to what kind of friend they really are. Besides, if there are more of you in a group cosplay, no matter how bad, you will always make it onto the convention website. And you might even find that pro or semi-pro photogs will want to use you for their portfolio.
Go With Your Gut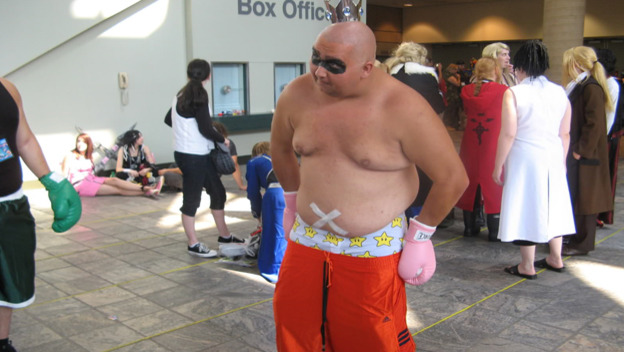 You might not be the best looking chap on the planet, but if you know your limits you can rock out some seriously good cosplay – even if it sucks. Let's face it, not all of us are going to be built like Jason Momoa or Kit Harington, but we can still jump our out-of-shape asses into a cosplay that may suck on the surface, but when you look deeper may very well be the most brilliant thing you have ever seen. It happens all the time. Just take a look at King Hippo here.
Misdirection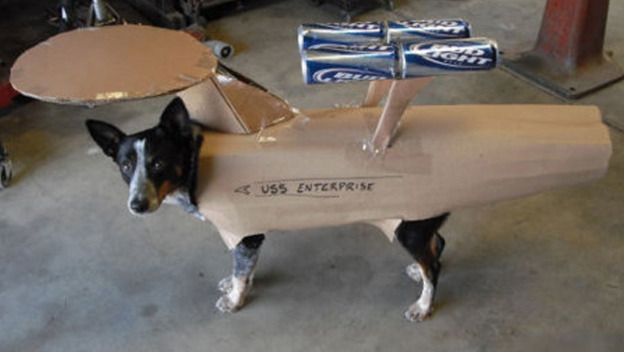 If you know good and damned well that you are not going to be able to pull off any sort of real cosplay that is going to impress or wow anyone at all, then rethink your plan. Take the focus off of the fact that you are not in costume and that every other geek on the planet is. You can simply do this by dressing up your best friend (and we are not specifying gender, race, or species here) so that the focus is suddenly no longer on you. And if by chance you know that their cosplay is going to suck as well, go all out with it and make it hilariously bad. The interwebs loves train wrecks.
Man of Steel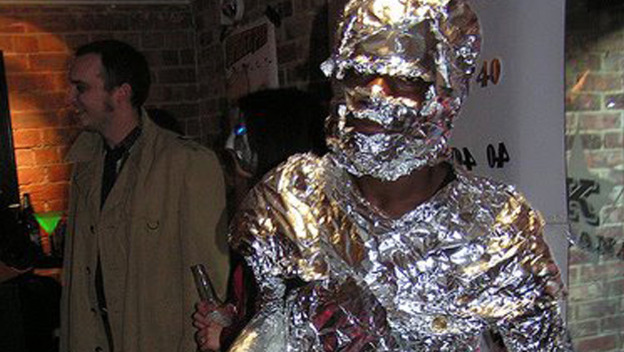 Or aluminum as it were in this guy's case. Sometimes you just don't have the money to create the cosplay masterpiece that you want so you have to make do with what you have. That may or may not be a bad thing. It really all boils down to you and how you decide to rock it. If you wear it around and it sucks, and you know it sucks, then you suddenly become a target. But it you stomp your foil-covered ass right up to the hottest chick cosplayer in the convention and ask to take her picture with her without flinching, you'll be in like Flynt for the rest of the show. People pay as much attention to attitude as they do your costume.
Hide Under Your Blanket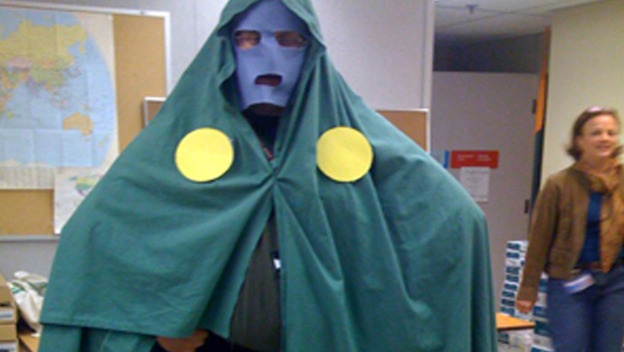 One of the best ways to survive a bad cosplay weekend is to seriously just hide under the covers. But then grab the covers, throw them over your head and start walking around like you own the place. Seriously. Try it. You may be shocked at what you find out. If you feel like the bed clothes you chose aren't snazzy enough, then buy yourself a mask at your favorite Halloween store and get to work taking some coffee can tops and making some accessories. Old Victor Von Doom here did it…and so can you.
Get Red With It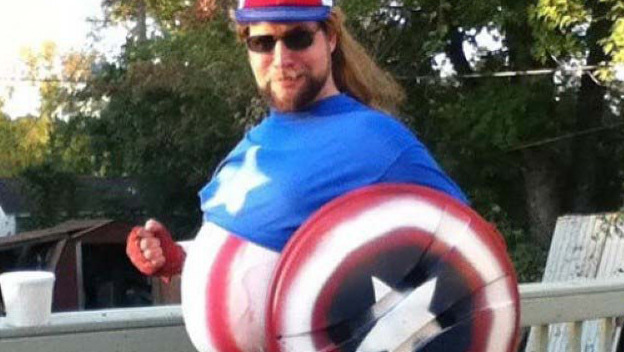 For whatever reason, pop culture has a fascination with the redneck subculture of America. It might be their colorful dialogue and crass delivery of horribly inappropriate statements at inopportune times. Or it could be the fact that they just lend themselves to being so far over the top that you can't help but love them. No matter what, rednecks are everywhere (just watch Tucker and Dale versus Evil ). So if you can't afford that Captain America costume that you've always wanted, just grab you a red, white and blue trucker hat and snag a shield at your local toy store and give it hell with a white t-shirt and some good old Krylon.
Scare the Sh** Out Of Them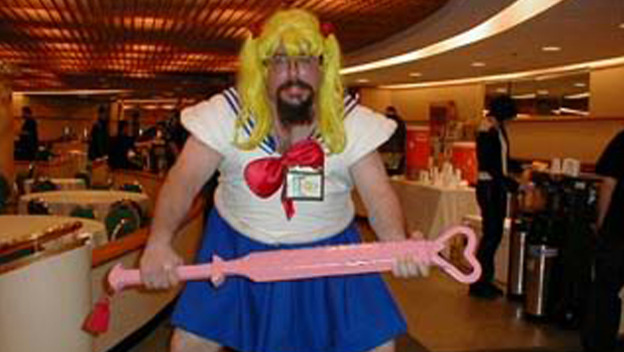 If you are going to rock a terrible cosplay and you know it, one other way to survive the jibes of people on the lookout for bad cosplays is to be the scariest thing that anyone has ever seen. Now if you decide to go this route, go all out. Do not hold back. And I am not talking about a great Pyramid Head cosplay kind of scary. Just take a look at the example given here and you will know exactly what I mean. Get freakish with it. Make sure that people will get out of your way on the way to the snack bar. Make them want to walk on the other side of the hall from you. Simply be more frightening than their worst nightmare.
Cover Up Your Face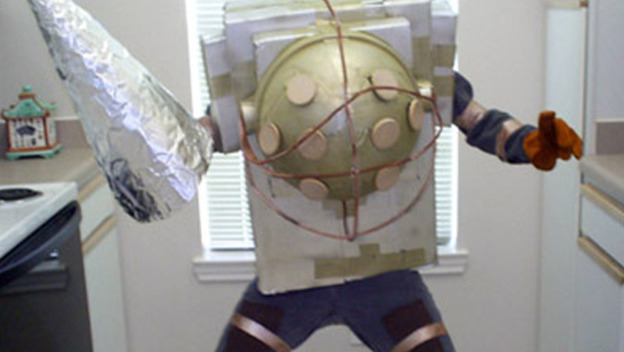 No matter how bad your costume is, ridicule can always be averted by simply hiding your face so that no one will ever know who the clown in the cardboard box is. And if that clown happens to be you, make sure that you have ways to eat, drink, and use the lavatory built into your cardboard carriage of sadness. That way at no point will you have to expose your true identity to the public. And it also gives you a great way to hide any sort of contraband that may not be allowed at whatever function you are attending.
I Wish I Was A Little Bit Taller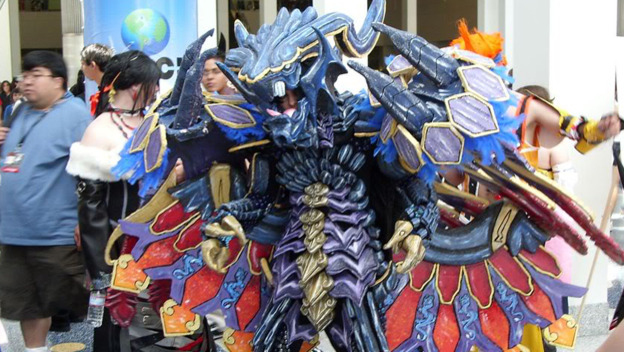 If you find yourself vertically challenged, there are a number of ways that you can still be noticed at a convention. You can dress ass a leprechaun and tell all the ladies where they can find your pot of gold (seen it done, don't hate–that guy was reeling 'em in left and right that weekend). Or you could dress yourself as some manner of demonic imp and run around scaring the sh** out of people. Or you could just rock the most badass cosplay that has ever existed. Like this dude who decided to cosplay Bahamut from FFX , even though he was obviously not near tall enough to be proportionally correct. This is one of my favorite coplays ever.