EA's NHL 23 successfully updates the series for next-gen after a somewhat lackluster NHL 22. Full disclosure, my experience with the NHL series is built on the back of NHL 94. The Sega Genesis versions of EA's hockey games will always be the pinnacle of the series to me. That said, I occasionally dabble in modern hockey games. Being from the South, hockey has never been our premier sport. Heck, we even had an NHL team in Atlanta and lost it. Says something about the reverence people below the Mason-Dixon line have for the game.
After taking several decades off from digital versions of Canada's favorite passtime, I returned with NHL 22. I enjoy NHL 22, but the rehashing of a tried-and-true formula means it doesn't feel like a "next-gen" game. For the first time since 2014, NHL 23 brings the series into new territory. The result is a game that looks and feels like you're playing an NHL broadcast. So let's throw NHL 22 in the penalty box and see how NHL 23 improves upon the Chel formula for next-gen.
Improved Graphics & Gameplay
Even though NHL 22 holds the place as the first NHL game to release on PS5 and Xbox Series X/S, NHL 23 is the first developed specifically for new hardware. Most of the engine and AI changes that came with NHL 22 are back in NHL 23, albeit refined. Out of the gate, NHL 23's graphical presentation is more polished. One of the first things players are likely to notice is how much the game resembles watching an NHL broadcast. The Chel team at EA Vancouver's work on NHL 23 takes the best parts of NHL 22's updated engine, but now makes use of new hardware's processing speed.
One new gameplay feature in NHL 23 is Last Chance Puck Movement. Hockey, as most know, is a full-contact sport. When contact occurs in other Chel franchise games, the offensive player loses control and rewards control to defense. Now in NHL 23, time slows instead of stopping altogether. During the slowed time, players can use Last Chance Puck Movement to react to contact. These reactions determine who gains or retains control of the puck.
To prevent giving offense the unfair advantage and add balance to the proceedings, defense have Desperation Moves. Double-tapping the shoot or pass buttons causes players to dive. During the slowed window of Last Chance Puck Movement, players on defense can also react to attempt to gain control of the puck. This dynamic approach to the movement and flow of the game makes NHL 23 more realistic and exciting compared to its predecessors.
Presentation & Modes
The X-Factors from NHL 22 are better in NHL 23 and feature new AI improvements. X-Factors are the unique abilities granted to players since NHL 22. While not all players on every team have an X-Factor, those that do are capable of shifting the tide of a game. The X-Factors granted to hockey players in NHL 23 are, hands-down, the strongest abilities in the game.
NHL 23's two cover athletes each have their own unique X-Factor abilities. Sarah Nurse, the first female athlete on the cover of an NHL title, has the "Relentless" ability. Combined with Last Chance Puck Movement, this makes Nurse one of the best players to use for shooting when off-balance. Her cover mate Trevor Zegras has the "Skilled Up" ability, recrating one of his viral passes from real life.
The X-Factor abilities and improved dynamics to flow of gameplay help to make NHL 23 feel more lively than previous NHL games. The added touches to presentation shine through in other ways as well, including the Stanley Cup celebrations and Hat Trick animations. These changes aren't game-defining, but they are subtle nods to realism and panache that make NHL 23 shine over 22.
New Strategies, Same Old Bugs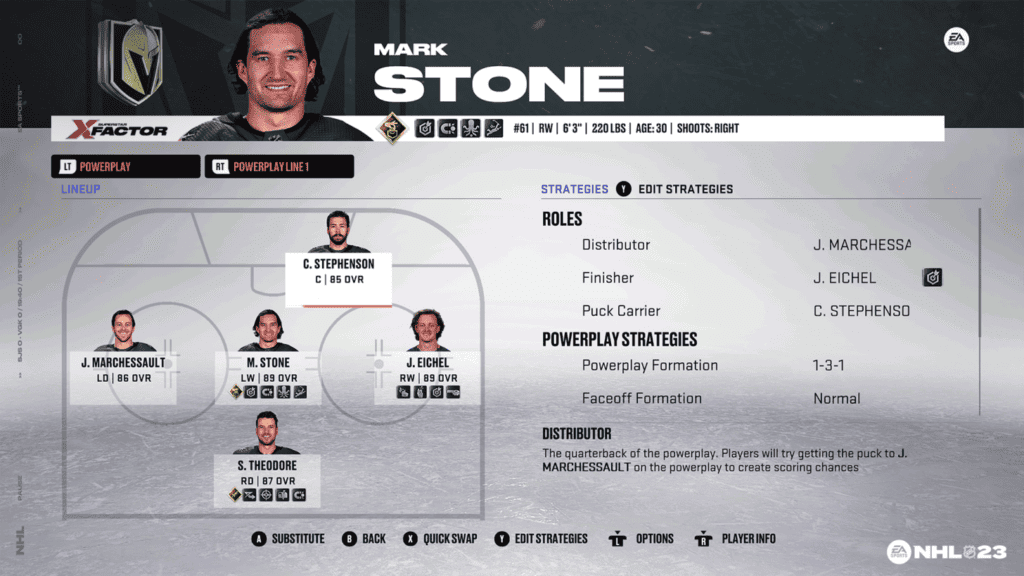 The new AI from NHL 22 makes a return in NHL 23, bringing with it new layers of strategy. The ability to go into each player's statistics and set up powerplay behaviors reminds me of Final Fantasy XII's gambits. These automatic behaviors trigger when certain conditions are met, allowing you to cater your strategy to match your playstyle.
Additionally, it's now possible to have greater control over face-offs. These subtle changes, along with the new X-Factor moves and Last Chance Puck Movement, help to make NHL 23 a smoother experience than past titles. That is, unless you happen to encounter some of the game's bugs.
NHL 22 has some notoriously frustrating bugs, especially as it relates to matchmaking and connectivity. Unfortunately, most of those same bugs make a return in NHL 23. While patches have improved this since launch, there are still issues when attempting to hold competitive online matches. The inclusion of cross-play between PS5 and Series X/S is a nice touch, but it's a roll of the dice whether the match will disonnect.
All that to say, the improvements between NHL 22 and NHL 23 are not groundbreaking. All of the same modes return, and the changes that are made are mostly quality-of-life improvements and expansions to new ideas from NHL 22. Still, if you're ready to play some hockey with friends or solo, NHL 23 is your best bet for a next-gen hockey experience. Game on!