Throughout gaming history, there have been some epic gadgets used. From Samus Aran's famed morph ball to the tech upgrades of Adam Jensen in the Deus Ex series, gadgets have become every bit as important as their weaponized counterparts. They take the focus from a more "gun and run" approach and take the player into a more strategic and calculated style of play that forces them to think on the fly and still get the job done, even if the odds aren't in their favor. So without further ado, here are the top ten gadgets in gaming history. Some of these may function as a weapon, but believe me…that's not all they do.
Laptop Gun (Perfect Dark)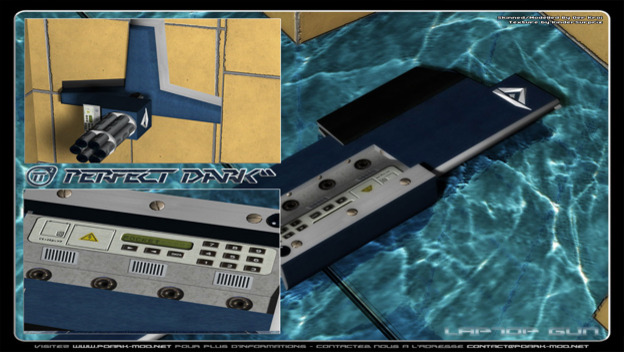 This is one handy tool to have around. You could write a paper, sort your mp3 files, take down security guards, cover your back or just plain blow some heads off. The laptop gun is one of Joanna Dark's most awesome gizmos. You can go from hacking mode to weapon mode in a jiffy, making it a perfect undercover weapon. But its awesomeness doesn't stop there; you can also change it into a sentry turret to guard your back while you work. You know, now that I think about this, it kind of makes you wonder how safe Starbucks really is. Just a thought. Maybe all those hipsters with their macbooks aren't as stupid as they look.
Detective Vision (Batman: Arkham City)
Batman has been famous for his gadgets for a long time. From the days of shark repellent bat spray in the days of Adam West to the zipline firing batgun of Michael Keaton fame, Batman has always had "those wonderful toys." But none of those devices add up to the usefulness of Detective Vision in the Arkham series of titles. Even though it was slightly overpowered in the first game, it became a far more useful and sensible tool in the subsequent titles. It gives the player the opportunity to survey his or her surroundings on multiple levels, plan strategy, and move unnoticed through groups of bad guys bent on your destruction. It can even help you find clues to solve crimes and track down your foes.
Pip-Boy 3000 (Fallout 3)
This personal information processor is given to you at the beginning of the game and you are told that there have been older models not as good as this one. You are also told that it has been designed to manage your personal information throughout your journey. Things like your vital signs, quest information, maps, inventory, item properties and even a Geiger counter to monitor radiation levels. You can also use it as a flashlight in dark areas. You can even change the color of the screen to fit your fancy. I was always a big fan of the standard green, but I know many others that prefer other colors. Anyway screen colors aside, the Pip-Boy 3000 is an invaluable tool in the Fallout world.
ARI Glasses (Heavy Rain)
The ARI (Added Reality Interface) Glasses, were given to investigator Norman Jayden to field test the experimental device while researching the Origami Killer case. He uses it to assess crime scenes, coordinate forensic evidence, contain and order his case files and enhance his working environments throughout his investigation. The complete ARI system also involves the use of a right-handed glove that allows Norman to manipulate virtual information projected by the ARI system in real-time. The system can also be used for recreational things like playing games or creating virtual environments to simulate other things. It is also tapped into the FBI database so Norman can access any information kept there at a moment's notice.
Morph-O-Ray (Ratchet and Clank)
There have been several different weapons throughout this series that turned your enemies into various barnyard creatures, but this one was the one that started it all. It could turn nearly every enemy you found into a chicken, but it came with a price. Often, the larger enemies would take longer to transform, so you had to use solid strategy in order for it to work. But before you think we're done here, there was also the golden version of this weapon that turned your foes into even larger chickens that could actually distract enemies so you could slip by unnoticed or move in for the kill.
Omni-Tool (Mass Effect)
The Omni-Tool is a handheld device that combines a computer, analysis system, and code hacking device as well as a weapons system. This handy-dandy thingamabob can help you hack your way through security doors as well as taking control of enemy tech. It can also help you store tons of information about your mission, equipment and items. It also possesses the ability to administer first-aid and even assist in repairs of physical damage to equipment. But even more than all that, it doubles as a personal weapons system that allows you increase combat efficacy by becoming a powerful, energy-based melee weapon. The Omni-Tool truly lives up to its name by be a very solid multi-use device.
OctoCamo (Metal Gear Solid 4)
It's no secret that using stealth is the best way to move through this game. And what better tool to have in your employ than a suit that can effectively make you invisible to your passing enemies? The suit imposes the image of whatever is behind you, or under you if you are laying down, on the opposite side allowing you to effectively blend into your surroundings. The best part is that it doesn't matter what the terrain, the suit works miracles at keeping you hidden. And for an aging Snake that is severely outnumbered throughout, the octocamo couldn't be a better friend to have tagging along on his missions.
Grav-Gun (Half-Life 2)
At or around the halfway point of the game, you can find the Grav-Gun. The interesting part about this weapon is that it completely changes the way you play the game from that point on. It allows you to use virtually anything nearby as a weapon. You simply use the Grav-Gun to pull it in and then fire it directly at your enemies. But that's not all it can do. It's not just a weapon. It can help you clear obstacles or–one of my personal favorites–allows you to fling toilets across the map at your foes in the death match multiplayer arenas.
Portal Gun (Portal)
I don't know about you but there have been so many times both in real life and in video games that I wished I had a portal gun. Why? Because walls suck, that's why. They are generally the one thing separating me from the one thing that I really want, and sadly, I often lack the motivation necessary to circumnavigate these obstacles in order to get to the prize. Enter the portal gun. This genius piece of equipment allows you to get rid of things like those pesky walls and can create a doorway right through them for you. But beware, you may not always know what's on the other side.
Grappling Gun (Just Cause)
I know that the Portal Gun should probably be in this spot. But for me personally, I had hours upon hours of fun trying to do some of the craziest things ever using this gadget. I did it all from hijacking cars and trucks to dangling from helicopters and airplanes and then parachuting down, only to fire the hook and reel myself into another vehicle and steal it as well. I spent hours traversing cityscapes with the prowess of Spider-Man using the grappling gun. It is hands-down one of the most fun and functional gadgets I have ever used in any series of video games. Because even after stealing vehicles and dangling from aircraft gets old, you can still use the grappling hook to disarm your foes by snatching their weapons right out of their hands. Whoever thought of this one was a bona fide genius.