Pop culture is generally rife with constant references to itself. Recently, I started watching Stargate Universe and noticed that there were quite a few Planet of the Apes references. It was strange, but lent some great head-tilting hilarity to the particular episode I was watching. Cross-overs like this can be pretty common in video games as well. Some are just small little nudges towards other popular culture (like the recently teased Splatoon 2 SplatFest map that is named Twilight Zone in Japan), while others are completely integrated into each other (like Disney's cross-overs in Kingdom Hearts ). We'll see a bit of both in this list of most bizarre cross-overs in video game history.
Image Credit: BlackSpoiler
The Regalia in Forza Horizon 3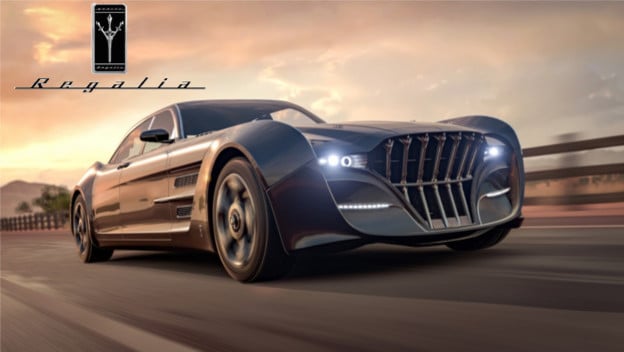 First up is a fairly recent cross-over. Players of Forza Horizon 3 who also happen to be Final Fantasy XV fans got quite a treat. The Regalia is a familiar sight to any Final Fantasy XV player. Starting August 1, 2017, the Regalia was added into Forza Horizon 3 . It makes this list for two reasons. First off, a vehicle from a role-playing game making its way to a racing game is strange. But also, fans of Forza Horizon 3 really just want more real cars in the game. No one asked for this cross-over and many don't really care, so why was it added? Nevertheless, you can drive around the Regalia in Forza Horizon 3 for free, if you so choose.
Kong and Mikey in Konami Wai Wai World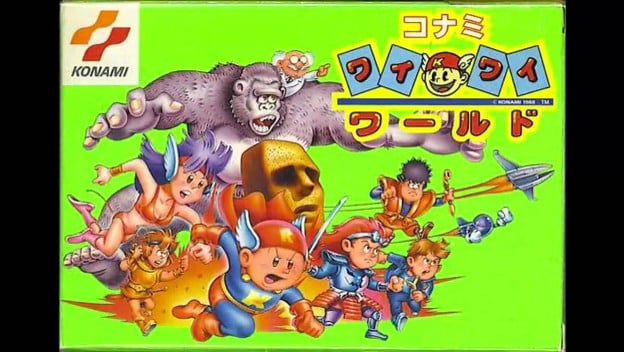 Here's a veritable unknown in our list of strangest game cross-overs. If at least a handful of you raise your eyebrows or widen your eyes at this entry, I will be impressed. Konami Wai Wai World was a Family Computer game released only in Japan in 1988. It saw a re-release on mobile phones in Japan in 2006, but minus our two cross-over characters due to licensing issues. Konami Wai Wai World featured a lot of different characters, like Simon Belmont III from the Castlevania series, and others from Konami games. But the two that caught my eye most are Kong and Michael "Mikey" Walsh. Yup, it's a Metroidvania game that has you saving characters on each map, two of them being King Kong , and Mikey from The Goonies . Never thought I'd find a Goonies cross-over in this list, and yet here we are.
Mortal Kombat X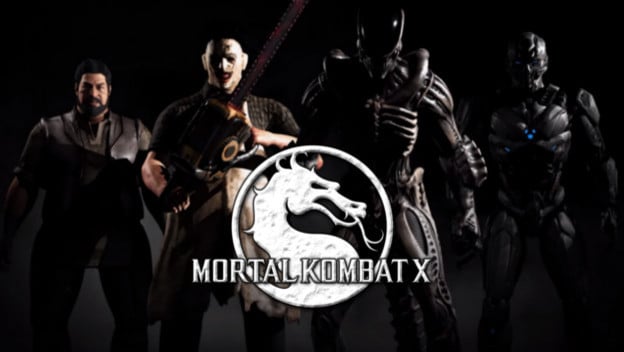 Mortal Kombat is no stranger to cross-overs, but Mortal Kombat X has some of the coolest and weirdest ones. Included in Mortal Kombat X are Jason Voorhees ( Friday the 13th ), Leatherface ( Texas Chainsaw Massacre ), Predator ( Predator ), and a Xenomorph ( Alien franchise). Also playable, via the mobile version of Mortal Kombat X, is Freddy Krueger. All of these characters make sense as inclusions to Mortal Kombat X, because they are stellar fighters. Yet still it's strange to see such easily recognizable horror figures in a Mortal Kombat game. Frankly, it works. Until I realized these characters existed in the game, I didn't have much interest. But now I'm seriously considering picking up Mortal Kombat X, when I have the chance.
Kratos and Battletoads in Shovel Knight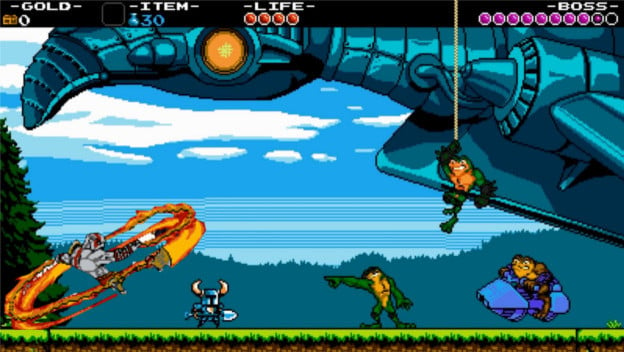 Some cross-overs might seem really strange, while their origins are much simpler. This seems to be the case with these two cross-overs in Shovel Knight . From what I can tell, Kratos was probably added to the game to celebrate the 10th anniversary of God of War and to market the PlayStation port. Meanwhile, the Battletoads were added to Shovel Knight as a way to market the Microsoft console port of the game. To make things totally clear, you can only battle Kratos in the PlayStation versions of Shovel Knight and the Battletoads only in the Xbox versions. Supposedly, the Battletoads boss fight is way more epic than going against Kratos. But you can find video of both online, if you'd just like to check them out.
Pepsiman in Fighting Vipers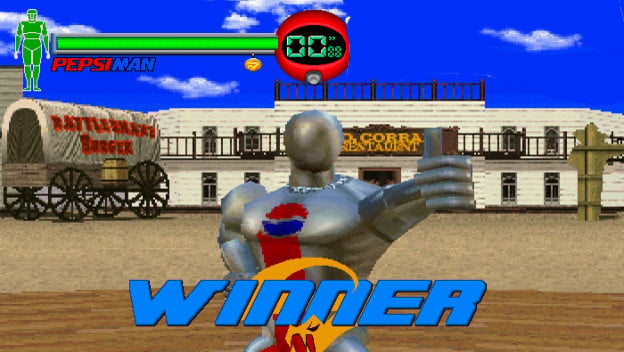 This is probably the one item on this entire list that confuses me the most. In Japan, there is a mascot for Pepsi called Pepsiman. He essentially looks like a superhero in a full-body chromatic spandex suit with the Pepsi logo emblazoned across his chest. He has his own video game, a theme song, and internet meme. As it turns out, he crosses over into the Sega fighting game Fighting Vipers . While the game was on PlayStation 3 and Xbox 360, Pepsiman only appears in the Sega Saturn version in Japan. Pepsiman was removed from the US and PAL releases of the game. This is one of the weirder entries on this list for sure.
Mario + Rabbids Kingdom Battle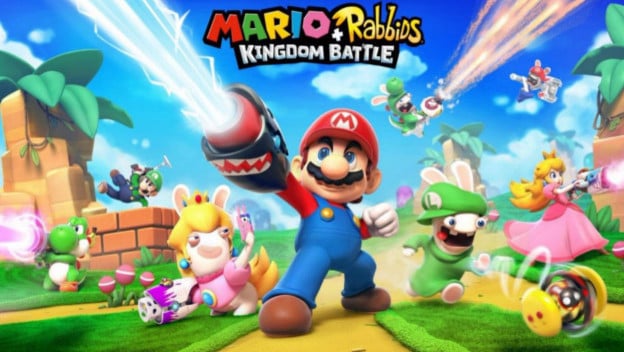 At the intersection of spin-offs and cross-overs lies Mario + Rabbids Kingdom Battle . The Rabbids are from their own game series, Raving Rabbids, that is actually a spin-off from the Rayman video game series. In Mario + Rabbids Kingdom Battle , they come face to face with one of Nintendo's most popular characters. Mario has seen many different popular culture cross-overs in his time. This one in particular doesn't release until August 29, 2017, but it was met with much fanfare when it was announced at E3 2017. It's a strange, bizarre game, but maybe that's what will make it great.
The Legend of Zelda Zone in Sonic: Lost World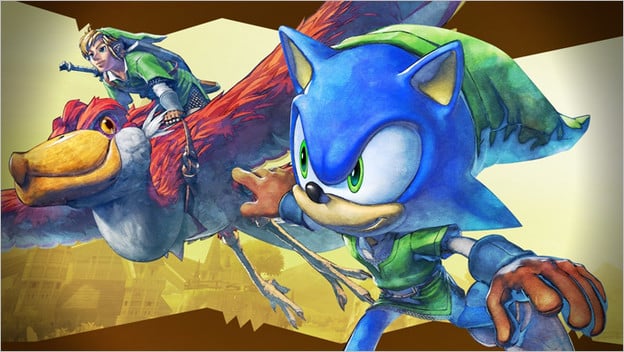 Sonic: Lost World has a couple cross-overs, such as Yoshi's Island DLC. But the one that stands out even more is The Legend of Zelda Zone. This was a free DLC available back in March of 2014. It took Sonic completely out of the rest of the Lost World game and put him smack in the middle of Hyrule. He donned Link's familiar costume and roamed around an open Hyrulian field, as well as explored a dungeon. It was geared towards making The Legend of Zelda fans smile, since you can see Hyrule Castle in the background and Link flies by on a Loftwing from time to time. Sonic can collect rupees and heart containers to raise his health. All in all, it seems like a loving reference to the popular franchise from one of Sega's biggest competitors. If Sega and Nintendo can get along, then certainly we all can.
What did you think of this list of bizarre video game cross-overs? Which ones surprised you? There are so many other great cross-overs out there, so let me know your favorite in the comments below!