There are some things that, no matter where you are or what you are doing, make you think of the good old US of A. So with the fourth of July coming up, we decided it might be fun to countdown some of the games that we felt were the most likely to make you think about America. This list covers a lot of ground, but we know that we didn't get everything that everyone will think should be on it. Then again, that's one of the things that make America so great, the fact that we can all have our own opinions and that we all celebrate America in our own unique ways. So grab an ice-cold beverage and a slice of apple pie, because it's about to get a whole bunch of 'Murica in here!
WWE All-Stars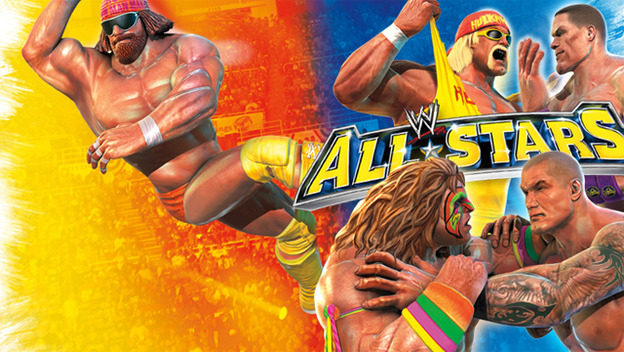 Nothing says America like a bunch of greased up dudes in stretchy pants beating the crap out of each other. Well, I guess that sort of thing is big in Mexico too. Let's start over. Hacksaw Jim Duggan. If you are too young to remember him, he always carried two things in the ring with him: his trusty 2×4 and Old Glory. From that point on, many characters throughout WWF and then WWE history became synonymous with the red, white and blue. Names like Hulk Hogan and The Ultimate Warrior and Diamond Dallas Paige. But even though professional wrestling is all scripted and choreographed, it is no less popular today than it was when Hacksaw Jim first hit the Saturday TV circuit, brandishing the American flag over his head.
Duke Nukem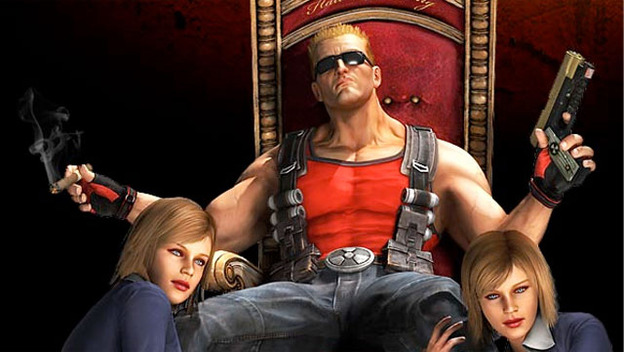 We were hesitant to add this series of games to our list but we quickly realized that we honestly couldn't create a complete list of games that screamed 'Murica without having Duke Nukem on board. Think about it. Every single game he has been in has been the amplified projection of American male testosterone levels. Guns, explosions, aliens, guns, boobs, guns, more explosions and more boobs…oh, and the gratuitous consumption of all manner of intoxicants pretty much spell America. We know it doesn't actually spell America, but don't let Duke here you say that or else he'll pop some 'roids and chase 'em down with his favorite brew, then proceed to squash your head like a pimple. Yep… "Murica!!
Call of Duty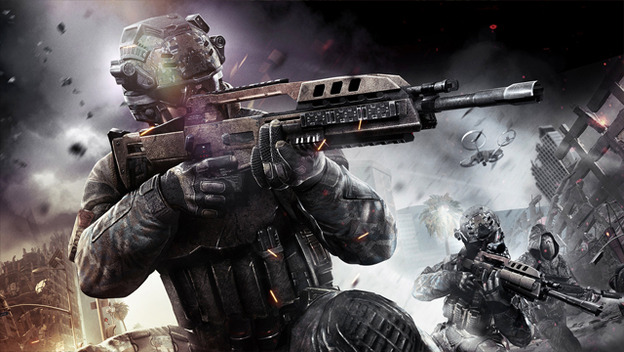 One of the truest things that says America without fail is the ability of our military to train, strengthen and serve beside the many militaries all over this big ass world. The abilities and resolve of our soldiers, sailors, airmen, marines and coastguardsmen and women are second to none. The fact that they are not only able to function alongside, but support and strengthen any military they are assigned with is a testament to the true nature of this great country. And no video displays those abilities better than the Call of Duty series of games. In each and every single title they have produced, the forces of America step up to the plate and operate with anyone who will help get the job done.
Medal of Honor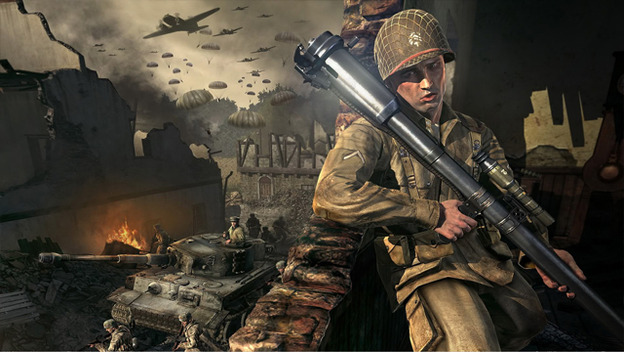 Another thing that the military might of America has proved time and time again is that no matter what, our troops will get the job done. From Normandy to Iwo Jima, from the DMZ to Afghanistan, our troops will not give up until the mission is accomplished or until the president and chiefs of staff bring them home. And with leaders like Patton, MacArthur, Bradley and Shwartzkopf it isn't any wonder that our boys and girls of the armed forces won't accept defeat. And honestly, in video games, no other game exemplifies this like the Medal of Honor franchise of games. From the very first to the most recent in a long line of games, they have never lost sight of the very human component of our armed forces and what it takes from them to achieve their goals. In short, the MoH series has never accepted defeat and always got the job done, just like the United States military it glorifies.
Wolfenstein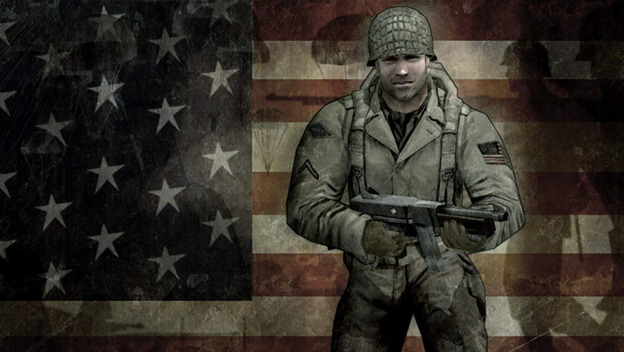 His name is BJ Blazkowicz. He is an American soldier operating in the clandestine world of special intelligence. He has one purpose and one purpose alone: to wipe the Nazi scourge from the face of the Earth if it takes his dying breath to do it. Much like the characters in Medal of Honor , BJ doesn't know how to stop until things are wrapped up and the enemy is completely broken. And even though the Wolfenstein series has been set to a slightly surreal tune, it is no less American than Call of Duty . It shows the grit and guts that it takes to overcome seemingly insurmountable odds and step toe-to-toe with your enemy and spit right in his eye. Cause nothing says America like a big old hocker right in your face just when you thought you were winning.
Assassin's Creed III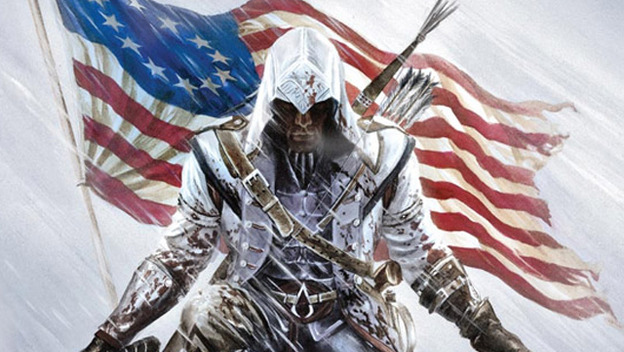 Kickin' it old school with Connor Kenway makes you realize that there was a lot of crazy sh** going on during the American Revolution. Sure, the game is fictitious in nature, but it is squarely based in American history. The kind of history that makes you realize that it would've taken many men just like Connor, and not just the ones we have read about, to have created such a mighty resistance against such a formidable foe. The victor writes the history books, but sadly they never really seem to include the 'little guys' unless they did something truly incredible and nationally noteworthy, because war propaganda needs heroes to keep people fighting for the cause. So sadly, the truth is that there were probably hundreds of men just like the fictional Connor Kenway who were more than instrumental to our nation's freedom. So for the nod to the 'little guys' we thank Ubi for ACIII .
Madden NFL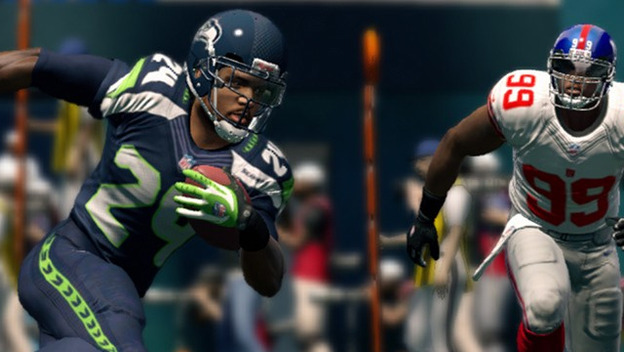 Even though football was originally something wholly different than American Football (that's right guys, soccer was football first…sorry) through the years America did what America does and made it bigger and better and more…well, more than it ever was before. So much so that the American Super-Bowl is one of the most widely watched single television events in the world. It is the number one most expensive place to advertise and run your commercial but it nearly guarantees you business. This is the way of American football. A giant juggernaut of marketing and mayhem, mixed in with some sport as well. The Madden franchise is no different than the games it imitates. You build up your team, you roll your way to the Super-Bowl, and you see hundreds of ads during the game all the way through. Nothing says America like makin' money, and football is one of the best there is.
UFC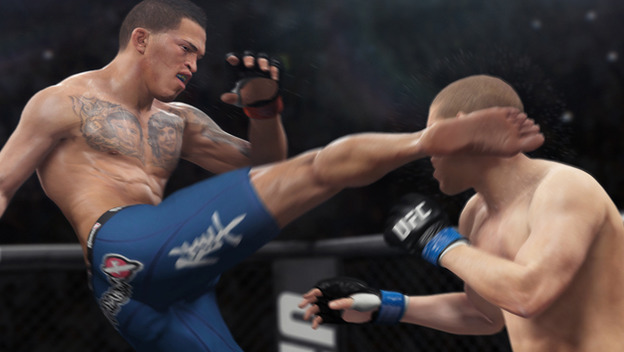 Underground fights where multi-disciplinary fighters squared off against each other have been going on in Asia for hundreds of years. So it was nothing new to learn that there was a growing popularity for the earliest of these fights in America. Then something happened; a young man with a vision created what would become the biggest and newest sporting event in American history. In true American style he would make a fortune doing it by constantly making it bigger and better and more elaborate than previous iterations. The UFC was born from the need for fighters of all disciplines to try their luck against fighters that studied other martial arts from around the world. It was normal for you to see a boxer square off against a Karate fighter or a Taekwondo master fighting an Aikido-Ka. But as it grew, it morphed into something totally new. The fighters began to amalgamate the styles of their competitors and inadvertently created the now world-famous Mixed Martial arts and UFC is at the top of that heap.
Metal Gear Solid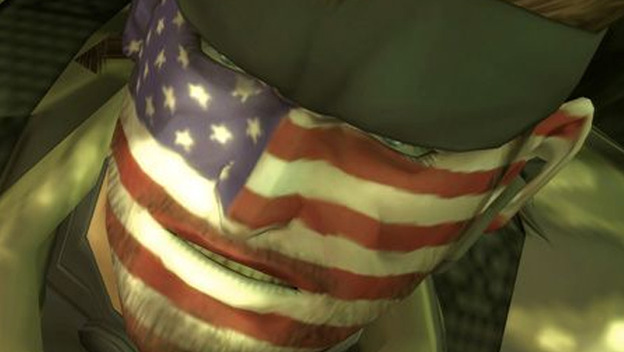 Read the script of any one of the games in this series and you will probably start to question everything. It tags on every issue from corrupt governments to greedy politicians to secret government experiments and the idea of a shadow entity actually calling the shots from behind the veil. It has continually recounted the cost of freedom and even taken shots at what true freedom is. It's taken on some very big socio-political issues in the form of a video game series with outlandish characters and crazy technology that we are many years from employing on the battlefield. But somehow it all seems to maintain a sort of pointedness when it comes to the realities and horrors of the wars that are fought by men to maintain their freedoms, no matter who the true enemy is. Snake proves to us that one man's sacrifice can truly make a difference to everyone around.
MLB: The Show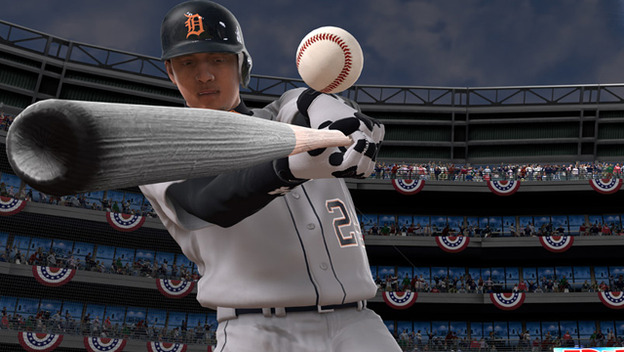 Finally, nothing is more American than baseball. It has been called the great American pass-time for a very long time. Iconic figures like Babe Ruth and Jackie Robinson have become the stuff of legend to young kids everywhere, from inner cities to the rural parts of our great country. Baseball has been the glue that has kept a lot of people sane throughout the years when all seemed lost. All you needed to play was some space, a stick and something that loosely resembles a ball and you could play. It was the first sport in America to show ethnic diversity as well as gender diversity and it is the one sport that has been used in phrases like, "As American as baseball and apple pie." Nobody every says, "As American as basketball or football." It's baseball that has been the great American sport, and no one does shows that off better that the PlayStation exclusive MLB the Show series of games.