While Comic Con has become the mecca for nerdy news across the old interwebs, it really all comes down to the skin tight spandex. Even the most harden cynics have to admit, seeing the endless galleries of full-grown adults dressed like its Halloween looks pretty damn fun. I'll admit, this year I got the bug. I couldn't make it to the West coast for the actual convention, but I've decided to start my own cosplay adventure very soon. As I've mentioned in recent Comic Con coverage, Thomas Wayne's Earth 2 bat suit is my goal. I love the conflicting visuals of Batman as a bad-ass gunslinger. But as this year's buzz finally winds down, I thought it appropriate to end with a salute to those who were committed enough to show up in full costume regalia. Here are ten of my favorite picks I've recently seen come out of the 2014 event.
TMNT Classics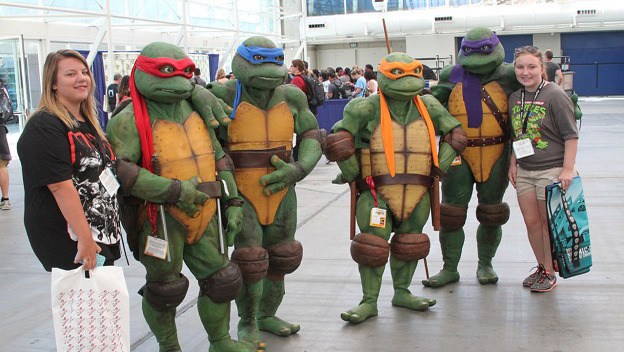 Right off the bat, I give the first kudos to this group of totally radical dudes. Not only do they tickle my nostalgic bone in all kinds of great ways (with their version of the Secret of Ooze Turtles), but the sheer level of realism in their costuming is freakin' unbelievable. Getting one suit to look this good (and I'm talkin' screen quality) is impressive, but multiplying that by four gets them the "Best in Show" award as far as I'm concerned.
Joker vs. Wolverine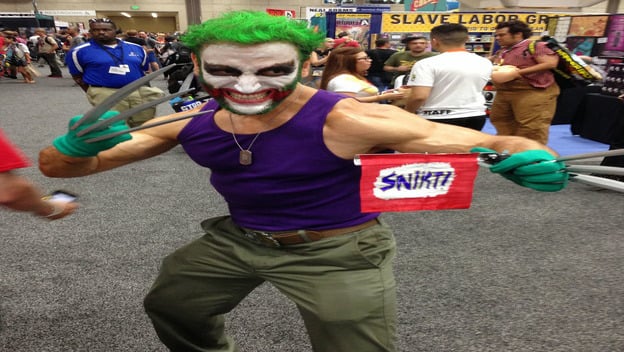 What can I say? This costume is unique. Is he Joker dressed as Wolverine or vice versa? Who knows! What I can tell you is that standing out at a comic book convention (when you literally rub shoulders with EVERYONE wearing a costume) is no small feat. This guy gets points for originality if nothing else. I don't know that I've ever seen this concept in the past, but it's a quirky take on two old standards. Bravo.
SLOTH LOVE CHUNK!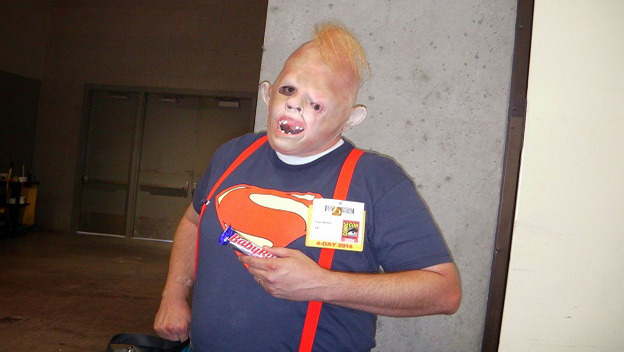 My picks aren't intended to showcase the most technically advanced costumes, or even those of the most artistic nature. As you'll see here, this guy basically just put on a pair of suspenders, bought a Baby Ruth and ordered a cheap Goonies mask off eBay. Never the less, I dig it. If I were walking the halls of the convention and passed Sloth…I'd probably have a hard time stopping myself from walking up and just hugging him uncontrollably.
"Open your mind…"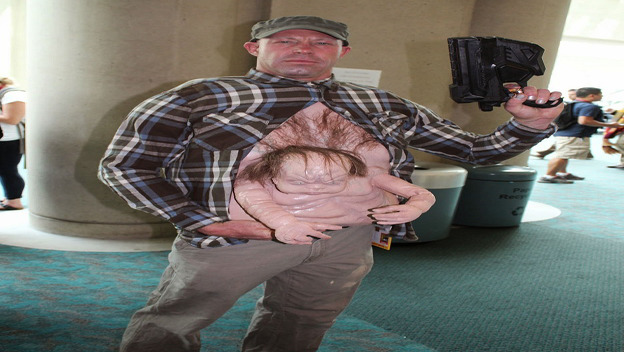 You're likely to see a myriad of Supermen, Batmen and Deadpools at Comic Con, this guy is probably the only one dressed as Kutao from Total Recall . I'm both impressed with his out-of-the-box thinking and simultaneously grossed out. Not only does the freaky little baby mutant look overtly hairy, but I'm still trying to wrap my head around what type of materials were used to give him such a "fleshy" look. Actually…never mind. I'd rather not think about it.
For the Con is dark…and full of terrors.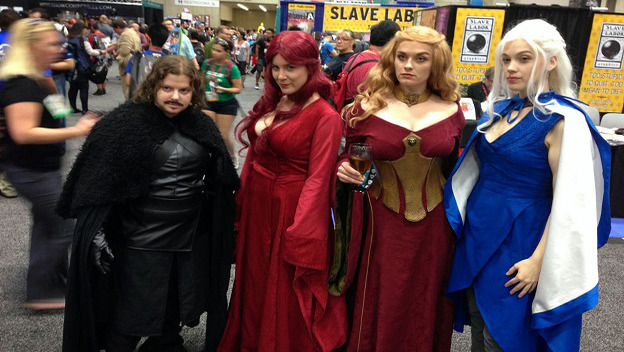 Gotta love me some Game of Thrones cosplay. Thrones is by far my biggest TV obsession right now, as I both desperately want to read the books, yet am terrified of spoiling anything. Although all the folks in the group shot look pretty good, the costumes aren't really what struck me. Check out the chick playing Cersei. Her facial performance alone is what sells it. That crooked eyebrow and smug pucker scream, "I will have my brother murder you…as soon as he puts his clothes back on."
"I'm an artist…and I want my face on the one dollar bill."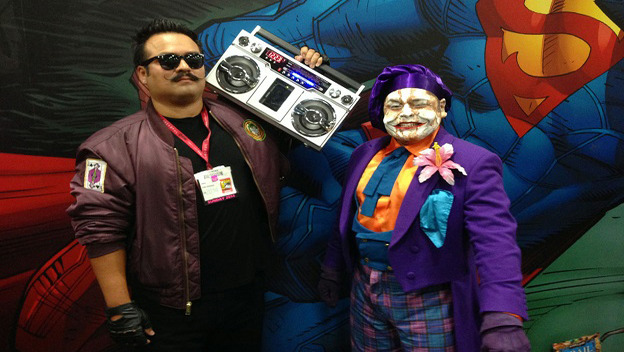 There's something to be said for cosplayers who coordinate their outfits. It becomes a team effort that usually pays off. This guy decided that doing the Jack Nicholson Joker wasn't enough. He wanted to go one step further by SPECIFICALLY depicting him during the art gallery scene (just after Vickie Vale throws water in his face). Wouldn't you have loved to have been a fly on the wall when he talked his friend into being the henchman? I imagine the conversation went something like this:
"So what do I get to be?" he asked. "You'll be the guy who holds the boom box and stands behind me for the entire convention. It's for effect." Cosplay Joker replies.
A bit of eye candy!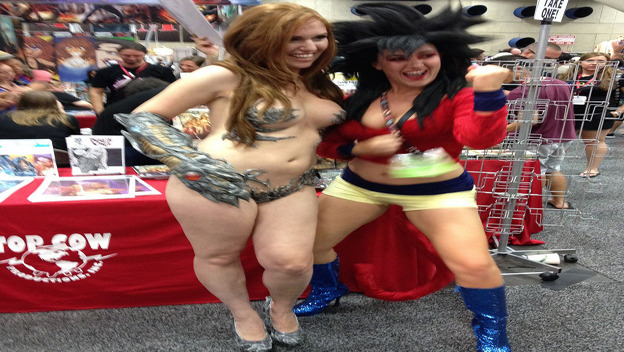 I'm going to preface this statement by saying that I am no prude. Granted Cons have increasingly attracted more scantily clad females lately than in year's past, I doubt most who attend take issue with it. However, this red-headed woman is someone I've seen in several galleries around the net. Since I don't know her name, I'm calling her "Exhibitionist Lady." I say that because…well…she's naked. No other way to put it. There was totally a streaker running around at Comic Con this year and no one even batted an eye. I assume the costume was fairly inexpensive, as I'm guessing only about 10% of her body required covering to accomplish said look. But hey, more power to her I say.
"If it bleeds, we can kill it."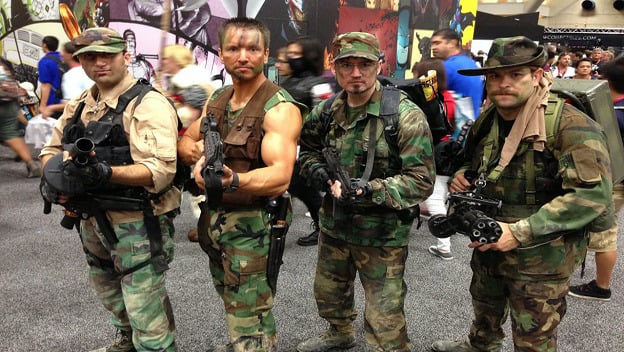 Now this is what I'm talking about. The sheer testosterone assembled here makes me feel more like a man just by staring at them! I've only seen a small handful of really good Predator costumes over the years, but this is actually a great representation of Dutch and his team. Even the dude rockin' the Jesse Ventura porn star mustache has got old "Painless" slung across his shoulder. By the looks of it, there is an army surplus store somewhere that is completely out of inventory right now.
Faster than a speeding mid-life crisis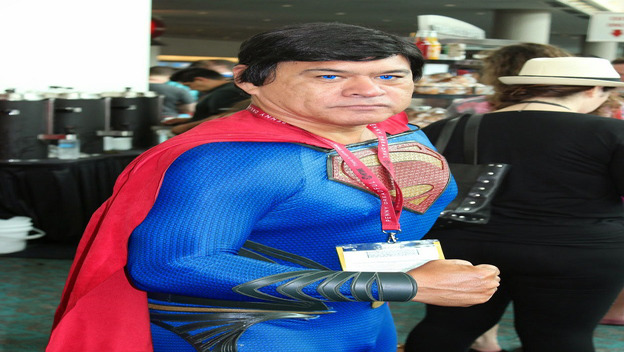 This image highlights everything I love about Comic Con. It brings together a culture where a middle-aged Hispanic man can run around in a bad wig and pretend to be Superman without feeling like a complete douche. These are my people…and I love them all!
The Hustle and the Bustle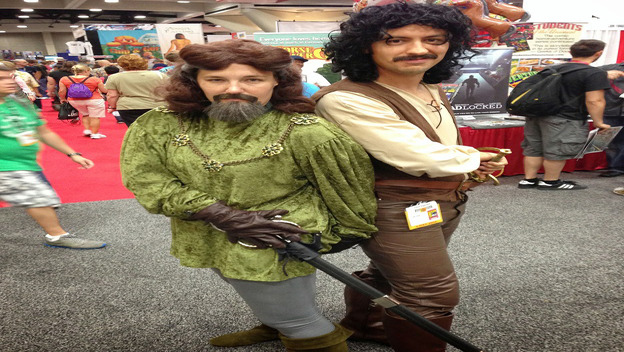 While these two might fly under some people's radar (in the midst of the more elaborate displays on hand); personally they're right up my alley. Their costumes are subtle, understated but unequivocally awesome. The idea of getting to see the six-fingered man from Princes Bride (whom may be a woman now that I look twice) do battle with the Spanish mercenary and future Dread Pirate Roberts, definitely gives me a chill down my geeky spine. Plus I want the opportunity to introduce myself, just so I can hear him say " Hello, my name is Inigo Montoya. You killed my father …"