It's nearly one in the morning and there are still fireworks being blasted off all around me. If this had been the night of the Fourth of July, it wouldn't have even been an issue. Except it's not. It's days later and stuff is still exploding everywhere at all hours of the night. Obviously those people don't have jobs. So rather than rage on about firing off your fireworks days after the Fourth, I decided that it would be more constructive (and far more beneficial for those I want to blow themselves up right now) to count down some of the most epic explosions in video games. Now some of these are there for the obvious reason that they are huge. But there are also a few other reasons why some of these make an appearance. So grab your hearing protection and dark goggles. Here we go.
Goldeneye – Remote Mines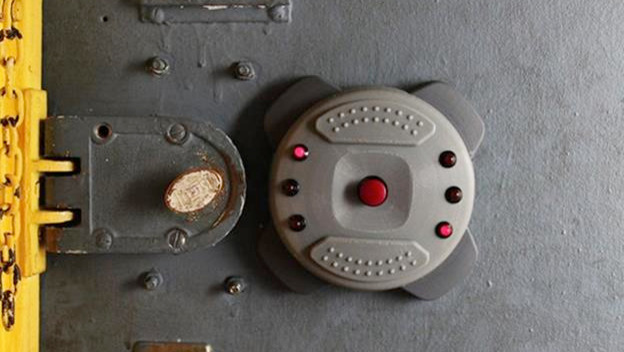 Take a trip back with me to a time when there was no such thing as online FPS games. A time when, if you wanted to whip your buddy's ass at a game, you did it in on-screen multiplayer mode. That meant that the guy or gal you were talking trash to was sitting right next to you on the couch. So as you can imagine the trash talking was much different than it is today. It was much more personal, and nothing made it more personal than blasting someone to smoldering bits with a remote mine in Goldeneye on N64. The feeling of joy that overtook you when you actually saw your opponent's face as they were blown into oblivion was second to none.
Starcraft – Nuclear Strike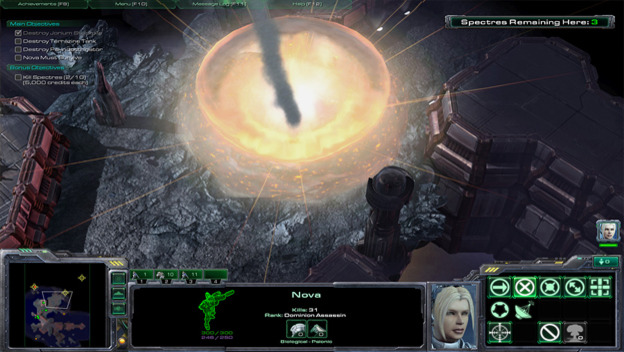 Most RTS games always have some sort of super weapon that you can aspire to create or purchase, and Starcraft was no different. While I always favored stealth and strategy over brute force and sheer numbers, there was just something great about reaching the level when the nuclear strike became available. There was always this moment where you're looking at it and thinking to yourself, "Do I want this weapon? Will it even be fair to the other players? Will I feel guilty using it on my enemies?" The answers to these questions in order is: Yes, No, No. You research it and the first time it comes online, you can't wait to call it in. The biggest problem for me was trying to figure out exactly what target would be the most awesome to destroy.
World In Conflict – Tactical Nuke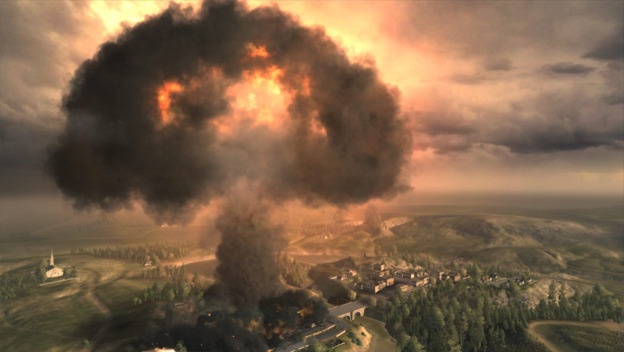 One of the best looking nuclear explosions in any game ever was the one following a tactical nuclear strike in World In Flames . It really was meant for the most desperate of situations. Mainly because it literally destroys everything and everyone within its blast radius; friend or foe, they go up in a ball of flames if you deploy this weapon to the combat map. Following the destruction, a large area of your map with be nothing but useless wreckage and rubble. Just like in real life, the aftermath is just as damaging. Any units that near ground zero of the area will take serious damage from the fallout left behind by the nuke's carnage. So as with any battle, the nuke is literally the last choice you will make for your armies in the area. So make sure there is no other option. But if there isn't, deploy and sit back and watch the mayhem. It's pretty impressive.
Mass Effect 3 – Bringing Down a Reaper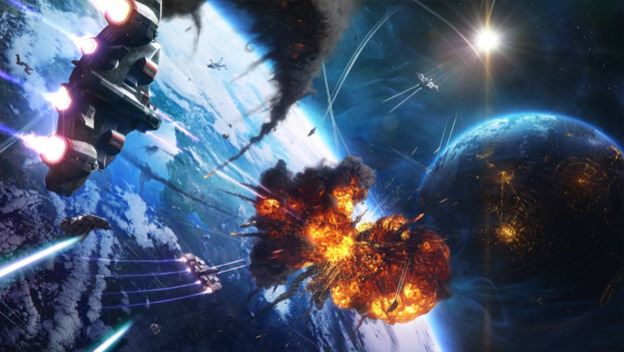 Yes, I know that ME3 is still a sore spot for some of you, but you cannot deny that the way you bring down a reaper in any case is an altogether epic event. Only one of those events involved a laser designator and the firepower of an entire Quarian fleet raining down from the heavens. In ME3 you are called to assist the Quarians in retaking their homeworld of Rannoch from the Geth, who are under Reaper control. So after recruiting the help of Legion, you head to the surface and proceed to terminate with extreme prejudice. The last of these terminations involves you painting a Reaper with a laser designator and calling down the full firepower of both the Normandy and the entire Quarian fleet. It was a beautiful moment indeed.
Earth Defense Force 2017 – Giant Robot Death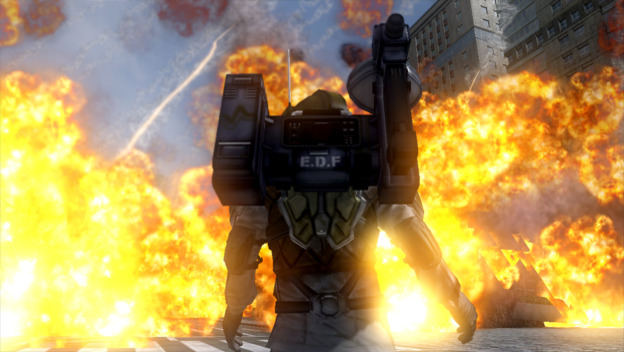 I initially had mixed emotions about including this game in the list. The grouping of gamers concerning this title is so polarized. People either love this game or they absolutely hate it. I haven't found anyone in the middle ground with this one. But whatever your stance on the EDF series of games, they are a ton of fun. Multiplayer mayhem and tons of giant aliens to destroy. They all die in varying fashions and forms. But none are as amazing as the deaths of giant robot enemies. They are a complete mother to take down, but once you do, you get treated to the visual bliss of a few little clunks and then a giant explosion to signify your triumph over the odds. Seriously, it's one of the more satisfying moments in EDF 2017.
Mercenaries 2: World In Flames – Nuclear Bunker Buster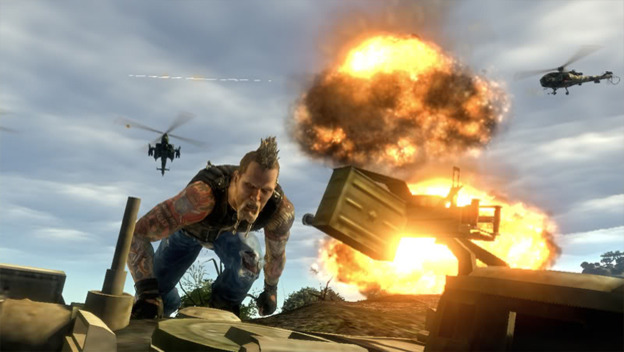 There is no shortage of explosions anywhere in the Mercenaries series of games. But with the exception of the explosion you set off in the final mission in North Korea in the first game, there are few explosions that even come close to the fiery goodness you get when you call in the Nuclear Bunker Buster the take down Solano's bunker in Angel Falls. It even says that the blast radius on this weapon is "simply ginormous." If that doesn't say enough, just wait until you tag the mansion and start running–obviously with the camera angle facing behind you. The site is something quite incredible and is by far the best explosion in a Mercenaries game…ever.
Crysis – Nuke Mod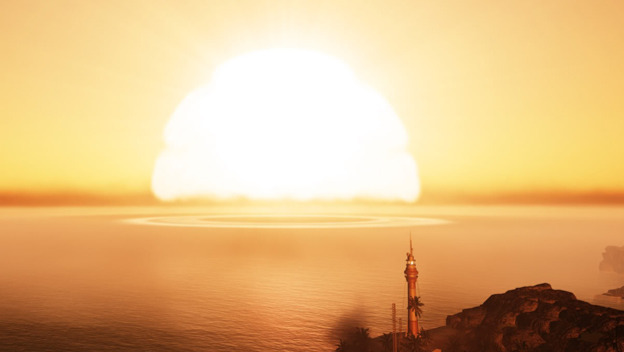 As if playing the original Crysis wasn't enough to make the average gamer's PC choke to death and explode, there were some mods out there to take things to the Nth degree. With this mod enabled, you suddenly possess a weapon that, according to its creator, will destroy everything within a 2000 meter radius within the gaming space. But that's not the only thing. This sucker will kill you dead if you get too close. And not just kill you, it will fling your carcass high into the air and blast it backwards so far that you can actually manipulate the camera to watch the last of the explosion's destructive goodness before your body finally hits the ground and you die completely. The best part is seeing it fall to land in the distance and feeling the swell of pride as the mushroom cloud rolls skyward and you know your little nuke-baby has been born. Time for a cigar.
Fear 3 – Alma Contractions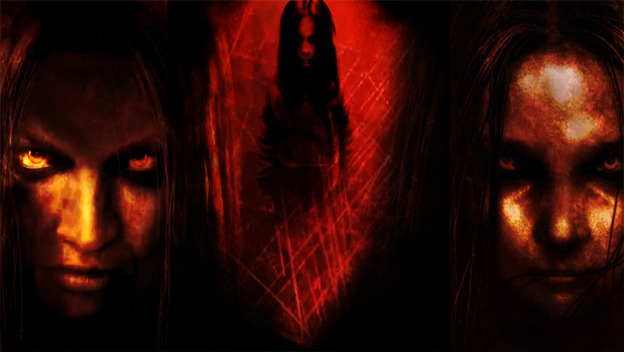 Fear 3 was full of weirdness. Graphically it was my favorite in the series but overall, I am still a huge fan of the first one. But no matter, this game was still pretty freakin' good. Using one brother to possess folks and make them kill themselves while using the other brother to blast people to kingdom come made for hours of entertainment. As usual, Alma starts getting bitchy toward the end of the game, but this time it's because she is in labor, which is not normally something you would think of as a usable weapon in a game, but in Fear 3 , it is just that. These labor pains cause the ground to split open and swallow up everything. They cause the massive amounts of destruction above ground as well with her screams. They tear through the landscape like a violent hurricane of shockwave from a huge explosion. It's a little weird, but still pretty awesome.
Call of Duty 4: Modern Warfare – Marine Extraction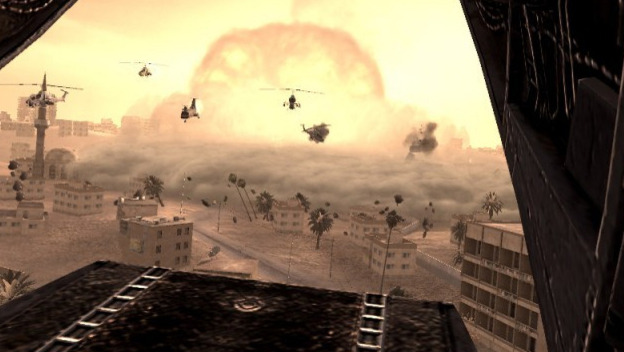 As much crap as I give the CoD series of games (mainly because I know I'm just tired of seeing its logo everywhere, every Christmas season, in every store on Earth), they have made some incredibly epic games filled with some seriously badass explosions. But at times, they were ill-timed and just odd. Sometimes they made the game feel more like a Michael Bay movie than a CoD game, but whatever. Anyway, in CoD4: Modern Warfare , you near the end of your playtime as the US Marines and you find out that there is potentially a nuke on site. So you and your joes haul ass to get to the Extraction point. But apparently someone has to stop and pee or something because just as you get into the chopper and head skyward, the nuke detonates. You watch as your fellow Marines get vaporized and then the craziest thing happens…you die.
Fallout 3 – Megaton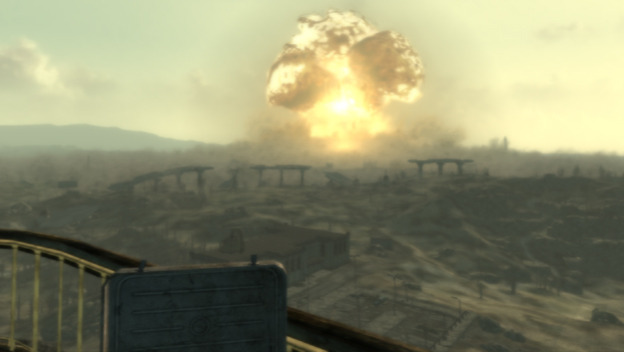 You were given a choice for this explosion. You could either light it off or leave it alone. You were given all the details concerning the outcome of both decisions. So you could walk away and spare the lives of the folks living in Megaton, or you could choose to wipe them off the face of the Earth and score yourself a nice big mansion. Naturally I chose to nuke Megaton…mainly because anytime I am given the ability to detonate thermonuclear weapons, I am going to do it. It's a thing. I would never want to do that sort of thing for real, but in games I would light them off all day long. And in this particular game, I waited until just before dark to hit the button that sent Megaton burning into a ball of oblivion. It was absolutely gorgeous against the backdrop of an already scorched Earth. Totally worth it. Would I do it again? Well, I have every time so far.