LEGO Marvel Super Heroes 2 was announced recently, and it has the dorkier, comic book-loving sections of my brain rumbling. Especially since the game's theme seems to be traveling across time and space, visiting other worlds, and particularly, other Marvel settings. Planet Hulk is advertised on the cover, and you just know that'll be fun. Here's some other interesting storylines I think would be a good fit for not only this game, but games in general.
Note: these is a list of video game-friendly storylines and is not necessarily as concerned with quality.
Old Man Logan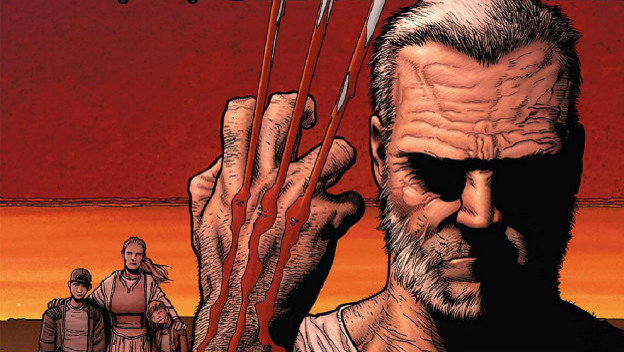 Okay, hear me out. I honestly, truly believe that Old Man Logan is trash garbage. It's really, really awful. But I won't lie to you when I say the entire reason I'm writing this list is because I imagined the characters and situations presented in this story in LEGO form and briefly lost my composure. Really, any outlandish and self-serious Mark Millar joint would be funny in a LEGO game but I think Old Man Logan would especially be a hoot.
Spider-Man: Reign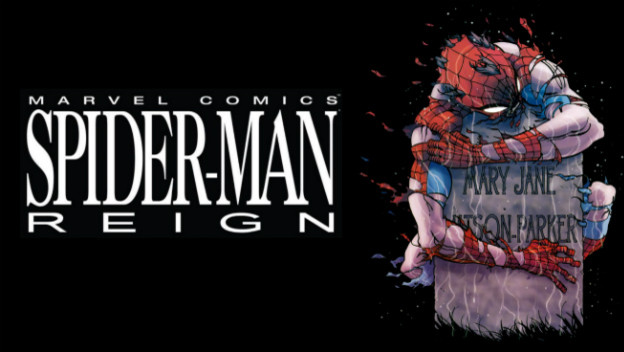 Spider-Man: Reign is not a particularly good story either, although it does have more merit than Old Man Logan . Spider-Man: Reign is almost an attempt at copping Dark Knight Rises in Spider-Man form , and it certainly goes to some strange places while gradually aping Frank Miller's art style more and more as it goes on. Mostly, I want to see a video game version of old man Peter Parker swinging around in his underwear.
Edge of Spider-Verse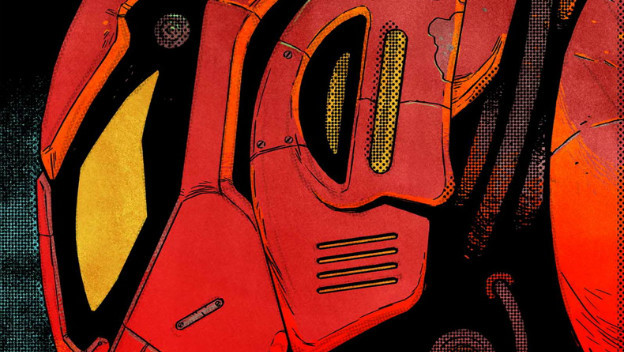 Some of the best Spider-Man games are cool action titles that let the player swap between different versions of Spidey. Edge of Spider-Verse is a brand-new set of unique and weird alternate reality Spideys, and each one has some cool hook or gimmick that would translate well to various sections of a video game. It's a fairly brief set of issues too, so it could be well-paced and not wear out its welcome.
AvX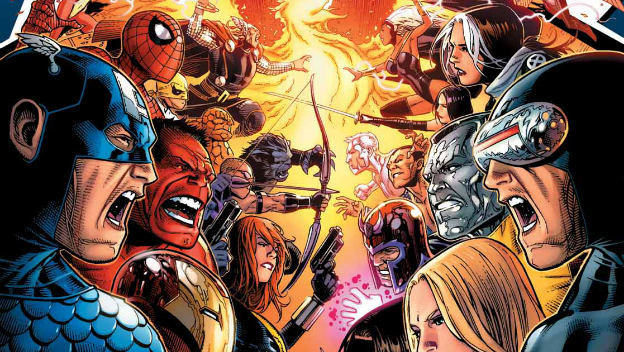 Honestly, name-dropping AvX (Avengers vs X-Men, sorta) here is all about imagining this goofy story as a fighting game. You could take the style from the spin-off comics that were already treating the whole deal like a silly video game, turn it up a notch, and bring in all the modern (at the time) versions of the characters. You could even have Phoenix Five Cyclops as like, a horrible, SNK-level end boss.
Daredevil: Born Again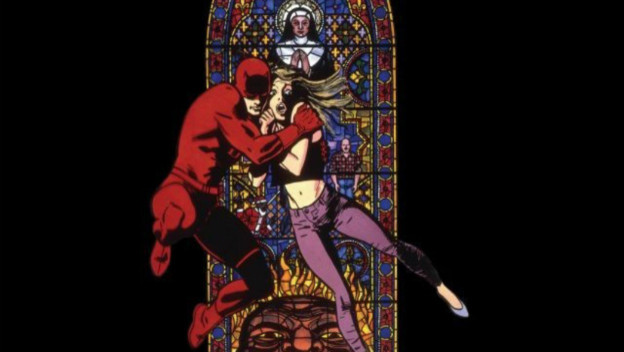 Okay, time for a good storyline. This classic, from way back when Frank Miller was still good, is the foundation upon which every Daredevil story since has been built upon. Even the recent, super-hit Netflix Daredevil show was based on this era. Some kind of gritty, perhaps slightly open-world crime drama starring Daredevil as he goes up against the likes of Kingpin and Bullseye would be so cool, if handled properly.
Dark Phoenix Saga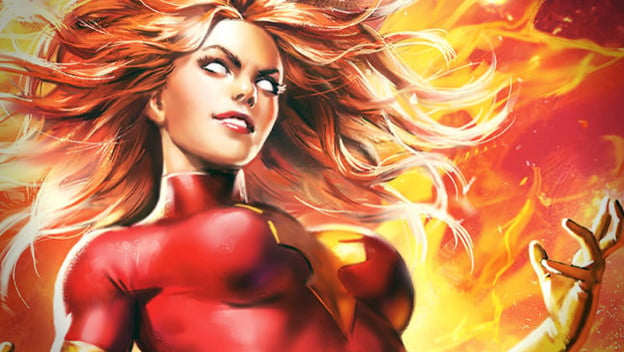 Yeah, the classic, epic-length X-Men saga needs some representation here. It's almost like a default inclusion, right? This could be the huge, AAA X-Men game that Activision wanted X-Men: Destiny to be. This would be incredibly difficult to make a manageable, coherent game out of. But, for example, something along the lines of a X-Men Legends that adapts the Dark Phoenix Saga could be a really awesome experience. You'd need the right writers, to make the sillier, comic book stuff more digestible, and the right systems and budget, so there's less goofy jank, to make this pie in the sky pick.
Agent Venom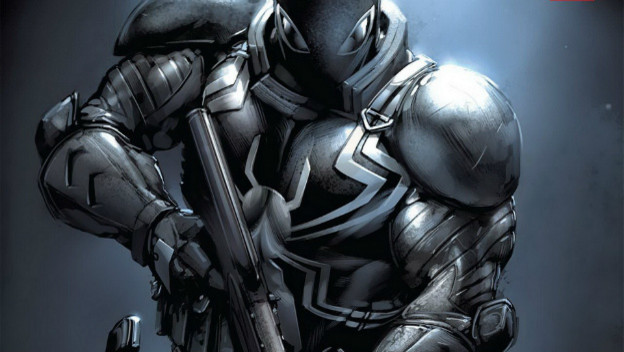 Here's the premise of Rick Remender's Venom run. Flash Thompson, Iraq war veteran, loses his legs fighting. Uncle Sam, in the meantime, found a way to ostensibly control the Venom symbiote and wants to use Flash Thompson, ex-Venom victim himself, as the USA's newest super soldier. It works great for a while, until Spider-Man shows up. Then, things get messy. This would be so dope in a Spec-Ops: The Line (plus maybe some web-swinging sequences) style. Just saying.
All-New X-Men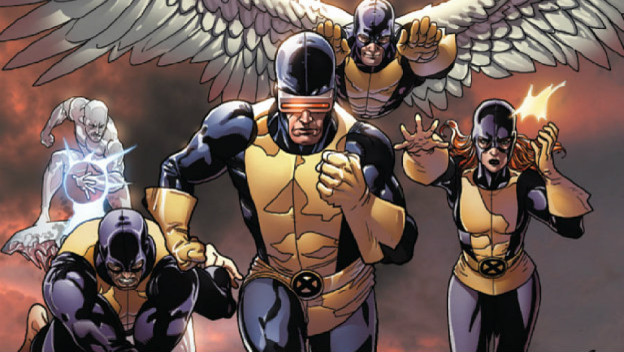 I haven't read this, but I love the concept. Time travel-ish shenanigans bring the original cast of the X-Men from the 60's into the modern Marvel universe, in which they learn about their eventual fates and whatnot. This could really go anywhere from a video game standpoint, but having access to mirrored versions of the X-Men could be a really compelling gimmick from several standpoints.
Punisher Kills the Marvel Universe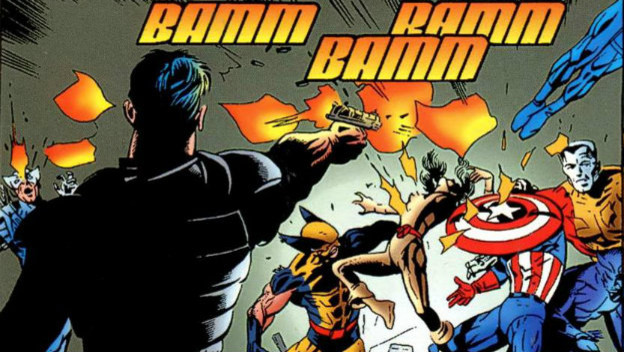 This one would probably never be made. But Punisher Kills the Marvel Universe is a silly, campy, almost exploitation-level comic that probably only exists because dopey nerds would happily plunk down cash for sleaze any day of the week. But still, seeing a non-canon Punisher rip and tear his way through all our favorite superheroes is the kind of cheap thrill that also totally works in videogames. This is a bad idea. Don't do it. But also, totally do it.
Dark Avengers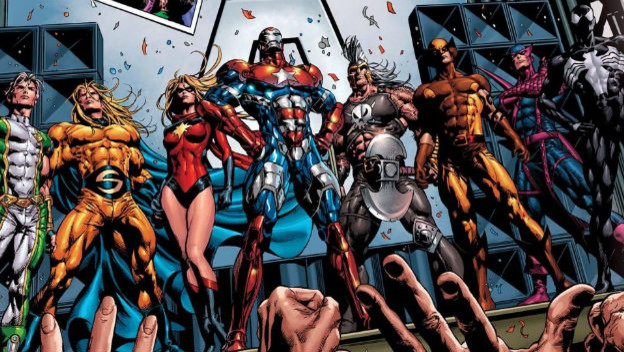 I'm cheating a little. Dark Avengers is technically already represented in Marvel Puzzle Quest . But it has that lazy, free-to-play Marvel mobile game stink all over it. I'm just saying, I'm sick of reading about ISO-8 or whatever it is. Adapt this story for real, with the sort of real-world political spin angle, and it could be a compelling story. Especially if the writers find a way around incorporating the Skrulls too much. I kinda hate the Skrulls. Sorry.