Throughout gaming history, there have been weapons of epic caliber available for use to thwart your gaming enemies. Now that we are on the threshold of the next generation of gaming, we will take a look back at some of our favorite in-game weapons of this generation. Keep in mind that there are many, many more weapons that we would've loved to include. But we really tried to nail down some of the more unique and not just the obvious great game weapons of this gen.
BFG 9000 (Doom)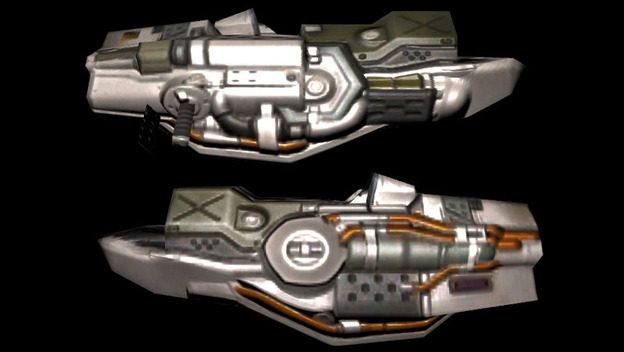 In the first Doom game, the BFG 9000 is a super weapon that fires giant balls of green plasma. It is the most powerful weapon in the game and causes major damage to opponents hit by the radiation emitted from the rounds. It can clear entire rooms of foes, and it can even score you an instant kill if a target takes a direct hit from the projectile. Since the player is unaffected by the splash damage, it's possible to use the BFG 9000 safely in close quarters combat, unlike some of the other weapons in the game.
M6D Pistol (Halo Anniversary Edition)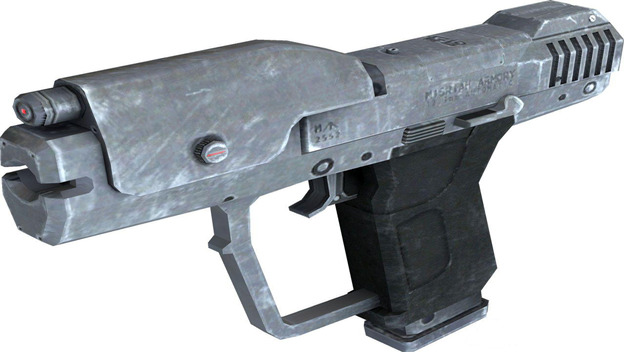 This ridiculously overpowered pistol is my favorite weapon in the entire Halo series. You can use it effectively as a CQC weapon, a melee weapon, or even a sniper weapon. Its across-the-board versatility is unmatched by any other weapon in the canon of Halo lore. It doesn't matter whether you are facing the Covenant, the Flood, or whatever else – this gun has covered in very nearly every situation.
Boomer Bile Bomb (Left 4 Dead 2)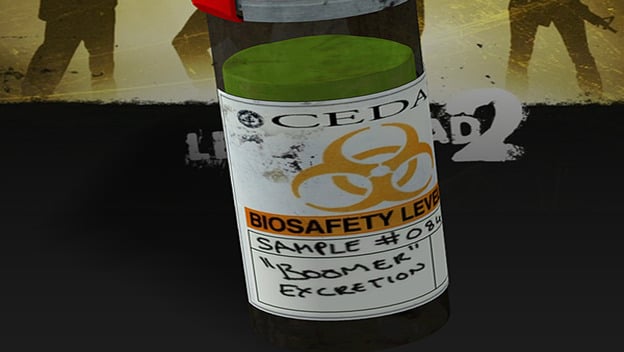 The Bile Bomb is a new weapon that appears in Left 4 Dead 2. The Bile Bomb is a throwable canister containing the disgustingly unmistakable green Boomer bile. When thrown, it draws the Infected horde to wherever or whomever it hits, potentially causing "friendly fire" by leading the horde to attack any thing (including other players) coated in the bile. Bile Bombs are very useful since they allow for a brief break in combat and allow you a short time to prepare and refit for what's coming next.
Nemean Cestus (God Of War III)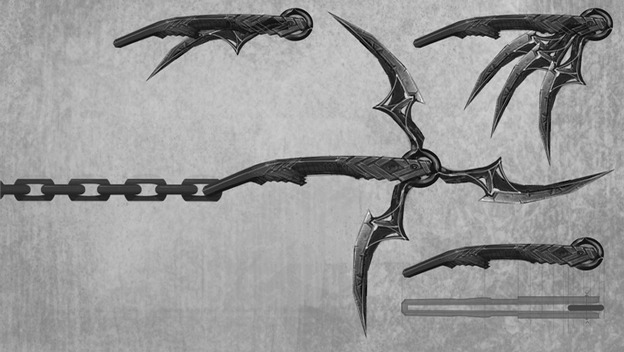 The Nemean Cestus is a weapon seen in God of War III (it also makes a short appearance in the multiplayer of GoW: Ascencion). They are a pair of large, metal gauntlets forged to resemble a growling lion's head. They greatly increase the strength of whoever is wearing them. According to Greek Mythology, the Cestus was apparently given to its original owner, Hercules, after he killed the Nemean Lion during one of his Twelve Labors. The connection is made even more evident by the fact that they feature the lion's face and claws.
Clementine (Brutal Legend)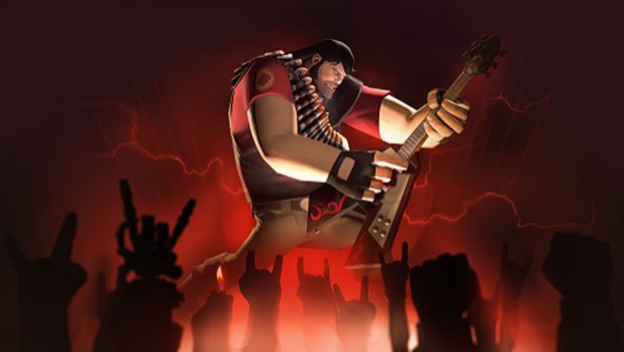 This guitar can electrocute people and burn enemies. Clementine is also capable of playing crazy solos that act as spells. These spells can do anything, including summoning cars and beasts as well as melting faces. As you progress, you can unlock more abilities and even combos with the Separator. Combos can be unlocked throughout the story and can be purchased at the Motor Forge, where you can buy varied guitar strings to enhance attributes of Clementine's power. And each new attribute has its own unique paint job. The only drawback is if you use her power long enough, she'll overheat and you'll have to wait out the cool down to use her again.
Aperture Science Handheld Portal Device (Portal/Portal 2)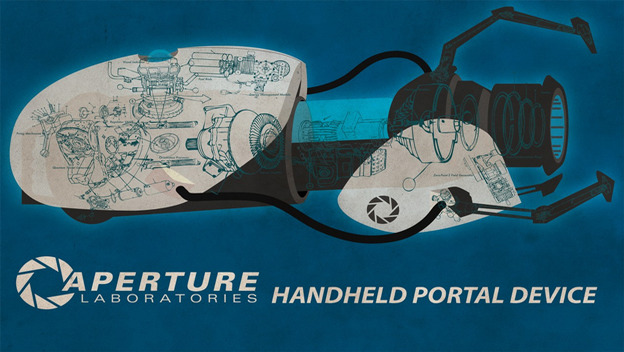 Seriously, I wish I had a Portal Gun. If I did, I would have so much more time in a day to goof off and do things that I actually wanted to do because I wouldn't be wasting time with travel. As long as GladOS left me alone, my having a portal gun would be the most amazing thing ever. The ability to simultaneously transport your self, either partially or in full, would be great. But you would always have to remember certain words of wisdom: "Momentum, a function of mass and velocity, is conserved between portals. In layman's terms, speedy thing goes in, speedy thing comes out."
Tactical Nuke (Call of Duty: Modern Warfare 2)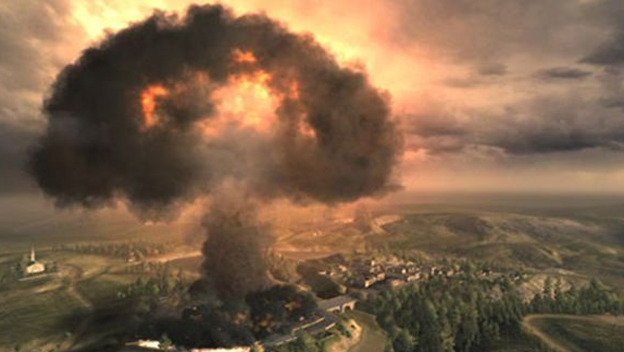 Requiring 25 consecutive kills (or 24 with the Hardline Perk), this kill-streak is the hardest one to nail in Call Of Duty: Modern Warfare 2. It can be unlocked as early as level 10 and once you do, God help whoever is on the receiving end of this weapon. It is an instant game winner for the CoD players who are fearless –or crazy – enough to set one of these off in a close-combat area. This is something that I know I have wanted to do for a long time, and CoD:MW2 lets me do it without all the global repercussions. Besides, collateral damage is overrated anyway.
Experimental MIRV (Fallout 3)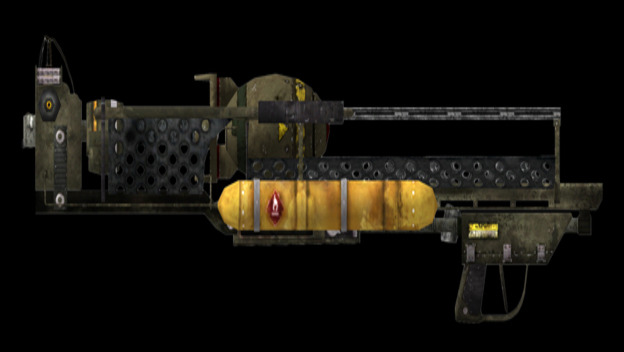 The experimental MIRV can be found in the bomb shelter area in the National Guard depot. This weapon deals the most damage of any weapon in the entire game, as it acts like a shotgun version of the Fat Man. It delivers eight mini nukes at once. The MIRV actually does the same damage as a Fat Man per mini nuke. So, really, it is just a Fat Man with an increased capacity and a damage multiplier. The only drawback is that you have to have eight mini nukes in your inventory to fire it. If you have less, it will reload, but it won't fire until you have the full eight rounds loaded into it.
Mr. Toots (Red Faction: Armageddon)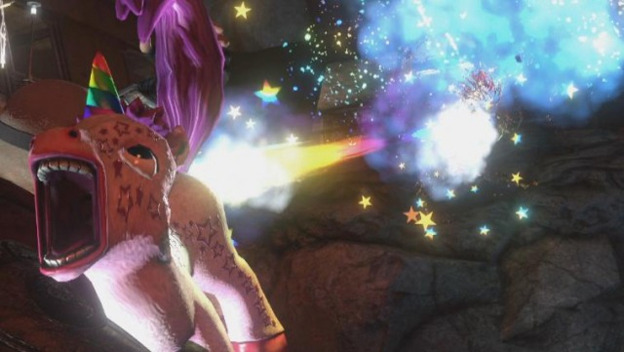 If his facial expressions are any indicator, Mr. Toots doesn't seem to like being used as a weapon. Mostly he seems pretty calm until you start "shooting" him. An awesomely accurate and extremely destructive weapon, Mr. Toots can be unlocked after finishing the storyline once. After which, he will appear as a weapon. The "rainbow" that he shoots from his butt is more like a laser that destroys anything in its path. Enemies killed by this attack have been known to explode into a cloud of rainbows and butterflies that dissipate as quickly as they appear.
Foam Finger (Dead Space 2)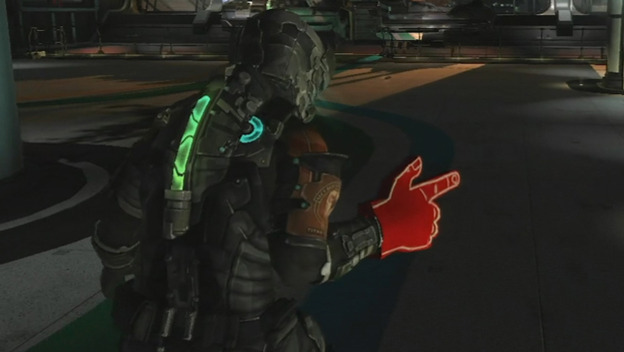 When you beat Dead Space 2 on Hardcore mode, you unlock the Hand Cannon. It's actually a foam finger that is fully loaded with the power of mass destruction. It is very nearly a one-hit-kill weapon, and the fact that Isaac starts yelling, "Bang! Bang! Pew, pew, pew!" absolutely cracks me up. For the longest time, I thought this Easter egg weapon was a myth. A lie spawned by some gamer to try and get people to play the game with him more online. Then I found out it was indeed real. The insanity of such a weapon made me realize I had to fight my way through intensely painful waves of Necromorphs just to get this weapon.