California is a place of dreams, and what better dream than one that brings our favorite fictional characters to life? That's one part of what makes San Diego Comic-Con so great; the cosplays that rule the streets. And believe you me, those streets are jam-packed, wall-to-wall, with thousands of people there to revel in the joy of popular culture. It's a celebration of colors, lights, sounds, and spandex.
So we wanted to share just a small few of our favorite cosplays from San Diego Comic-Con 2018. Let's get started!
Princess Leia, Han Solo, and Qi'ra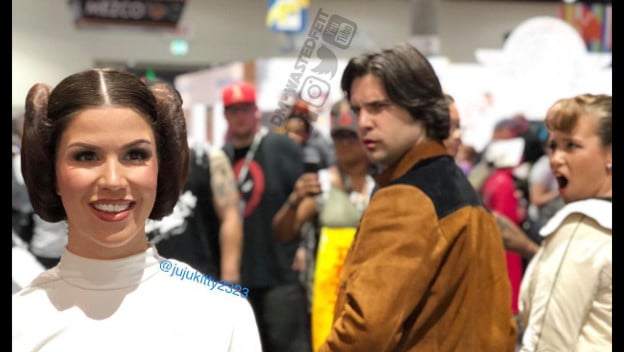 Let's start this list of hot cosplays out the right way! This photo went viral very quickly after SDCC 2018, and it's clear to see why. The Star Wars riff on a popular meme really struck a chord with fans, and the cosplays featured in it are great too! Han Solo whips his head around to check out Princess Leia as she walks by, while his childhood friend Qi'ra looks on in deep-rooted offense. The smile on Leia's face as she unknowingly causes trauma really makes the picture.
Image Credit: wasted_fett
Juggernaut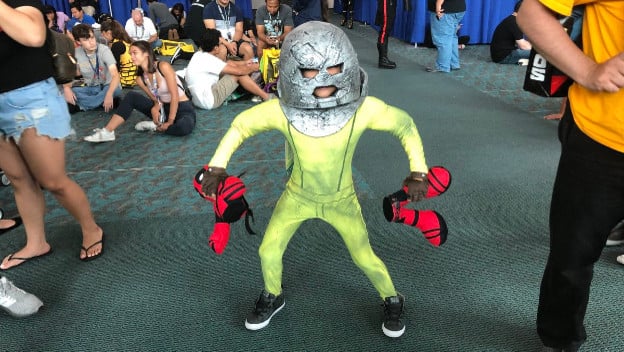 Not all cosplay has to be elaborate or cost hundreds of dollars to create. This mighty little one proves that good things can come in small packages! This Juggernaut is cosplayed by a young kid who is doing a great job of showing his size doesn't matter! Look at his display of strength! The Deadpool plush savagely ripped in half really sells the costume as a whole, and we wouldn't want to mess with him. Bonus points too for being one of the only (possibly the only) Juggernaut cosplay at SDCC 2018.
Image Credit: Bionic Buzz
Ursula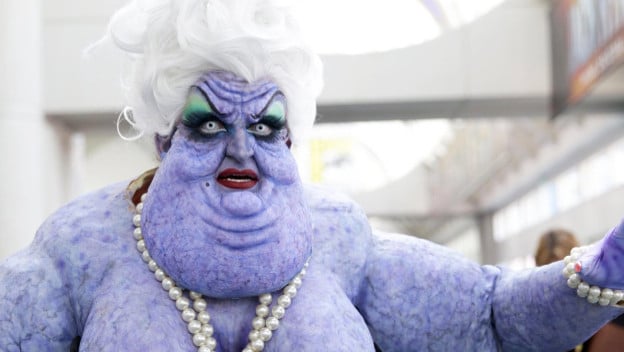 Some cosplays are all about the personality. The clothing doesn't mean anything if the characterization isn't there, right? Others, like this Ursula, are all about different kind of commitment. I've seen plenty of Ursula costumes that involved a very beautiful lady with tentacles for days. But this version hearkens back to the original, gaudy, and vile Disney Ursula. California temperatures were unseasonably hot in 2018, so I also can't imagine how sweaty that costume must have been. Major kudos to this cosplayer for their willpower.
Image Credit: TV Guide
Pennywise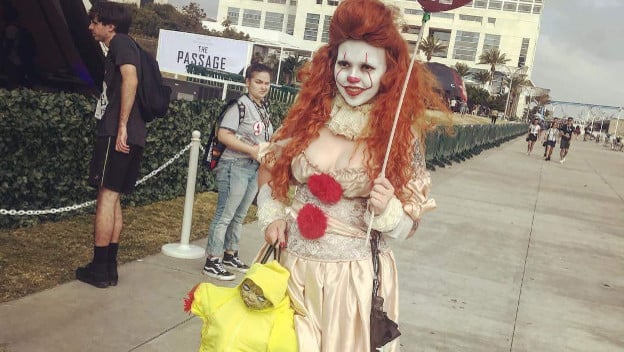 Pennywise has frightened us since Stephen King created it for his 1986 novel, It . There's already nothing worse than the appearance of a creepy clown, but one that hides in the gutters and eats small children? No way, Jose! This Pennywise cosplayer might have a more beautiful appearance than we're used to, but I still wouldn't want to cross her. The fact that she brought her victim Georgie along with her just shows how cruel she can be! Unseen in this photo is her token red balloon, which had a "missing" sign from the film as well.
Image Credit: Cinemast.net
She-Hulk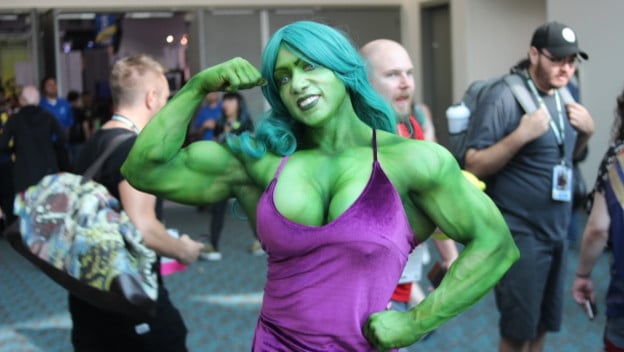 All right, what cosplay list would be complete without a badass babe? She-Hulk is one of the best, and this version is to die for! We can't imagine how long it took to build up that bod, but this gal chose the perfect character to show off her hard work. She-Hulk has god-like strength even when she's calm and in this photo, you can tell! The eyes are equally tantalizing, drawing us in and leaving us wanting to know more.
Image Credit: Bleeding Cool
Darth Maul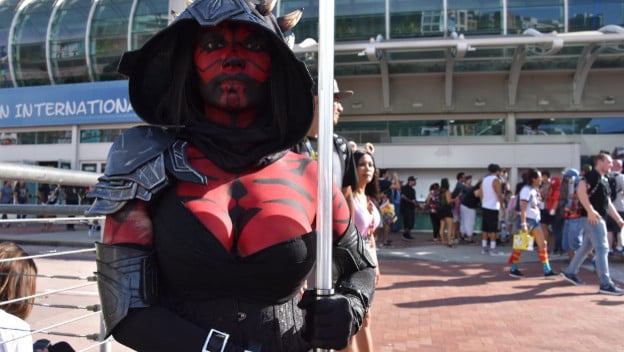 Gender-swapped cosplays have been around for a while now. You've almost certainly seen a male Sailor Moon character frolicking at a convention before. The male-to-female versions of characters are just as entertaining. Like this Darth Maul that looks like she's ready to rip our souls directly out of our chests. It must have taken a very long time to get all that makeup on, but it was clearly well worth it. This Darth Maul is one of the most haunting we've seen in a long while.
Image Credit: CNET
Widowmaker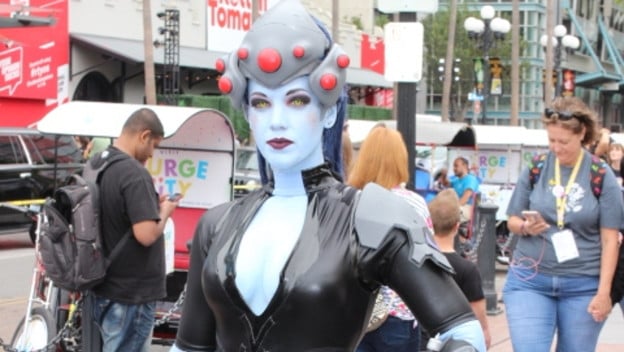 Overwatch is already a fantastically fun game to play, but it's also wonderful to see come to life. Some of the best cosplayers in the business have done their own takes on these well-known characters. This was one of the best at SDCC 2018 though, this beautiful Widowmaker. Her skin-tight costume is only shown up by her detailed headpiece, and those eyes are chilling. Even without a gun in sight, Widowmaker intimidates the crap out of us.
Image Credit: Bleeding Cool
Angel of Death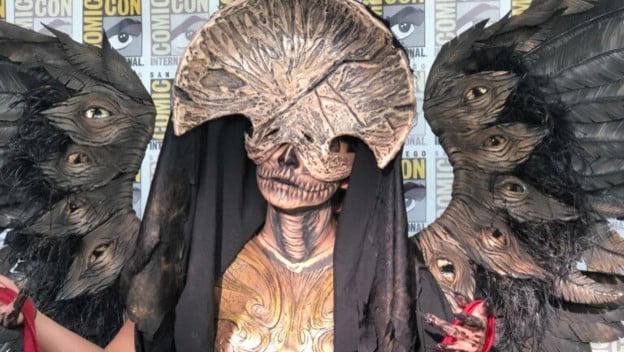 While it's always hard to crown the best of the best cosplay at any event, it has to be done. From what we saw, this Angel of Death from Hellboy was the winner. How that headpiece was even created boggles our minds. All kinds of stunning details, like the eyes on the wings and the creepy hands, really sell this character. While the person behind the mask is human ( Kimchi_cosplay ), if we came across this person in a dark alley at night, it certainly could have fooled us!
Did you see any super epic cosplay at SDCC 2018 that you need to share? Tell us (and better yet show us!) in the comments below!
Image Credit: GeeksOfColor