It was pretty cool to be an anime-fan-slash-gamer in the early 2000s. If you had a PlayStation 2, or even a GameCube to an extent, you were buried in options. Sure, you had to import some of them, but it was easy to play the games and plenty more were localized. There was kind of a drought on the PlayStation 3, Xbox 360, and Wii, although the Dragon Ball and Naruto series stuck around. But this generation, the localized anime game landscape not only greatly expanded, it… changed. Anime games are considered a dime a dozen sort of way, which is mostly true. But now anime games are getting weird, and I'm totally here for it.
What got me thinking about this, naturally, is the latest Dragon Ball Z game. Dragon Ball , the never-ending force of nature it is, is a perfect example of anime weirdness. There have been Dragon Ball video games since the Famicom, one of them even being localized for the NES (albeit stripped entirely of its license). For the most part, once games got into the high fidelity zone, Dragon Ball games largely ended up being fighters or RPGs. But this one is different. Kakarot is a huge, open world, action-adventure game that takes the Dragon Ball story and expands on it in a way that feels just as big as the world. Anime games have historically felt low budget, but this is a swerve in the opposite direction.
Kakarot isn't the first example of this, however. In 2019, Bandai Namco also released One Piece: World Seeker , which received a similar treatment. While One Piece is Japan's most popular manga series by a mile, it doesn't have the same international reach as Dragon Ball . So World Seeker is a little more lo-fi compared to Kakarot , but it's still a massive change from previous One Piece games. It has a larger focus on exploration and visual art than ever before, and it even compromises on having a full cast of playable characters to get there. Using One Piece as an example takes us to the other part of this observation.
As anime games have experimented and grown, so have the developers and publishers involved. Bandai Namco obviously has more going on, such as its massive successes with FromSoftware, but the other star of this show is Koei Tecmo. The house of Ninja Gaiden found a new niche at the beginning of the PS3 generation in licensed Dynasty Warriors spinoffs. This started with Mobile Suit Gundam , back when that brand specifically was struggling in the gaming world. But after that miniseries was a success, Koei Tecmo sought more anime licenses and IP partnerships, including One Piece , Berserk , Arslan , and even projects with other game developers such as Square Enix and Nintendo. Koei Tecmo has experienced a lot of growth as a result and has been able to take on more projects and bigger risks.
Another major change happened within the fighting game space. Fighting games can't really do the AAA thing anymore, as was the case with series like Naruto Clash of Ninja or Dragon Ball Z: Budokai . Fighting games were "easy" back then, but now even Street Fighter is back to struggling. Fighting games need to be able to sustain their audiences to be a hit, even if they're small enough to sustain with a niche crowd. But what has grown is the arena fighter.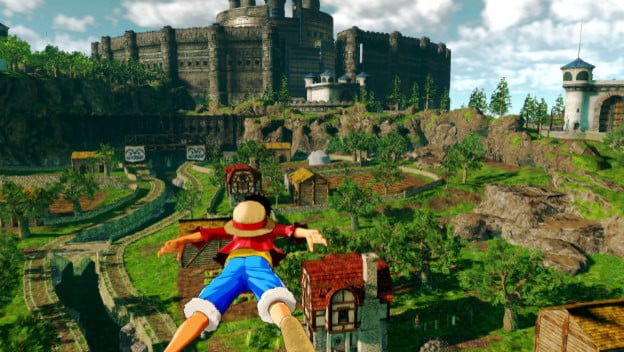 Bolstered by series such as Gundam Versus , anime-branded arena fighters (cooperative and competitive 3D brawlers fought in third-person), have been cropping up more and more. They keep the spirit of the older one-on-one fighters alive, but in a new genre space more forgiving of simple controls and casual play. Games based on the likes of One Punch Man , My Hero Academia , and JoJo's Bizarre Adventure have all benefitted from this shift.
When I say that anime games have been getting weird, I don't necessarily mean they're becoming structurally challenging or avant-garde in any way. I mean "weird" in a relative sense, as the old model has become untenable due to rising development costs, more pronounced niche groups, and shifting interests in Japan. Putting more effort into things like presentation and unique gameplay hooks has made anime a real genre into itself, especially when it comes to the growing Western audiences hungry for games on each major platform. As the Japanese gaming audience gravitates to mobile games (and more recently the Switch), publishers like Bandai Namco have found renewed energy in other countries, thanks to growing and steadying anime interest, despite the weird bubble situation back in the Naruto days.This has led to developers trying new things and moving away from what was once simple and easy.