Games with long, flashy, compelling single-player campaigns are expensive; probably more expensive than you think. Cliff Bleszinski stated in an interview that it's typical for 70% of a developer's budget to be consumed by a single-player campaign that will, most likely, get played through once and then left behind forever as people move on to online multiplayer. That's certainly been true in my experience, and Epic CEO Tim Sweeney is tired of devoting his resources to that single-player campaign. He's tired of how much money goes into it, and how tightly that money binds you to a big publisher. That's why, moving forward, Epic is going to be focusing more on the type of free-to-play multiplayer games – like Paragon and Fortnite – that are funded by microtransactions and evolve over time. Is this what we want, though? Are we willing to wade through years of unfinished games, being nickle-and-dimed along the way, for the sake of creative freedom?
On one hand I can completely get behind the rallying cry of "down with big bad publishers!" Sweeney doesn't say as much, but you can assume that he and his team are dying to create games that inspire them. And he's right, you know: when you're producing these huge games that cost tens of millions of dollars to develop, you're no longer free to manifest your vision or the team's vision. You're bound to the publisher who foots the majority of the bill, and that means your primary goal is identical to the publisher's primary goal which, make no mistake, is always to make money for shareholders. As a creative, as an expressive, that obligation probably feels like chains and fetters.
An optimist would see this new, "big-indie" approach as a way to create games truly capable of redefining a genre. We could soon be engaging a new paradigm wherein developers work with the community – people like you and me – to help shape the future of their games. What if Infinity Ward didn't worry about spending 70% of its budget to create a massive single-player campaign for Infinite Warfare ? What if it focused on developing an iteration of (the Chinese-only) Call of Duty Online where long-time fans of the series lent their collective voices and were able to properly inform the perfect Call of Duty multiplayer experience? Better yet, what if that game came out for free? You'd be glad to support it by spending a few bucks here and there for fancy skins, custom attachments, and upgrade packs.
Of course, that's the optimist's pipe dream. If we come back down to Earth and take a look at what's really going on, we see something like Paragon . Paragon is really all we have to work with, though I do hope that Epic doesn't base the merit of this new paradigm on the success or failure of Paragon because, at the moment, it's just not very good. It's really none of the things that I was daydreaming about above. It doesn't redefine the genre; it's an extremely typical MOBA. Players are minimally involved in development through surveys, but Epic still hasn't conceded to give us a few of the very simple things we've asked for, like faster movement speed. And while it will be free-to-play, I can't see myself deciding to spend a single dollar on it. I'm just not invested, and that's what Epic has to turn around.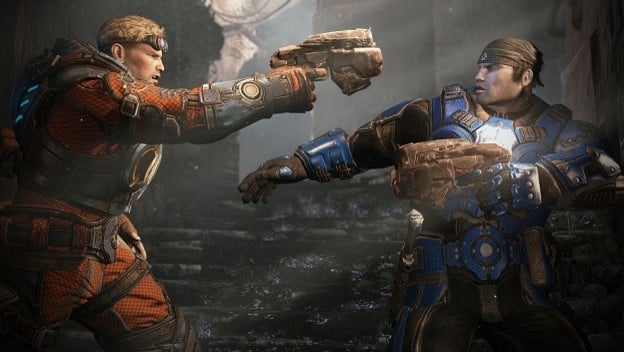 The danger with this new model is that it might lead to heap after heap of crap. Publishers stifling creative freedom in order to make as much money as possible and appease shareholders? Sure, that sounds like a drag, but you know what? The fact that they care so deeply about making money means a lot of research goes into what people like you and me will actually spend their money on. Sometimes we don't truly know what we want, even if we think we do. Hell, even if we do know what we want, that doesn't mean that when we finally get it it won't totally suck. Does Black Ops 3 redefine the FPS genre at all? Absolutely not, but I did spend $60 on it, and it is a lot of fun to play online. By expertly analyzing consumer trends and patterns, these "big bad publishers" tend to have a pretty good idea of what we consider fun and worthwhile. If developers break away from that in the name of creative freedom, we could all suffer for it. All I know is I loved Gears of War , and I don't love Paragon .
What do you guys think? Is free-to-play multiplayer the way of the future? Try not to think of it as it is now; try to think about it as it could be a year or two from now. If developers could effectively tap into the community to glean the trends that are worth pursuing, are we better off without the backing of dividend-driven publishers, or is it the publishers who ensure we actually get what we want? Without Activision or Blizzard there would be no Modern Warfare , no Hearthstone , no World of Warcraft … you get the point. The future is full of unknowns, but it will be shaped by our purchasing decisions.