The final dust from THQ's messy explosion has settled. Yesterday, the final properties that didn't sell in the first THQ auction were snapped up in a second auction featuring lower starting prices. Gearbox stepped in to acquire Homeworld, but the remaining well-known THQ franchise rights went to a company that most gamers have probably never heard of: Nordic Games.
Among the franchises that Nordic has scooped up is the popular Zelda-inspired Darksiders series, which was surprising to many industry watchers. Crytek, where many of Darksiders' creators from the now-defunct Vigil Games are now working, had recently announced its intentions to acquire the franchise in yesterday's auction. That didn't happen, leaving Darksiders fans wondering who the heck Nordic Games is, and whether they'll see a new Darksiders game that remains true to the spirit and quality of the series so far.
Nordic Games is a relative newcomer to the gaming world. Despite the Scandinavian connotation of its name, the company is headquartered in Vienna, Austria. Officially founded in 2011, Nordic is a privately-owned publishing company. Until yesterday, Nordic's holdings included JoWood Entertainment and Dreamcatcher Games/The Adventure Company. JoWood is known for developing and publishing PC strategy and RPG titles such as Spellforge, Torchlight, and the Gothic series. Dreamcatcher/The Adventure Company has a long history of producing traditional PC adventure games, and its Nancy Drew mystery games are quite popular in the casual gaming market.
In its press release about yesterday's purchase, Nordic notes that this has been its biggest acquisition so far. Along with Darksiders, Nordic acquired a ton of franchises such as Deadly Creatures, Destory All Humans!, MX vs. ATV, Titan Quest, and uDraw. The full bid made for these (and many other lesser-known) franchises was $4.9 million, which is pretty much chump change in this industry.
This morning, Nordic Games CEO Lars Wingefors stated in a Game Informer interview that he'd been interested in many of these franchises all along, starting talks with THQ in January over the purchase. The asking price in the first auction was more than Nordic could reasonably afford, however, so the company had to wait for the second auction to pick up the remaining franchises that hadn't been bought by richer companies.
Darksiders appears to be one of the franchises that Nordic is most interested in continuing, although the company is careful to say that it has not yet acquired a developer for the franchise. Nordic is strictly a publisher, so it won't be developing a Darksiders sequel internally. Wingfors confirmed with Game Informer that his company has already started discussions with interested development parties over the past twenty-four hours, but he can't divulge their identities at this point. He also said that no matter what happens, fans shouldn't expect a new Darksiders game this year, because he doesn't want to put out a rushed, "shitty sequel."
Can Nordic Games preside over a worthy Darksiders successor that meets or exceeds the quality of the first two Darksiders games? It all depends on the development team to which Nordic licenses the game, and that development team depends on the amount of cash Nordic is able to put up for development. It's doubtful that Nordic has a so-called AAA-sized budget available, but the Darksiders games have never been made with budgets that large. We know that Vigil Games originally had development plans that were bigger than what they were able to produce, especially their ideal vision of a four-player co-op Darksiders game in which the players control all four Horsemen. Can Nordic afford to fund this kind of vision? We simply don't know.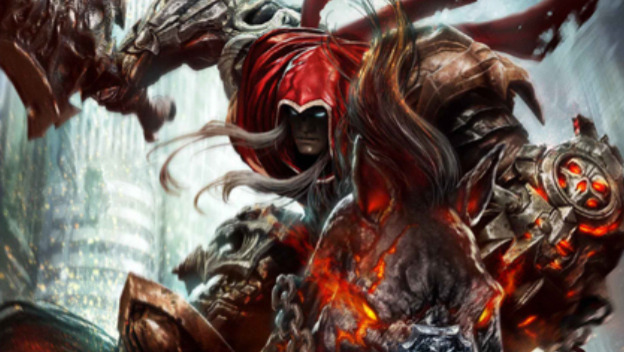 The good news about this purchase is that Nordic appears to be the kind of company that cares about the franchises it has just purchased, and so far Nordic's representatives have showed a strong willingness to interact with the press and series fans. There's still a possibility that a new Darksiders series could be developed by former Vigil staff at Crytek. Vigil co-founder Ryan Stefanelli even appears to have posted to Nordic's Darksiders forum, wishing Nordic good luck and hoping the company can do what Vigil would have done with the series.
The bad news is that Nordic is largely untested as a publisher outside the realm of niche PC games. This could limit the kind of developers that are willing and able to work with Nordic, as well as the platforms on which a new Darksiders game will become available.
For now, though, the company's will seems strong, and Darksiders fans can hold out hope that the series will go on and have enough funding to improve. To quote Nordic's Business and Product Development Director on the company's forums, "One thing is sure: The tale of the four horsemen is not over!"
By
Becky Cunningham
Contributing Writer
Date: April 23, 2013