WWE 2K18 Offers a Long Road to Glory
I'm going to be honest here; The last time I watched a professional wrestling match, it was still called the World Wrestling Federation. Triple H, The Rock, and "Stone Cold" Steve Austin were in their glory days, Chris Jericho had just come onto the scene as Y2J, and Stephanie McMahon was still the girl next door. It's good to see my old idols represented in WWE 2K18 , along with some kingpins from my younger years like Big Boss Man, "Macho Man" Randy Savage, and Ultimate Warrior and all the current superstars that I am eager to acquaint myself with. It's a massive roster, with dozens unlocked right from the start.
WWE events are as much about the show, the spectacle, and the roar of the crowd as they are about the wrestling itself. In WWE 2K18 , the art of showmanship's brush and palette are given to you to stroke the controls and customization options. This provides plenty of tools to play with, and every match and event is drawn out like you see when watching a live episode of Raw or SmackDown . It is a magnificent showcase of every element you would find on TV, but also carries with it a sluggish pace to compliment the simulation style of action, which heaves a lot of tedious weight around in between matches.
Most of this full-on soap opera script comes from the MyPlayer Mode, the beefy campaign that lets you create your own rising star, train in the rehearsal ring, work your way through the NXT league, and eventually go toe-to-toe with the biggest names in the WWE for a shot at a title belt. It has all the requisites of an overblown progression system, with skills such as striking, grappling, and acrobatics to improve, credits to accumulate and spend on new costumes, poses, and other personal flairs, and drama to build both in and out of the ring.
It's all this excess showmanship that leads to WWE 2K18 's trudging pace. We go slowly strutting through the arena halls, forming alliances and rivalries with other stars by having overly dramatic conversations with equally flamboyant animations and elongated facial close-ups that would make the daytime soaps proud. Pair these with full match introductions and lengthy loading screens between almost everything, and you spend exceedingly more time watching than you do wrestling.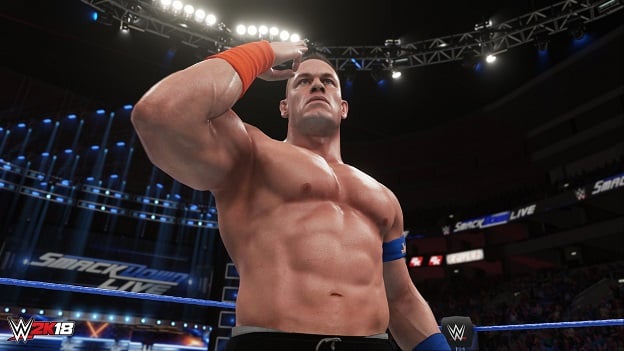 Fortunately, there are other modes in WWE 2K18 that get you right into the ring or even let you run-in early to take a cheap shot on your unsuspecting adversary while they're still making their way down the ramp. Landing strikes and grapples are simple button presses, but mixing up the hit selection and manipulating pickups and facelocks is where the visual and tactical variety shine through. Moves transition smoothly between one another, and for the most part the entire orchestration of combinations feels authentic. There are still moments where the AI can't decide which animation to choose, especially when writhing on the stage, where a few agonizing displays swap sharply back and forth. The timing and understanding of reversals is pivotal to winning a match, which will hand newcomers several early defeats until the telltale signs of an incoming strike are memorized.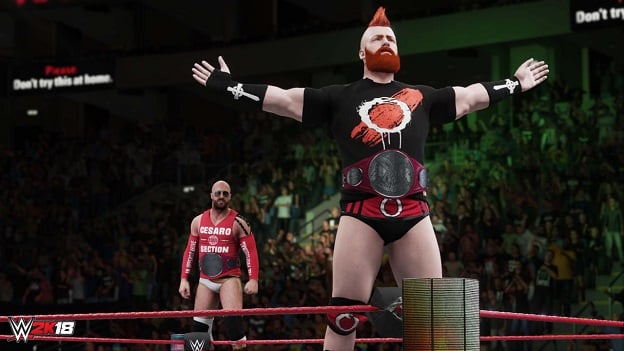 The enhanced grapple system and the carry and drag improvements open up a lot more opportunities for the attacker, setting up stunning special moves like a Steel Cage Superplex or perfectly targeted springboard attacks from the apron. WWE 2K18 also makes table smashing and ladder matches more interesting affairs, allowing you to place them better for back breaking blows.
WWE 2K18 's multiplayer matches are great bouts of focused mayhem, but the new Road to Glory mode gives them more purpose than simple bragging rights for a single match. When taking your MyPlayer to this online mode, you can earn loot crates, gain experience and boosts for your fighter, and work your prestige towards coveted Pay-Per-View matches. It provides a great deal of substance for the campaign mode, without all the backstage shenanigans and sluggish social interactions.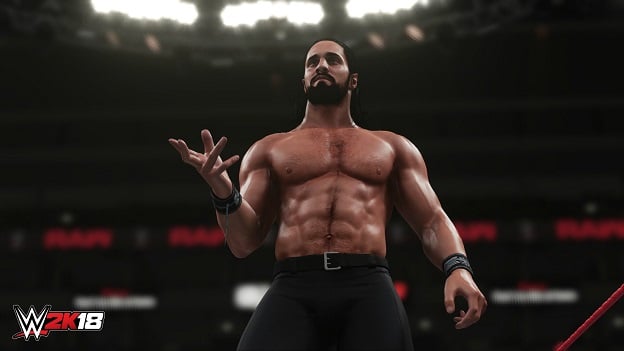 The 2K Sports team did a great job visually recreating the environment of each WWE event, with every intro, lighting and pyrotechnic effect, and individual personality of each superstar matched in every detail. There is, however, a jarring inconsistency in the quality of WWE 2K18 's character models. Stars like Triple H, cover boy Seth Rollins, and Randy Orton's tattoos obviously had a few extra cameras on them for the game shoot. But others, like Chris Jericho and Randy Savage, look like early last gen models.
I have to applaud the sound editing team for stellar work with the play-by-play commentary. The scripted lines for the new team consisting of Michael Cole, Byron Saxton, and Corey Graves is extensive, and after dozens of matches, I have found very few redundancies. They also do a great job of cutting into the most exciting moments of big roster matches like the 6-man Hell in a Cell, 8-man Battle Royal, and even a whopping 30-man Royal Rumble. Each superstar gets their credit when performing signature moves or attracting the attention of the crowd. Every piece of the stage pings and pounds with the distinct sounds you're used to hearing during a live match. I was slightly disappointed with the soundtrack for WWE 2K18 's menus, with a few too many outdated punk tunes and not enough genre variety for a cast of superstars that personify many different stereotypes. But the worst crime is the lack of voice work from anyone others than the commentators. No superstar lends their voice for the game, and the subtext-only conversations are weak.
WWE 2K18 may be my first foray into a WWE wrestling game in many years, but I enjoyed getting quick and dirty into matches and being part of the multilayered action that incorporates a variety of attacks, grapples, and submissions. The dramatic backstage elements were too lethargic, but the Road to Glory mode offers a great reason to keep improving my custom MyPlayer's craft. There's still some fine tuning needed in the animations and general visuals, but the overall feel of a faithful WWE experience is absolute and worth the ticket price for any dedicated fan.
RATING OUT OF 5 RATING DESCRIPTION 3.7 Graphics
There are irregularities with some of the character models, but the overall (and overblown) presentation fits the dramatic style of the WWE perfectly. 4.0 Control
The enhanced grapple and dragging techniques add even more variety to the move list. Reversals are tricky but essential to master, and limited tutorial and training options pose a challenging learning curve for beginners. 4.0 Music / Sound FX / Voice Acting
The commentary is well performed, and each match is called without missing a single big moment. The crowd and ambient noises are also nicely done. The soundtrack is too monotone, and where is the rest of the voice acting? 3.3 Play Value
Getting into a quick match and progressing through the Road to Glory with your custom character are the highlights. The sluggish pace of backstage drama and excessive loading screens can really drag the action into submission. 3.7 Overall Rating – Good
Not an average. See Rating legend below for a final score breakdown.
Review Rating Legend
0.1 – 1.9 = Avoid
2.5 – 2.9 = Average
3.5 – 3.9 = Good
4.5 – 4.9 = Must Buy
2.0 – 2.4 = Poor
3.0 – 3.4 = Fair
4.0 – 4.4 = Great
5.0 = The Best
Game Features:
Most Realistic WWE Video Game Ever! – The most realistic WWE video game experience just became more intense with the addition of eight man matches, a new grapple carry system, new weight detection, thousands of new animations and a massive backstage area. A brand-new rendering engine also gives WWE 2K18 a visual overhaul and will bring the drama of WWE to life like never before!

MyCAREER – A new MyCAREER experience puts you on the path to greatness as you journey along on the road to WrestleMania. Explore WWE like never before through free-roaming backstage, conversing with WWE Superstars, forming alliances, making enemies, seeking out quests, and strategizing for upcoming matches.

Road to Glory – Can your MyPlayer make it to the WWE Hall of Fame? Introducing the all-new Road to Glory! Compete with opponents online to improve your MyPlayer by earning unlockables, boosts and upgrades all while securing your entry into Special Events that are held alongside real-life WWE special events, such as pay-per-views.

Dynamic Creation Suite – Customize WWE like never before with an even deeper set of customization tools and the new Custom Match option! The robust Creation Suite also offers even more detailed features for Create-a-Superstar, Create-a-Video and Create-an-Arena.

Seriously, THE BIGGEST ROSTER EVER! – Dominate the ring with TONS of your favorite WWE, NXT and legendary Superstars! We're not kidding, WWE 2K18 offers the most complete roster of the biggest and brightest WWE and NXT Superstars and Legends to ever grace a WWE ring!