I think it's time that we all sat down and had a little talk about Xbox LIVE.
Until recently, I'd been an avid defender of Xbox LIVE, but the industry has changed so drastically within the last twelve months that I've been forced to admit that LIVE has become a smoldering rip-off.
See, the 360 used to be my go-to console, but these days, I feel like Microsoft is slapping me in the face every time they bill my credit card. What the hell am I paying for? As far as I can tell, I'm shelling out $60 per year to unlock my Xbox's built-in Internet connection. And, the last time I checked, every other console on the market allows me to play multiplayer games free of charge.
The thing is, I still believe that Xbox LIVE is a slightly better service than Sony's baseline PSN connection, but that's not a fair comparison anymore. As soon as Sony released PlayStation Plus, the market shifted and Microsoft never made the change. Now, for 60 bucks, PlayStation owners get an endless supply of video games, and 360 owners get basic Internet access.
Now, Xbox fanboys are probably going to accuse me of being hyperbolic about LIVE's lack of features, so let's take a look at them. Here's the Xbox LIVE feature list, taken directly from Microsoft's website. I've added the columns on the left to indicate which features are available free of charge on the PlayStation Network.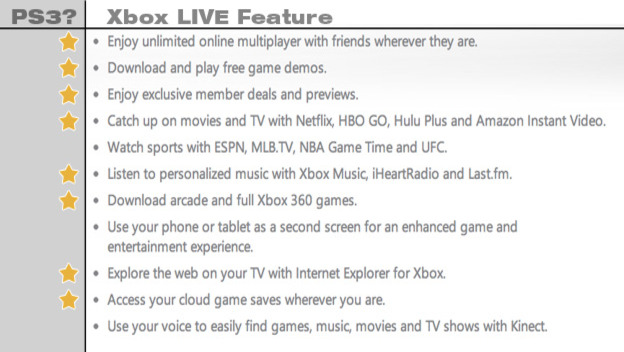 Now, there are a couple of caveats here. PS3 owners might not be able to watch ESPN on their PS3, but Sony has partnered with Direct TV to bring the NFL Sunday Ticket and the RedZone Channel to the system. So football fans should be covered. Plus, PlayStation users can watch the NHL streaming package and MLB.TV. So, Xbox LIVE's ESPN package isn't quite as exclusive as Microsoft might think. Essentially, it means that PS3 owners can't watch basketball or UFC.
Also, if you've ever used Microsoft's SmartGlass app, you know that the ability to "use your phone or tablet as a second screen for an enhanced game and entertainment experience" is not a perk. The app is frustratingly non-functional. Plus, PlayStation owners can use the console's cross-platform compatibility to play against Vita owners, which is something that SmartGlass is incapable of.
Actually, there are only three services that LIVE offers that Sony doesn't have any answer to: Customizable Avatars, Kinect controls, and Group chat. Now, PSN players do have access to PlayStation Home, which is a virtual community where players can "Build [their] own personal avatar, play hundreds of games, get lost in the ever-expanding cityscape and much more." So, the ability to create a cartoonish avatar on Xbox LIVE seems a little silly by comparison.
Also, can someone please explain why I need to purchase Xbox LIVE in order to use the integrated Kinect Controls? Shouldn't that have been a part of my Kinect purchase?
So, the only perk that LIVE really has left is the ability to privately voice chat with a group of your friends. And, if you purchase a three-month membership, the ability to chat will cost you $8.99 per month. I hope you really like chatting.
But if you took that money and applied it to a PlayStation Plus membership, you'd get access to free games every month. Yup. Free games.
Thanks to PlayStation Plus, I'm currently playing LittleBigPlanet 2, Warhammer 40,000: Space Marine, PayDay: The Heist, Scott Pilgrim Vs. The World: The Game, Lara Croft and the Guardian of Light, NBA Jam, BioShock 2 and Infamous 2. For free. If I had been forced to purchase all of these titles separately, I would have ended up paying well over 100 bucks. And since three of these games are PlayStation 3 exclusives, Xbox LIVE looks even sillier.
And, if PlayStation ownership weren't already sweet enough, last week Sony kicked off a sale that lets PS+ owners save up to 75% on several popular titles. I picked up LittleBigPlanet Karting for $10, The Unfinished Swan for $3.75, and Psychonauts for $2.50. When was the last time you bought something during an Xbox LIVE Arcade sale? Me either.
So, just so we're all on the same page, for the same price that you're paying to voice chat on Xbox LIVE, you could be getting an unlimited stream of free games. Maybe now you'll feel just as insulted as I do the next time Microsoft bills your credit card.
Don't argue with me. Destructoid's Jim Sterling agrees with me on this one .
By
Josh Engen
News Director
Date: February 1, 2013