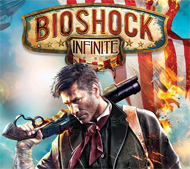 System: PC, PS3, Xbox 360
Dev: Irrational Games
Pub: 2K Games
Release: March 26, 2013
Players: 1
Screen Resolution: 480p-1080p
One of the most interesting things about the original BioShock was the relationship between the Big Daddies and the Little Sisters. Infinite has its equivalent with a woman named Elizabeth and her robotic protector, Songbird. This time around, though, Elizabeth is trying to escape her protector, with the help of former Pinkerton agent Booker DeWitt.
As far as combat is concerned, the original BioShock was hugely reliant on Plasmids, which could be almost seen as the science fiction equivalent of spells in a fantasy RPG. Essentially, Plasmids were powers that allowed you to do things like shoot electricity out of your fingertips or summon swarms of bees to attack your enemy. BioShock Infinite has these things called Vigors, which are basically the same thing, though the concept has been refined to better facilitate player choice.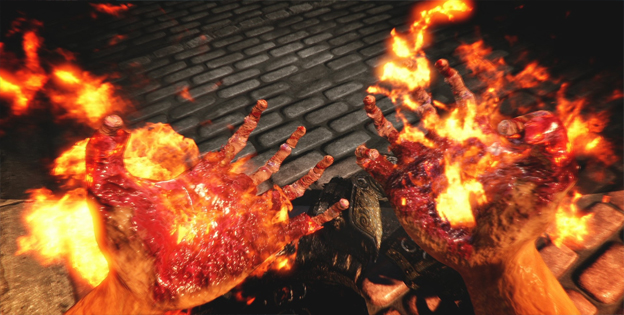 And speaking of combat, the only valid complaint I could possibly make about the first BioShock was that gunplay felt far too loose and sloppy. In fact, it was enough of an issue that it could render certain combat situations entirely unfun. Plasmids were there to sort of put a Band-Aid on the situation, but it wasn't enough to completely redeem the sheer awkwardness of firing a gun in the game. Though we haven't yet actually gotten our paws on Infinite, the videos we've seen point to gunplay that is much smoother and more streamlined than it was in the original game. We're reserving our final judgment for when we actually play the thing, but all signs are pointing to a much better experience, gameplay-wise.
Oh, and did we mention that both BioShock and BioShock Infinite begin with a lighthouse in the Atlantic?
Ultimately, those fans who are trying to claim that BioShock Infinite isn't really a BioShock game are missing the point. Infinite looks to deliver a terrifying psychological thriller that thematically revisits a lot of what made the original BioShock such a landmark experience, while completely rebuilding the formula from the ground up to make it unlike anything we've ever seen in a video game before.
In fact, I'd be tempted to say that if you aren't looking forward to March 26 (the game's launch date), you probably hate video games.
By
Josh Wirtanen
Editor / Social Media
Date: January 7, 2013
Game Features:


The year is 1912 and you are Booker DeWitt, a former Pinkerton agent. His mission: rescue the mysterious Elizabeth from the sky-city Columbia or never leave it alive. But why is everyone so afraid of a young girl?

A technological marvel, the flying city of Columbia a beautiful and vibrant world that has a very dark secret - a secret that not only threatens the existence of Columbia but could change Booker forever.

Using his Sky-Hook, Booker is able to dish out severe hands-on punishment and traverse the city s hook points and Sky-Lines, turning them into weaponized roller coasters.

Your traveling companion Elizabeth has the power to open Tears in time and space. Booker can use these Tears to shape the battlefield and turn the tide in combat by pulling cover, weapons, turrets, and other resources out of thin air.

What would a BioShock game be without a variety of devastating powers surging through your body to be unleashed against all that oppose you? Vigors let you tailor your play style for maximum effect.