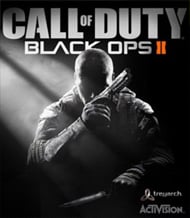 System: PC, PS3, Xbox 360
Dev: Treyarch
Pub: Activision
Release: November 13, 2012
Players: 1
Screen Resolution: 480p-1080p
Treyarch got their RTS in my FPS
by Josh Engen
It's probably safe to say that Activision's Call of Duty franchise has transcended mere popularity and entered the level of worship shared only by a select group of religious figures. Thus, it's not surprising that the gaming industry was consistently gawking at Activision's booth during the E3 conference.
The problem is that the Call of Duty: Black Ops 2 publisher hasn't been particularly forthcoming with new details about its flagship franchise, which means that game journalists are simply repeating the same information over and over. Occasionally Activision tosses a few new informational nuggets into the journalistic community, and sits back as they're reposted by every gaming site and social network on the internet.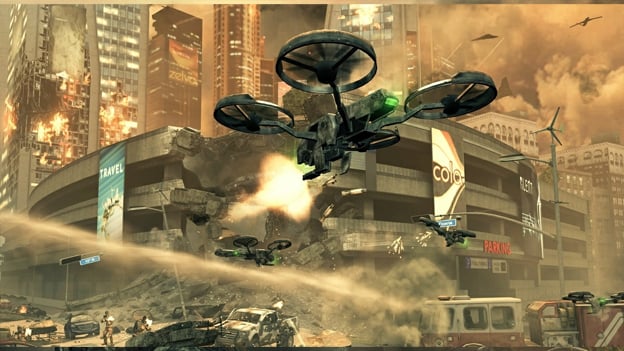 This week Activision and Treyarch gave us a glimpse at the Black Ops 2 gameplay by showcasing two of the game's missions. Although they're placed firmly in Call of Duty's fast-paced universe, Treyarch is obviously taking some interesting liberties with Activation's flagship franchise.
The first was a presidential escort mission that's set in Los Angeles, just a few short blocks from where the E3 conference is taking place. Predictably, the highway is suddenly under attack by enemy aircraft and players are forced to leave their vehicles behind. Call of Duty fans, especially those who preferred Black Ops to Modern Warfare, will be happy to know that the action moves forward at an incredible clip punctuated sporadically by short quicktime events.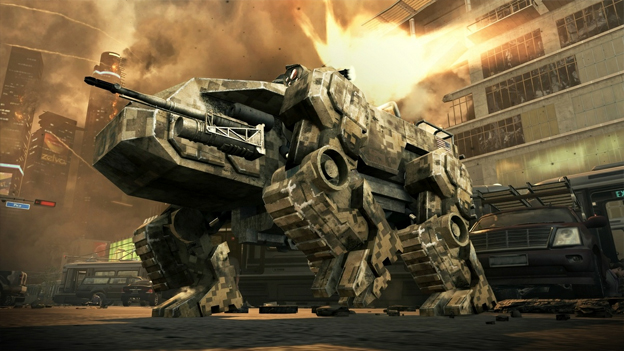 As the scene progresses, set pieces begin to crumble and the characters are forced to revise their plans a few times. However, even though it sometimes seems like the environment is taking its cues from player input, it's all an elaborate illusion. Typically, Black Ops' campaign, just like all previous CoD titles, is on rails. However, this isn't always entirely true.
At the end of the presidential sequence, the player finds himself in the cockpit of an FA-38 hover jet tasked with covering the presidential motorcade from above. Activision explained that they wanted to give players a sandbox experience by allowing them to complete this type of sequence in their own style of play, which means breaking away from its stringent rail system. More neurotic players can follow the motorcade very closely, while the more cavalier among us can haphazardly chase enemy fighters around Los Angeles. However, if you do decide to break away from the president's vehicles, they are left relatively unguarded, so you'll probably need to check in on them regularly.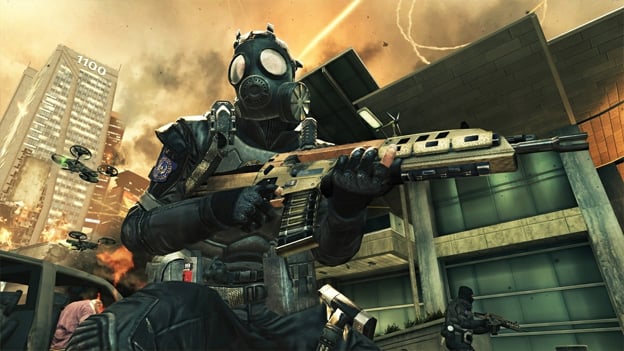 Once we'd completed the escort mission, Activision switched things up and showed off what is probably the most surprising new element in Black Ops 2: strike force operations. This mode is a complete deviation from anything we've seen in the franchise thus far. Players will find themselves in command of a squadron of soldiers and mechanical units. Once the mode is in full sing, the player will be in charge of deploying units in a fashion reminiscent of a top-down RTS. However, after the units have been deployed players have the ability to seamlessly take control over the mechanical units and lead them into the fray. After the unit has been destroyed, players are returned to CoD's standard FPS viewpoint and can start the deployment process again, or enter the battle on their own.