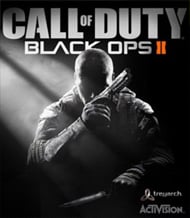 System: PC, PS3*, Xbox 360*, Wii U*
Dev: Treyarch
Pub: Activision
Release: November 13, 2012
Players: 1 (2+ Online)
Screen Resolution: 480p-1080p
Blood and Gore, Intense Violence, Strong Language, Suggestive Themes, Use of Drugs
Also, if you want to show off your team's prowess, you can stream the match using BO2's Live Streaming function. Or you can recruit a mouthy teenager to commentate using the CoDCasting feature.
Hardcore Call of Duty enthusiasts will undoubtedly be hitting BO2's level 55 prestige cap numerous times. But this time they won't have to reset all of their features. (Weapon XP, for example, is held over after the reset.) Instead, players will have access to a variety of Prestige Rewards, which will undoubtedly give players with no job a slight advantage.
Now, in some players' minds, I've left off the most important part: Zombies.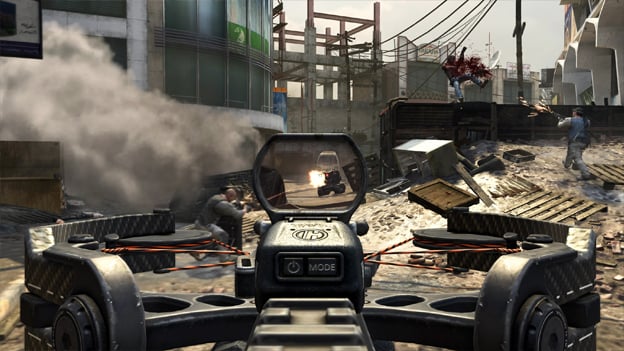 Don't worry, though. Treyarch has also included three zombie-survival maps that will probably keep zombie lovers busy for quite some time. Two of them are reminiscent of the previous survival-style Zombies mode that we've all grown to love. However, they've also added a level called "Transit," which is essentially made up of three separate maps that are connected via a trolley system. Players will have to fight their way through waves of zombies in order to find the trolley, hop on board, and hope the zombies don't overtake them as they travel.
Black Ops 2 also features a new zombie mode called "Grief." Grief mode allows two teams of four players play against each other in a survival mode competition. Whichever team lasts the longest takes the crown.
I'm not sure how they got away with it, but Treyarch has essentially created three separate games and rolled them into one convenient package. Don't tell them I said this, but I would have been willing to pay for the single-player, multiplayer, and Zombies modes separately. So, I almost feel like I'm stealing a little.
In a lot of ways, it feels like Treyarch is giving a gigantic middle finger to Infinity Ward, the Modern Warfare developer that always seems to dominate the spotlight. Black Ops 2 isn't just the culmination of the Black Ops series, it might become the most-loved title in the Call of Duty franchise. Either way, fans won't be disappointed this year.
By
Josh Engen
News Director
Date: November 13, 2012
Game Features:


All-New Create-A-Class: Create-a-class has been re-imagined, introducing players to a new "pick-10" allocation system, allowing an unprecedented number of combinations of create-a-class content. Players no longer have to take content from each category; instead, trade items from one category for extra items in another—any combination of 10 items makes almost anything possible.

New Score Streaks: Score Streaks reward players for helping their team win the game: capturing flags, defending your teammate with an assault shield, and getting kills and assists are all examples of actions that help your team win and thus give you score. Each action has a different value and can influence the theater of operations.

eSports via League Play: COD: BO2 introduces League Play, offering skill-based matchmaking and seasonal ladders. Play a small number of matches to get your skill rating, and from there, you'll be placed into a division with players of similar skill. Keep winning and you'll move up in rank—steady progress will move you up the ladder and into upper divisions. Skill-based matchmaking ensures that you are challenged but not out-gunned. League play is for everyone. Additionally, CODcasting is part of the mix, allowing fans to commentate their favorite games.

Upgraded Weapons, Attachments, and Equipment: Near-future warfare means upgrades in technology that soldiers will use in the field. Additionally, weapon perks are now built into the attachments.