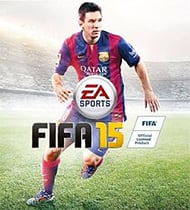 System: PC, PS3, Xbox 360, PS4*, Xbox One
Dev: EA Canada
Pub: EA Sports
Release: September 23, 2014
Players: 1 (2+ Online)
Screen Resolution: 480p-1080p
I'd be annoyed at this but it actually kind of makes the game more fun. You see, with the knowledge that you can exploit one or two hitches in the A.I. if you fall behind, you feel free to fool around on the field a bit more. This leads to outrageous situations like scoring goals from center field or running straight down the idle with 4 opposing teammates following you like a pack of angry wolves. These moments are by far the most fun the game has to offer, the almost NBA Jam style ludicrous moments where you do something that would make absolutely no sense in a real world context and somehow succeed. In fact, I'd suggest that you keep to playing lower difficulties for just this reason. At higher difficulties you will get away with far less goofy stuff, and in my opinion that just makes the game less fun.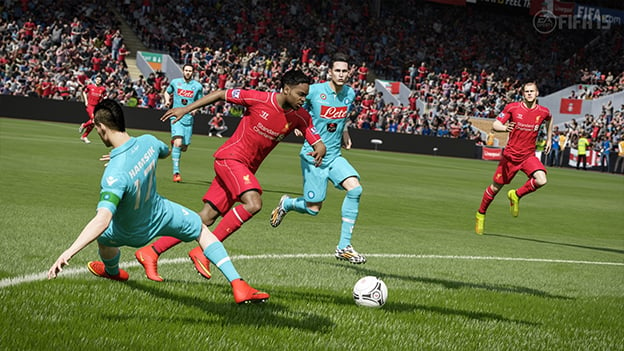 You'll notice that I've mostly talked about the core gameplay in this review. That's because, as I said before, there aren't a whole lot of new shiny modes to enjoy. A few updates have been made to the "ultimate team" mode. You can now sign players to your team on loan instead of buying them outright, which is kind of cool. You can challenge your friends to friendly seasons in order to kind of set up your own rivalries and tournaments. There's a new stat that tracks physical ability but in practice I couldn't actually tell what it did. You can also track all of this in a separate app on your smartphone or even on your computer. It's cool, but it's not all that different, and it's still a money sink.
The basic modes are back as well. You can play in leagues, act as a team manager, set up tournaments, play in clubs and for cups, play co-op, play online, and so on. There are a LOT of options here, but there just aren't a whole lot of new options. I wish I could comment more on online play, but at time of writing I was still having problems finding matches, though this is probably just because of how young the game is.
Overall, FIFA 15 is an ok game. It's an upgrade over FIFA 14. The problem is that's all it feels like…an upgrade. It doesn't feel like you are actually playing a new game in the franchise, rather it feels very much like you are playing an updated and expanded version of last year's game. This is probably enough for some FIFA fans out there. However, for a casual soccer player like me, I was less impressed.
By
Angelo M. D'Argenio
Contributing Writer
Date: September 23, 2014
Game Features:


Next Gen Goalkeeper - Goalkeepers have been rewritten for FIFA 15. The most requested gameplay improvement from FIFA fans, Goalkeepers will now look, move, and think like their real world counterparts with a new intelligence system that allows keepers to better anticipate shots and passes, and display an array of new save animations. Keeper movement is now fluid and responsive.

FUT 15 Concept Squad - Think you know what would make a winning team? Concept Squads is a powerful new squad-planning tool that allows you to put together squads using every player available in FUT. Use concept squads to plan out your next moves. Find replacements for players, test out the chemistry of an entirely new midfield, or even a whole new squad before investing in the Transfer Market.

FIFA 15 Ultimate Team - With over 12 million gamers and counting, Ultimate Team is the most popular game mode within EA SPORTS FIFA franchise. This year, FIFA 15: Ultimate Team takes the mode to a whole new level with fresh features such as Concept Squads, Friendly Seasons, and more.

Emotional Intelligence - For the first time ever, FIFA 15 models the emotions of all 22 players on the pitch, giving fans a chance to experience first-hand the attitudes and personalities of the world's best football players during a match. Players now recognize situations that trigger an emotional response and react naturally based on the game context. For example, a player that is being repeatedly fouled by an opponent could confront that opponent depending on the severity of the challenge and context of the competition. Players will respond authentically with new reactions to decisions, bad tackles, missed chances, goals, and other pivotal moments throughout the game. There are over 600 potential emotional reactions that could play out over the course of a game.

Dynamic Match Presentation - Match Day will feel more dynamic and alive than ever before – immersing you in the match action and never taking you out of the moment. With region specific behaviors, crowds will now be distinguished by cheers and chants designated to their club, league, country, or continent. Fans at Anfield in Liverpool feel and act differently than the fans at La Bombonera in Buenos Aires. Commentators will mention specific fan behavior triggered by unique fan moments like the Poznan or club songs. New Bench Reactions, 10 Player Goal Celebrations, ball boy animations, and contextual commentary will keep FIFA 15 fans engaged in the story of the match.

Team Management - FIFA 15 gives fans brand new way to manage their squads and team sheets in several modes, including Career Mode. Customize a variety of line-ups in up to six different Team Sheets per club so you can easily change your strategy based on your opponent, changing tactics, and the health of your squad.

Agility & Control - FIFA 15 adds an all new level of responsiveness and control. Run Touch Dribbling allows players to better keep the ball under control in a sprint and in close-touch situations, giving personality to the most recognized players in the world. Leo Messi will dribble and move like he does in real life. Updated player biomechanics means that players will now react and move with balance and closer control when in possession of the ball. More precise steps and turns at low speed, and closer control at high speeds give fans more control and increased mobility when commanding players on the pitch.