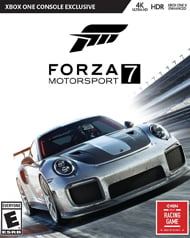 System: Xbox One, PC
Dev: Turn 10 Studios
Pub: Microsoft Studios
Release: October 3, 2017
Players: 1-2 Player
Screen Resolution: 480p-1080p
Content is generally suitable for all ages.
The World is Your Driving Oyster
by Sean Engemann
Sticking to their biennial release pattern, developer Turn 10 Studios has the seventh edition of Forza Motorsport revved up and polished, looking stunning in every ray of light or deluge of rain. It's packed with conventional racing matches, as opposed to its sister Forza Horizon series. But what it lacks in open-world freedom and exploration, it makes up with a walloping 700+ vehicles to collect and nearly three dozen tracks spread across the globe, from Abu Dhabi to Maple Valley. The dynamic weather feature has been plucked from previous Forza entries and slapped onto every track here, mixing up each race enough to prevent the drifting air from getting stale. There are no groundbreaking new modes in Forza Motorsport 7, but there's certainly enough concentrated content crammed into you own warehouse/garage to keep your engine purring.
Forza Motorsport 7 is a visually stale hub in the warehouse, but it has all the essentials: an open space to inspect every remarkable tiny detail of each vehicle with Forzavista, tools to paint, tune, and customize your rides, options to check your stats and personal Drivatar A.I., access to Multiplayer and solo Free Play matches, and a bannered corner for the Forza Driver's Cup, the game's extensive campaign mode. Each of the six series in the campaign offers a sizeable selection of multi-race events using various car types, from compact cars to transport trucks. There are also single race showcases that challenge you with specific win conditions or shake up the formula with casual games, such as car bowling with a Limousine. You don't need to complete every event to win the cup from that particular series, giving you the luxury of choosing matches that interest you the most.
Of course, you can't win races without cars, and you can't get cars without money (or credits in this case). The roster of over 700 cars is impressive, even a bit overwhelming, but the collection menu to purchase them lets you peek at a postcard shot of each. However, there is no way to sort or search through specific tags of unbought vehicles and no way to preview their specs before the purchase. Also, the high-end exotic and hyper cars are locked behind tiers that require you to build a collection of economical cars first, with each car purchased adding to your Collector Score. It's a relatively small inconvenience, however, as it doesn't too long to access the higher tiers, especially if you play smart and spend your credits wisely. As you complete races and gain credits, you'll also earn XP, and leveling up lets you choose a reward. So grab those free cars early, and save spending your credits on badges and skins until after you've reached the top tier.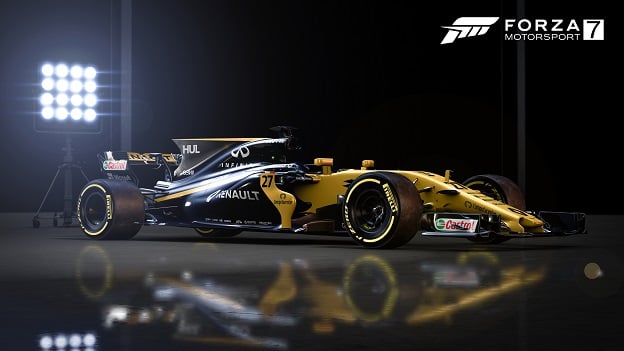 Like many games are adopting nowadays, Forza Motorsport 7 offers tantalizing Prize Crates to invest your earnings at a chance at some rare, super rare, or even legendary loot. Besides new wheels to ride, Mods are commonly part of the treasure pile, and when used properly can really stack the bonus cash you rake in after a race. These Mods can be placed into three open slots before a match. Some are simply a guaranteed bonus, but others will unload their gratuity only after meeting certain conditions, such driving in the rain or at night, performing good turns or passes, or even driving using a specific camera angle. The trick is not to waste the high quality Mods on meager races. If you save those legendary boosts that grant 100% bonus credits on a twenty-five lap endurance race that awards you 80,000 or more in credits, do the math and you'll see the profits.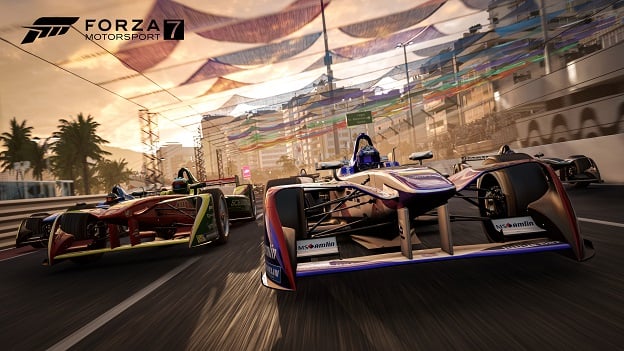 On top of car customization, Forza Motorsport 7 introduces Driver Gear, a huge wardrobe of collectible bodywear that ranges from country flags to manufacturer logos to pop culture attire such as tuxedos and clown costumes. However, apart from the pre-race screens, unless you're driving a vehicle with an open frame, you won't get to see your new threads in action.