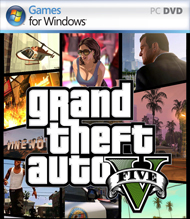 System: PC*, PS4, Xbox One, PS3, Xbox 360
Dev: Rockstar North
Pub: Rockstar Games
Release: April 14, 2015
Players: 1 (2+ Online)
Screen Resolution: 480p-1080p
Intense Violence, Blood and Gore, Nudity, Mature Humor, Strong Language, Strong Sexual Content, Use of Drugs and Alcohol
The rest of the editor is basically just the same stuff you would get from any barebones video editing suite. You can add clips to a timeline, cut and trim them, add text and effects, add background music, add filters (just in case you want that Instagram touch), and more. However, since you are capturing gameplay footage, you also get to alter the camera angle however you like, which does give you a lot of interesting creative control.
You can also put the editor into director mode, which is basically just a sandbox mode meant for screwing around. Here you can choose any character, put them in any setting, and make them do whatever you want. It's a neat way to make machinima-style videos, but unless you plan on making some sort of fantastic Magnum Opus starring Mike and his friends, you will probably tire of it quickly.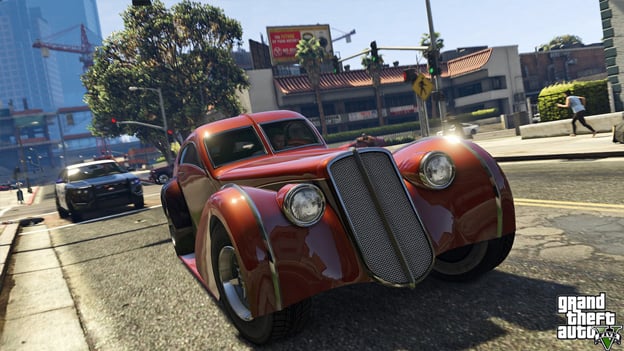 Aside from the Rockstar Editor, the only "new" feature I can really name is the ability to go into first person mode, which was integrated into next-gen versions anyway. First person mode is actually decently fun, and the graphics don't suffer at all, but once again it's more of a diversion than anything else. You can tell that the game was meant to be played in third person.
I would say that the PC version of the game is the definitive GTA V experience, but there are some issues that come with it that are worth mentioning. First of all, the Rockstar Social Club DRM is pretty maddening. It only has to activate once, thank god, but it's buggy and frequently cannot connect or access the Rockstar servers, which means you can't play the game yet. This holds true even if you don't try to access multiplayer, so make sure you have a working connection and pray that it knows how to authenticate you. After you are activated, you still have to connect to a server before you play, which is also annoying.
Another problem is just some weird issue with Windows usernames. If you have any characters other than letters or numbers in your computer's username, the game won't be able to update or play. I have no idea why that happens but for now the only workaround is creating a new administrator account for your Windows system that doesn't use special characters.
In short, GTA V is still a great game, that hasn't changed, but the PC version doesn't add a lot and introduces plenty of new problems that you have to contend with. If you are graphics-obsessed or are a fan of machinima, then pick it up. Otherwise, the last-gen versions will do you fine.
By
Angelo M. D'Argenio
Contributing Writer
Date: April 15, 2015
Game Features:


Los Santos: a sprawling sun-soaked metropolis full of self-help gurus, starlets, and fading celebrities; once the envy of the Western world, the city is now struggling to stay afloat in an era of economic uncertainty and cheap reality TV.

Amidst the turmoil, three very different criminals attempt to increase their own chances of survival by plotting for success.

Running out of options, the crew risks everything in a series of daring and dangerous heists that could set them up for life.