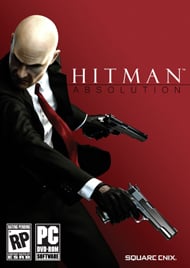 System: PC, PS3, Xbox 360
Dev: IO Interactive
Pub: Square Enix
Release: November 20, 2012
Players: 1
Screen Resolution: 480p-1080p
Blood, Intense Violence, Partial Nudity, Sexual Themes, Strong Language, Use of Drugs
The Seediest Of Contractors
by Shelby Reiches
Hitman: Absolution has become a controversial element of the upcoming gaming landscape of late, its "nuns with guns" trailer striking an uncomfortable chord with the gaming public and press alike due to its graphic depictions of violence against highly sexualized women who are, or are imitating the basic appearance of, religious figures. Religion, sex, and violence all in one? It's a recipe for a public relations disaster, so it's really no surprise that the trailer threw everyone into such a furor. With all of the attention on the trailer, though, the game itself has seemingly fallen beneath the choppy seas of gaming's consciousness.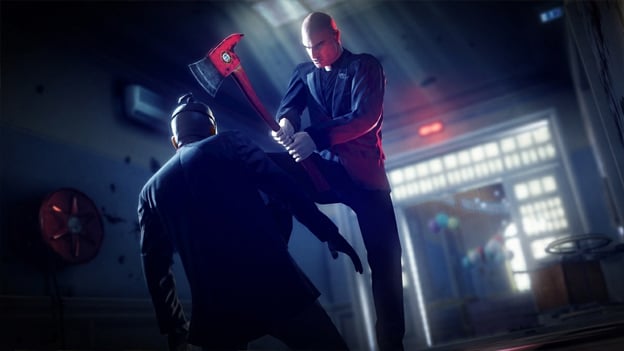 But that's kind of a shame, because Hitman: Absolution is doing some very interesting stuff with the stuffy old formula that has defined the Hitman series up to this point. Not the name, certainly; "Absolution" is only a minor step up from "Redemption" on the list of generic subtitles, but the game itself is attempting to inform the basic Hitman gameplay with innovations in both the stealth and third-person shooter genres that have become vogue in the modern day.
Agent 47 is on the lam after being betrayed (for the second time? Third? I don't really know anymore, it all gets very convoluted) and must do what he does best to get back at the people who double-crossed him while securing his own safety. A compelling plot? Probably not, but that's okay. Hitman games aren't about the story as much as they're about providing options upon options for visceral manners in which to kill one's target and, if one must, the people who stand between Agent 47 and his prey.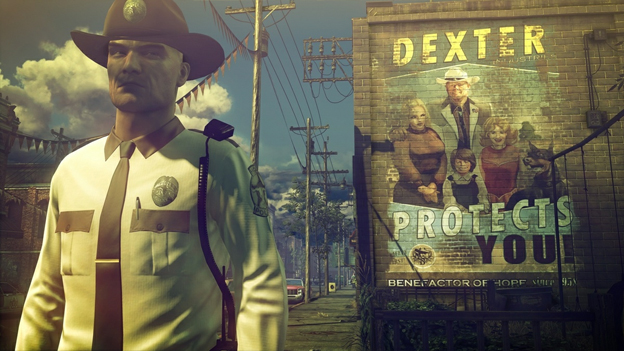 In the past, Hitman levels have been sprawling, open affairs with multiple paths of entry and a freeform approach to "solving" a level as a true silent assassin would want to. All of the tools to accomplish that have been present, from disguises and improvised weapons to distractions and guns galore, a sandbox of potential dismay and death-dealing.
Hitman: Absolution is throwing that out the window, more or less.
Yes, there will still be environmental weapons and multiple solutions to many situations, but the single-player campaign appears to be taking a turn for the cinematic, following in the footsteps of Ubisoft's Splinter Cell: Conviction. To that end, Agent 47 now takes cover, moves between cover points, and even has a HUD element that warns him of increasing enemy awareness of his position, both how close they are to noticing him and from what direction they're coming. He also possesses an almost Batman-like sixth sense, dubbed "instinct mode," which shows the player enemy positions (even through level geometry) as well as predicting patrol paths and pointing out interactive elements of the environment, such as ledges upon which Agent 47 can climb.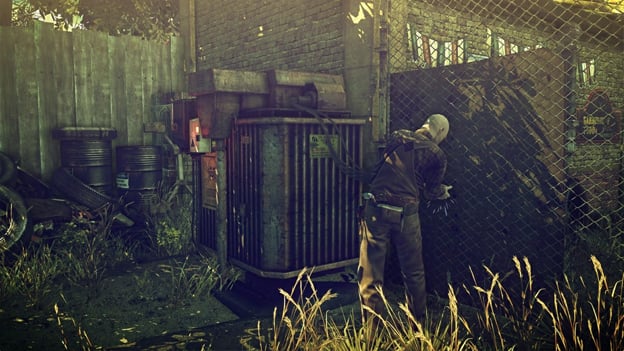 And, while the manner in which players approach enemy situations is mostly up to them, whether they go in guns blazing or sneak and stealth their way through, the game appears to encourage the latter with fairly regular, scripted patrol patterns for enemies and a mostly linear progression through its environments that necessitates certain means to the level's end. That isn't to say that there's no variation, but the game appears to be much more keyed to guiding the player than setting them loose and letting them go nuts.