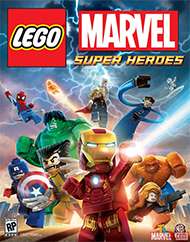 System: PS3*, Xbox 360, PC, Wii U, PS Vita, 3DS, PS4, Xbox One
Dev: TT Games
Pub: Warner Bros. Interactive
Release: October 22, 2013
Players: 1
Screen Resolution: 480p-1080p
Cartoon Violence
And while it is a return of something familiar to the franchise, I do have to point out one modification that I absolutely love as a comic book fan. Stan in Peril replaces the Citizen in Peril, but he does much more than the latter. You will eventually be able to play as Stan "The Man" Lee. This alone would be good enough for die-hard fans, but players get a little more, such as being able to use some of the powers he helped create all those years ago. How freakin' cool is that? Excelsior, I say.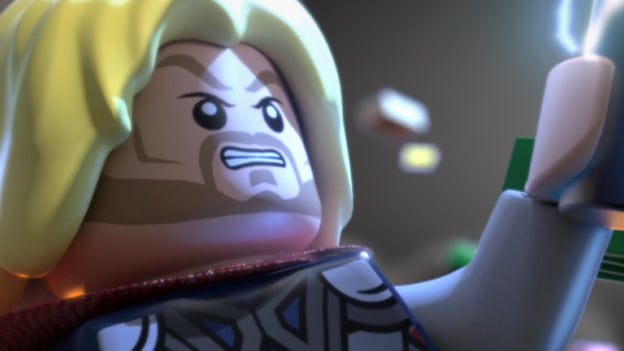 Graphically LEGO Marvel Super Heroes is an obvious advancement. The worlds look amazing. At times, they can even rival the graphics of other current-gen games. The characters also received an upgrade in graphics. When comparing to previous LEGO games, you can see that previous installments have a much more cartoony feel that lacks the current game's polish. While the other games don't look bad, looking at the shiny gloss on the marvel characters really captures the eye. For example, the clouds reflect in Iron Man's helmet. Seriously, who sat in the meeting room and decided we needed this? I say someone should give that person a raise because now we need it always. Unfortunately, there is some screen tearing that can detract from this great-looking game. Thankfully, it never gets to the point of ruining the visuals.
While the voiceover work in the LEGO games is not new anymore, it is great hearing some A-list voice actors lending their much-revered voices to some of the characters that made them famous. For example, Nolan North does several voices in the game, as does John DiMaggio, Steven Blum, and Troy Baker. Stan Lee himself provides the voice for himself, and we even have Clark Gregg reprising his Agent Phil Coulson role. In addition to the voice cast, we are also treated to a score that doesn't fully grate against every nerve, but there is the occasional voiceover that makes you wish they would've cast someone else.
LEGO Marvel Super Heroes is a great game. It is a game that is for the kid in all of us. It is a game for the fanboys and girls of the Marvel Universe. It has taken things from other LEGO games and graduated to the next logical step. If you have been looking for something to sit back and enjoy, this might just be it. It is simple fun, and it shows Traveler's Tales knows its audience. There are many things to be thankful for in this game, and the best one is that we have a Marvel game injected with the fun of the LEGO franchise.
By
Matt Walker
Editor-in-Chief
Date: October 22, 2013
Game Features:


An original storyline in which Nick Fury calls upon Iron Man, the Hulk, Thor, Spider-Man, Wolverine and other heroes spanning the Marvel Universe to save Earth from such threats as the vengeance of Loki and the hunger of Galactus, Devourer of Worlds.

Brave the ultimate mission to save the world as you explore famous landmarks in LEGO New York and take the adventure beyond Earth to iconic locations in the Marvel Universe.

Unlock more than 100 characters from across the Marvel Universe, including fan favorites like Spider-Man, Iron Man, Wolverine, Captain America, the Hulk, Thor, Black Widow, Hawkeye, Deadpool, Loki and Galactus!