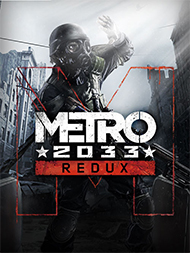 System: PC*, PS4, Xbox One
Dev: 4A Games
Pub: Deep Silver
Release: August 19, 2014
Players: 1
Screen Resolution: 480p-1080p
Blood, Intense Violence, Nudity, Sexual Content, Strong Language, Use of Drugs and Alcohol
A lot of the gameplay from Metro: Last Light is included in Metro 2033 Redux. For example, you can now wipe your mask clean as it get splattered with the blood of your enemies and the muck of the underground. This actually feels like a bit of a tradeoff for the better graphics and enhanced lighting system. It artificially makes it harder to see your surroundings, whereas the original had the same effect but only due to graphical limitations.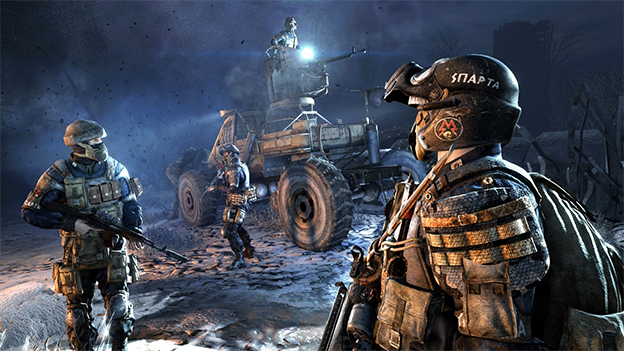 Stealth takedowns also are ported back from Last Light to the original, which are a boon to survival mode. Similarly weapon customization from Last Light is also back ported, and this makes a bigger difference in Spartan mode. You also get access to all the DLC weapons from Last Light which, honestly, can make you feel like kind of a powerhouse at times, but does add a bit of variety to the game.
The best way to experience Metro 2033 Redux, is after playing the original. I played the original a little bit before trying the remake, just to make graphical comparisons, but honestly the game has changed in so many more incredibly profound ways. It's still the same story, and much of the same map design, but around every corner you will find secrets and new routes that just weren't there before. In fact, this makes the game extra fun if you are a Metro veteran, because every time you notice something out of the ordinary you investigate it and it usually leads you to a bonus… or an incredibly hard enemy encounter.
Metro 2033 Redux is remaking done right. This isn't a cash in in any way shape or form. It's simply a much better version of the original Metro. It's a perfect purchase for either newbies who haven't experienced the first game, or vets who want to experience the game again in a brand new light. I wholeheartedly recommend Metro 2033 Redux to anyone who is a fan of shooters, horror games, stealth games or post-apocalyptic sci-fi.
By
Angelo M. D'Argenio
Contributing Writer
Date: August 19, 2014
Game Features:


Immerse yourself in the Moscow Metro - witness one of the most atmospheric worlds in gaming brought to life with stunning next-gen visuals at 60FPS.

Brave the horrors of the Russian apocalypse - equip your gasmask and an arsenal of hand-made weaponry as you face the threat of deadly mutants, human foes, and the terrifying environment itself.

Rebuilt and Remastered for next-gen - with all previous DLC content included, new modes and features, and many gameplay improvement, this is the definitive version of the critically acclaimed classic that fans and newcomers alike will enjoy

Two unique Play Styles : "Spartan" and "Survival" - approach the game as a slow burn Survival Horror, or tackle it with the combat skills of a Spartan Ranger in these two unique modes.

The legendary Ranger Mode returns - dare you play the fearsome Ranger Mode? No HUD, UI, deadlier combat and limited resources combine to create the ultimate immersive experience.