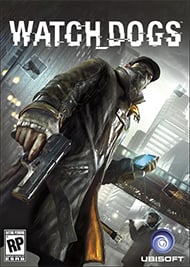 System: PC*, PS3, Xbox 360, PS4, Xbox One
Dev: Ubisoft Montreal
Pub: Ubisoft
Release: May 27, 2014
Players: 1
Screen Resolution: 480p-1080p
Blood, Intense Violence, Nudity, Strong Language, Strong Sexual Content, Use of Drugs and Alcohol
Control Is Yours
by Ken Serra
Watch_Dogs establishes the fact that information is pretty damn powerful. In fact, it's pretty damn deadly.
In today's society, there's an on-going battle between the National Security Agency (NSA) and privacy advocates on what constitutes as extreme in the case of information tapping. I'm sure there are benefits to a world where everything can be monitored. However, the premise of Watch_Dogs takes that notion and squashes it like a bug.
The game is set in a rendition of Chicago where everything in the city is controlled by one system, the CenTral Operating System--ctOS for short. It's host to all the data within the city's border, from surveillance systems to the basic infrastructure that controls bridges and street lights. Heck, even all of its citizen's personal information can be tapped into. This is relevant because the entire game is built upon this.
Tapping into everyone's daily lives in order to make a better world is laughed upon as hacking collectives deliberately breach the system just to prove its flaws. With all that data within reach, information seekers can easily acquire the information needed to do mischievous things.
In this connected playground, you play as the wicked cool Aiden Pearce, a borderline super-human terminator that is part hacking genius, part MMA champion all balled up into one badass personality. The guy can do it all; he fights well, he is always calm, and of course, he can control the city with the touch of a button. I'll admit, it feels good to play as the brainchild of Superman and Batman, but I feel typical human characters should have a bit more physical weakness. I felt this was the result of Ubisoft's attempt to create a character that could do both bad and good things. That's just my two cents, since it took a little bit away from the immersion as well as left no penalty for doing chaotic things, like speeding, or entering a firefight… or not hacking. He does have a mental weakness though, in that he's a sociopath who loves his family enough to monitor them without them suspecting it. But what I learned is he's not all that bad.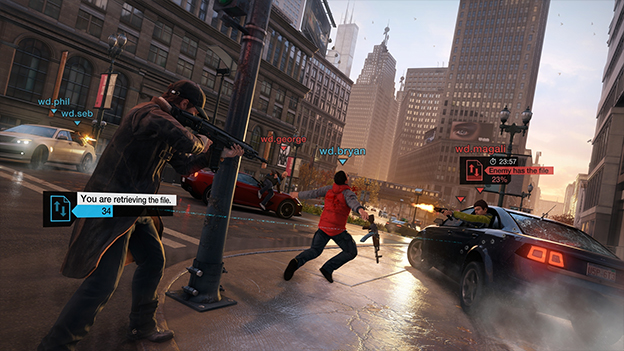 Watch_Dogs begins with an epic sequence that introduces Aiden Pearce. He's about to pull off a heist at the Hotel Merlaut, a five-star resort filled with the rich and famous. He doesn't come in guns blazing. He doesn't fire off any rounds into the ceiling. He doesn't even take any hostages. He is profiling everyone around him and siphoning large sums of money from their accounts in seconds. He is a hacker and tapping into the data that allows this to happen is his specialty. Unfortunately, one can't always go undetected and ironically, Aiden's personal information is breached during the heist. This results in an incident that jeopardizes the safety of his family, killing Lena Pearce, his 6-year old niece.
The moral theme of the game is when you roll with the wrong crowd, often times, it hurts more than just you. This sets the tone for the game's story as you'll begin to see Aiden's personality unfold as he inches closer to the revenge he desires over the death of his niece. You know, I was actually surprised to find a game like this had a pretty interesting story mode and was more than just a Grand Theft Auto clone with hacking. There are lessons to be learned from the game and it does take an approach that contrasts what constitutes a crime now and before. You'll meet some older crime lords who still stick to unneeded violence as opposed to the modern crime which has more to do with the movement of data. The graphics are very well done, and are real enough to come off as gruesome in some scenarios that make you hate some of the bad boys you come across.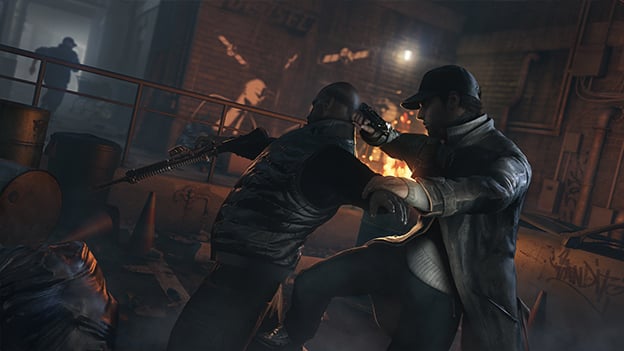 On top of overall story, Watch_Dogs has some pretty unique characters as well. While most of the people you'll acquaint yourself with in your adventures are criminals, you'll come to learn that some of them have justified reasons for their crimes. This was surprising to me since a lot of the games I've played recently don't jump at the opportunity to create deep characters. Alright, some of the characters aren't deep, but they're really cool because they fit in this futuristic version of the organized crime world.
As Aiden, you're able to do a lot of wicked things through a device called The Profiler. It's a smartphone that allows you to tap into ctOS, giving you virtually unlimited power. With it, you can access skills like controlling street lights or ringing someone's phone. This is Watch_Dogs most defining gameplay feature because it allows you to play the game how you want.
Through the profiler, you can pull up a skill-tree that allows you to boost one of four skills: Combat, Hacking, Crafted Items, and Driving. Don't kid yourself, the skill tree isn't that expansive and rather services as a means of limiting the player in the beginning of the game and making him a demigod at the end of it. However, you don't get your skill points all at once so you have to determine early whether you plan to play the game as a hacker or a dirty shooter, and then build accordingly.