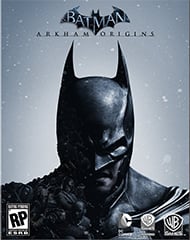 System: PS3*, Xbox 360, PC, Wii U
Dev: WB Games Montreal
Pub: WB Games
Release: October 25, 2013
Players: 1 (2+ Online)
Screen Resolution: 480p-1080p
Blood, Drug Reference, Language, Mild Suggestive Themes, Violence
To support the clean visuals, the soundscape of Batman: Arkham Origins is a polished piece of awesome. Although Kevin Conroy is no longer the voice of Batman, his replacement (Roger Craig Smith) pulls off the role with no issues. The voice cast of Origins is a who's who of video game voice actors with Troy Baker as the Joker, Nolan North as the Penguin, and Peter McNicol as the Mad Hatter, among many other notables. Add to that the typical brooding orchestral Batman score and the library of standard sound effects, and you have a soundscape that rivals a Hollywood production.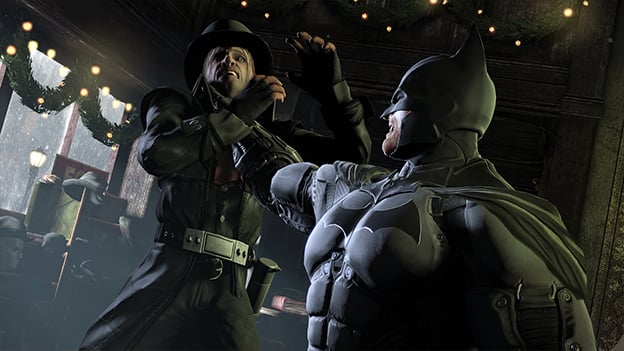 While I still believe that Batman: Arkham City is the best game in the franchise, Batman: Arkham Origins is a close second. The culmination of what has been cultivated in the previous games is apparent, and what you get is the cleanest and most accessible Arkham title so far. Even though the game doesn't really expand much from what is done in Arkham City (although there are a few additions), it still feels fresh and fun while retaining the things that fans love about the series–great combat, an open world, and tons of villains.
In short, I thoroughly enjoyed my time with Batman: Arkham Origins. There is a ton of replay value here, and with a New Game Plus mode to explore, I'm ready to polish up my batarangs, throw on my classic Batman costume, and get to kicking supervillain ass, 60s style. Now, where did I put my shark repellant?
By
Joshua Bruce
Video Director
Date: October 25, 2013
Game Features:


An expanded Gotham City and an original prequel storyline set several years before the events of Batman: Arkham Asylum and Batman: Arkham City.

Taking place before the rise of Gotham City's most dangerous criminals, the game showcases a young and unrefined Batman as he faces a defining moment in his early career as a crime fighter. This sets his path to becoming the Dark Knight.

As the story unfolds, players will meet many important characters for the first time and forge key relationships.