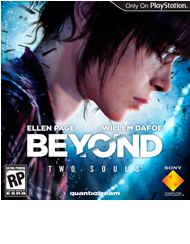 System: PS3
Dev: Quantic Dream
Pub: Sony
Release: October 8, 2103
Players: 1-2
Screen Resolution: 480p-1080p
Blood, Violence, Sexual Content, Strong Language, Use of Drugs and Alcohol
Beyond Belief
by Matt Walker
In life, we face many obstacles. Some give us strength, and some utterly defeat us. We face life with brazen resolve or complete contempt. We never half-ass anything. We are dead set on being in control of every facet of our own existence, and when we are challenged, it is in these moments we triumph or fail. How would you have done things differently if you could?
Or, more directly, how do you cope with death?
Figuring out how we, as people, deal with loss is one of the biggest parts of Beyond: Two Souls. It questions whether we triumph, emerging from our trials victorious, or fail, diminishing into the dark recesses of our minds afterwards instead. It actually took me about two days after completing the latest narrative of Quantic Dream to figure this out. Not that this is a bad thing; it is just that so often in gaming we are given a direct story with little to no lasting impact. This allows us to soak-in what we see, pick out our favorite sequences, and then decide if we will play the game again, insist our friends play, or never revisit it. Interestingly enough, Beyond: Two Souls is not like this at all.
While there are blatantly obvious comparisons to Heavy Rain, Beyond takes huge steps forward in nearly every aspect in relation to its predecessor. The voice acting reaches a new level, the graphics are, at times, too good, and the narrative stabs at you in moments during the game and then latches on for long after the game is complete. Simply put, if Heavy Rain is an experiment into the interactive experience, then Beyond: Two Souls is a tried-and-true application of the results of that experiment.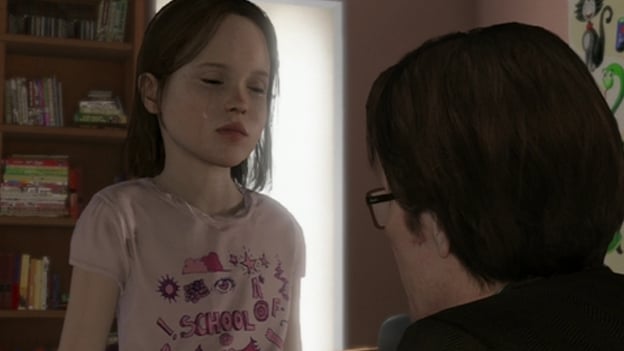 Telling the story of Jodie Holmes, players will experience fifteen years of her life: from the early beginnings, to some incredibly dark times of adolescence, and to, ultimately, the brink of what is beyond us all after our existence here on earth ends. Through the people Jodie meets, you discover more and more about what kind of person she is. At each stage of her life, it is the people around her who help shape her into the person she ultimately becomes. While this is nothing truly new in gaming, the amazing thing here is that it captures so strongly how relationships mold us in real life.
The most important figure in Jodie's journey is the entity known as Aiden. Aiden is the one constant thing Jodie has. It has been there for her for as long as she can remember. Players will honestly find themselves feeling the same way Jodie does about Aiden. While controlling Aiden, you find yourself with the power of either ruining Jodie's "life" (as she puts it) or saving her from death. I actually found the mischief I had to perform as Aiden increasingly difficult to do as the game progressed. To me, this is an accomplishment of Quantic Dream. You can very easily just be a rude ass while playing as Aiden all the time, but it starts to chip away at you. It makes you not want to cause trouble. It makes you want to let Jodie live her life the way she has it set, all while hovering, as Aiden, ready to choke the shit out of anyone who tries to hurt her.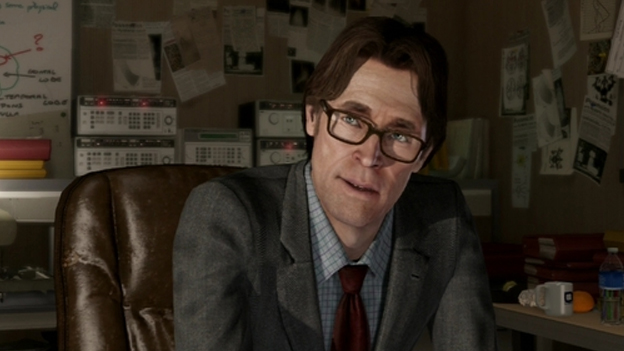 There are several instances in the game in which you start out playing one way and then completely change due to the level of emotion put forth by the characters. This is another accomplishment by Quantic Dream, and it's largely thanks to the way the game was developed. Having the actors, Ellen Page, Willem Dafoe, Kadeem Hardison, and several others perform their characters, with the next evolution of motion capturing, adds a whole new level to gaming as a whole. While having the voice actors perform their characters is nothing completely new, Quantic Dream has captured things about the actors I have not yet seen in gaming. Take, for example, Kadeem Hardison.
During the game, I kept thinking to myself, "I know that guy." Try as I might, I could not figure out who he was based on his voice alone. So then I started watching his mannerisms and facial expressions; I was then able to figure his identity out. While many might recognize him from his later works, I will always remember him as Dwayne Wayne from A Different World. Thank you Quantic Dream for helping me remember just how old I am.