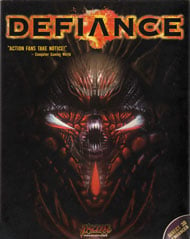 System: PS3, PC, Xbox 360
Dev: Trion Worlds
Pub: Trion Worlds
Release: 2013
Players: MMO
Screen Resolution: 480p-1080p
Where TV And Games Collide
by Josh Wirtanen
I've never been a fan of the term "transmedia." It makes me feel like I'm sitting in a stuffy corporate board room with a bunch of the guys from Mad Men, trying to manipulate the masses into buying into a certain mindset that makes them more apt to purchase a specific product.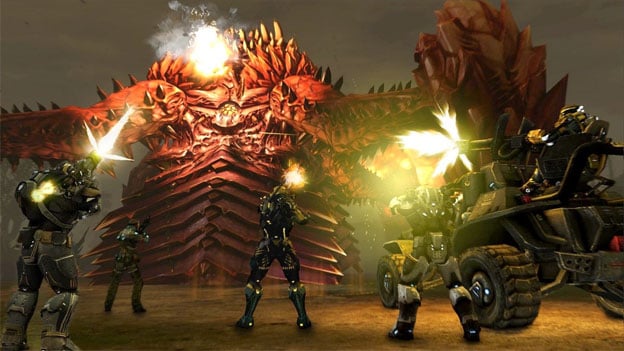 Nonetheless, Defiance's use of the transmedia marketing strategy is fascinating to me. Defiance is basically a brand new sci-fi universe that's being crafted as both a Syfy television series and a massively multiplayer third-person shooter. Now, I can't say a whole lot about the television series at this time, but the guys at Trion Worlds showed me around the video game in a closed-doors hands-on session at E3 last month.
As I mentioned before, this is a third-person shooter MMO. What? Well, it feels like a third-person shooter when you're exploring the world, but then you start bumping into all sorts of other people who are also running around and shooting things.
And what a world it is. Defiance is set in a fictional version of the San Fransisco area that's been partially terraformed by aliens. You see, there were these space ships that had terraforming tech onboard, and we humans, who like to shoot things (a habit we've picked up from playing too many shooter games like Defiance) blew them out of the sky. These terraforming machines crashed on Earth and started doing their thing. By the point at which the game takes place, there's all sorts of weird alien plant and animal life everywhere. Some of the animals you encounter are based on species you might know from real life, only they're mutated and extremely aggressive. Ignore PETA; just shoot the things.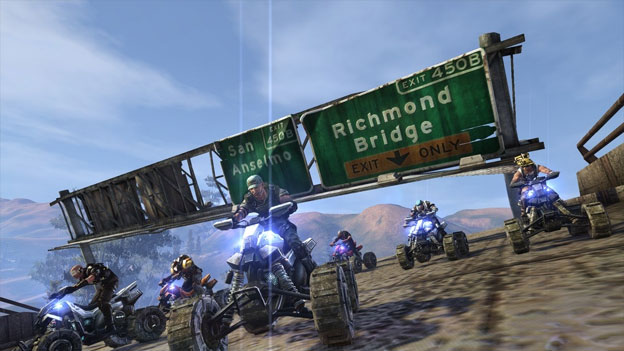 Now, one thing that Trion Worlds has already successfully implemented into its other MMO, RIFT, is the idea of dynamic world events that require massive groups of players to team up and fight back hordes of enemies. Whereas in RIFT you had massive rips in time-space, Defiance has big chunks of spaceships falling from the sky like meteors, kicking off new terraforming machines and bringing down a whole slew of mutated life.
I got to witness one of these events, which ultimately brought a gigantic tentacled plant thing into the middle of an open field. It had some sort of spore pods beneath each tentacle (an area I referred to as its armpits) that I had to shoot in order to harm this thing.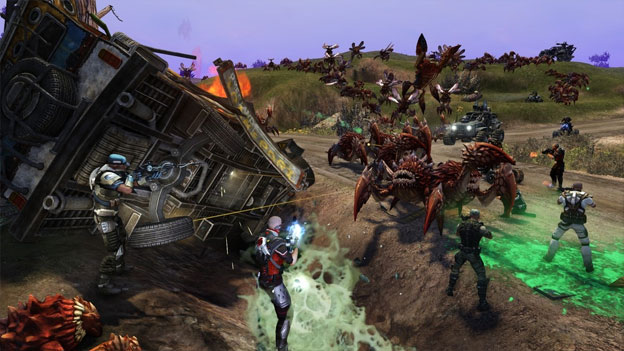 The skeptical booth rep told me there was no way I would bring down this monstrosity on my own, so he ran off to encourage some other players to me to help me out. Well, he may have underestimated my skill level a bit, as I managed to bring down the thing, dying only once and having very little help from the other players.
Still, the experience was a blast, and I was assured that this was not the only type of dynamic event to expect in the finished game. The reps were hesitant to give me any hints as to what those might be, unfortunately. But since the concept is something Trion's already successfully implemented in RIFT, I have very little doubt they'll be able to pull it off in Defiance.