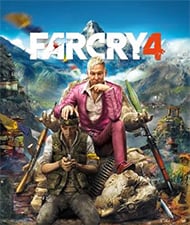 System: PS4*, PS3, PC, Xbox One, Xbox 360
Dev: Ubisoft Montreal
Pub: Ubisoft
Release: November 18, 2014
Players: 1 (2+ Online)
Screen Resolution: 480p-1080p
Intense Violence, Blood, Nudity, Strong Language, Sexual Themes, Use of Drugs
One thing I really did enjoy however is the ability the enemies have to take back your "Fortresses". Sure you can go through the vast map and tackle each increasingly hard tower to claim as your own. Just keep in mind that, until you have progressed the story along to that point, you could lose the tower and thusly, fast travel options in certain areas of the map. It's kind of cool to know that even if you have taken over a challenging tower that you could lose it all because you advanced too far out of your depth. That however doesn't stop you from challenging the plethora of wildlife in any given area. Just know that there's more out there that wants to kill you than the enemy you know.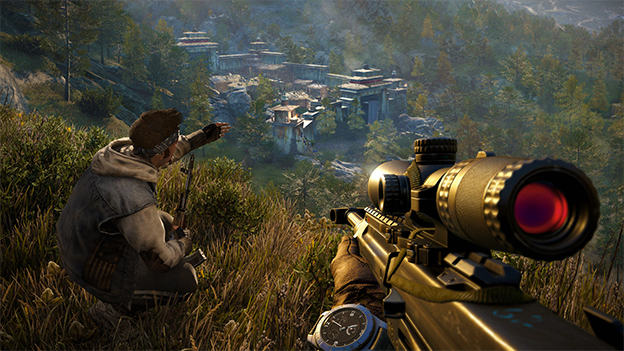 Far Cry 4 also offers up some online gameplay mechanics: the traditional shoot 'em up team battles, as well as online co-op. You can have fun with the co-op because there's almost nothing that you and your friends can't team up against to take down. Well nothing except story missions. This is where the issue comes in. With its drop-in drop-out mechanic, if you are in the middle of a mission and you start some co-op action, you will have to start that mission all over once your romp is over. This can get a bit annoying honestly, but I do find myself really wanting more of the campaign to be co-op.
There are two kinds of people that will play Far Cry 4. Those that will look at it and complain about how similar it is to Far Cry 3 and then there will be those that rejoice in those similarities. That is the simplest approach to this title. There's nothing to make it not an enjoyable experience, but for those that lovedFar Cry 3, for all of its beautiful distractions, will find hours upon hours of glorious gameplay waiting for you. Plus, with a villain like Pagan Min, you just can't go wrong with the latest installment of the Far Cry franchise.
By
Matt Walker
Editor-In-Chief
Date: November 18, 2014
Game Features:


REVOLUTIONARY OPEN WORLD CO-OP: Far Cry 4 allows for a second player to drop in and drop out at any point, re-imagining the cooperative experience in the true spirit of Far Cry for the next generation. You'll now be able to discover and explore the living open world of Kyrat together.

MASSIVE OPEN WORLD: Discover the most diverse Far Cry world ever created. With terrain spanning from lush forests to the snowcapped Himalayas, the entire world is alive...and deadly.

ABUNDANT NEW WILDLIFE: From leopards, rhinos, black eagles, and vicious honey badgers, as you embark on your hunt for resources, know that something may be hunting you...

NEW WAYS TO GET AROUND: Scout enemy territory from above in the all-new gyrocopter and then plummet back to earth in your wing suit. Climb aboard the back of a six-ton elephant and unleash its raw power on your enemies.

POWERFUL NEW WEAPONS: Choose the right weapon for the job, no matter how insane or unpredictable that job might be. With a diverse arsenal, you'll be prepared for anything.