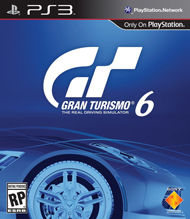 System: PS3
Dev: Polyphony Digital
Pub: Sony
Release: December 6, 2013
Players: 1 (2+ Online)
Screen Resolution: 480p-1080p
Mild Lyrics
Unfortunately, the steps made to improve the franchise can still be hindered by some things not yet ready to advance: sound design, for example. I used to love the soundscape of Gran Turismo. I took a stance against anyone that said it was faulty and no longer represented the soundscape of a racing game. After spending time with several other racers this generation, the low roars purring from the engines are far more pleasing than bumblebees in a hair net on Sloppy Joe day. That may be a bit too harsh. Suffice to say, the wheezing whine of the engines is not horrid in small doses. It's when you have several races back to back to back that it becomes an issue, and one that most will want to drown out. Unfortunately, Gran Turismo 6's soundtrack leaves plenty to be desired as well. Maybe it is to create the ambiance of the genre, but I don't think anyone would mind adding a bit of variety.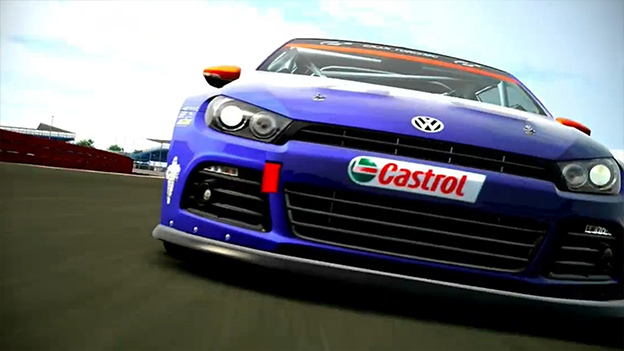 Another fault/annoyance, is the absence of damage to the vehicles. While there are some options in the online multiplayer, albeit only a few of them, there's nothing really in the single player mode. It is somewhat amusing at first when you go flying into a wall at 340 mph and you get a solid "thunk." That's it. You back up or turn the wheels on the car until you are no longer having a make out session with the wall. There's no punishment. I mean sure, you lose some time, but there's nothing after that. I would have thought that by now we've come so far as an industry that we'd be able to have some realistic damage both visually, and to the areas of a car we don't see automatically. I know other racers have done this, quite well in fact, so it pains me to see there are still these types of issues when talking about one of the biggest racing franchises in gaming.
Is Gran Turismo 6 a horrible game? Absolutely not. It is a fantastic game. It is a game that fans of the series will love. Plain and simple, Gran Turismo 6 has that clout to just release a title and say, "Hey, here's the new one! Enjoy," and people will be at the ready when it is released. This is not a bad thing, however it's not all that great either.
Gran Turismo 6 will make you glad you are a racing fan. A few small annoying hindrances aside, there's nothing out of place from the game. There is plenty to do and plenty to explore in this racing world. For content alone Gran Turismo 6 pulls ahead of its competitors. Stunning graphics will keep you guessing which system you're actually playing on. A solid multiplayer experience itching to become the new norm for the series. All of these things have helped the series become the giant it is today, and while Gran Turismo 6 may not be the icing on the cake it is another delicious layer.
By
Matt Walker
Editor-in-Chief
Date: December 9, 2013
Game Features:


Drive the world's most stunning cars.

World famous tracks.

Never Drive Alone.

The latest technology for the ultimate experience.