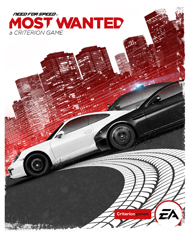 System: PS3, Xbox 360, PC, Vita
Dev: Criterion Games
Pub: EA
Release: October 30, 2012
Players: 1
Screen Resolution: 480p-1080p
Alcohol Reference, Comic Mischief, Violence
Six Hours Of Speed
by Josh Wirtanen
Recently, I was invited to hang out with Criterion Games in Leipzig, Germany. While there, we stopped over at the Porsche factory, where I was given a tour of the (quite impressive) facility, and given the option to take a few different models of Porsche for some laps around the racetrack.
Of course, I also got to spend about six hours with Need for Speed: Most Wanted as well. I was reassured the version I got my hands on was the gold version of the game, so what I played is the exact version that will be pressed to disc later this month.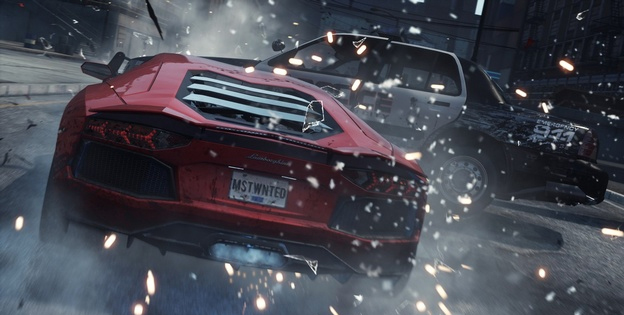 Initially, I was greeted with a micro tutorial that explained what I was doing here. Basically, players are plopped down into the open world of Fairhaven City and allowed to run amok. The ultimate goal, though, is to take down the ten "Most Wanted" vehicles that roam the city, which you then get to drive. If you can catch all ten, you'll be named the Most Wanted yourself.
After watching the intro video, I was transported to my first car, and I set off to explore Fairhaven to a remixed version of The Who's "Teenage Wasteland." My first mission was to hijack, of all things, a Porsche. I'm sure Criterion had this in mind already, but it was fascinating to drive a Porsche in real life and then try to compare that to the experience of driving one in Need for Speed. Although, it's still a difficult comparison to wrap my mind around. At least in Need for Speed, there's no nervousness about potentially destroying a $90,000 piece of machinery.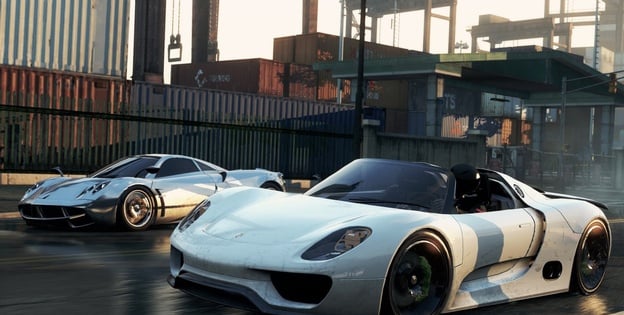 Either way, I must say that my first six hours with the game left me pretty impressed. You see, Most Wanted is sort of a reboot of the 2005 Most Wanted title, only this one has that signature Criterion touch to it. The touch I'm referring to manifests itself the most clearly with the Autolog feature, which allows competitive types to try to outdo their friends at pretty much every aspect of the game. Not only will Autolog keep track of your stats on every race and encourage your friends to beat your best times, but there are also various objectives scattered across the world that keep the atmosphere competitive.
For example, there are cameras set up all over town, and driving past one will capture your speed. Your highest speed will get recorded to a leaderboard, so you can prove to your friends that you are a true speed demon. Additionally, there are jumps that have you smash through billboards. If you manage to get the highest score on a jump, the billboard will display your gamer profile picture, which your friends will undoubtedly want to smash through in envy of your superiority.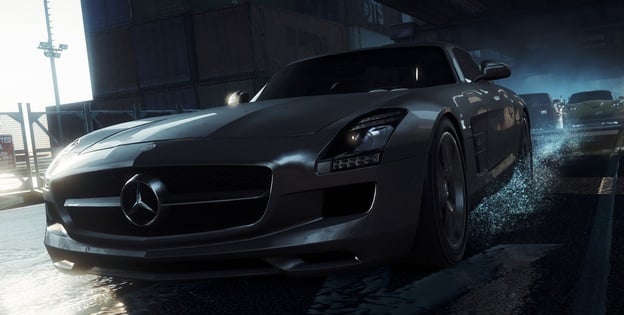 Now, I was told that Criterion had a design philosophy here of letting players be able to drive whatever they want whenever they want, without hiding cars behind some convoluted unlock system. While the ten Most Wanted cars must be earned by beating them in a race, the rest of the cars in the world, I was told, would be available right out of the starting gate.
While I admire that sentiment, I must debunk Criterion's claim that "If you can find it, you can drive it." You see, this is a bit hyperbolic, as you certainly can't just hop into any old station wagon or minivan you pass by on the street. The cars you can take are available at "Jack Spots" throughout the world. If you stumble upon one during your adventures, you just press a button and you're driving it. In my six hours of gameplay, I was able to secure several dozen of these.