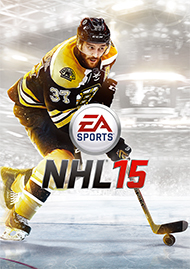 System: Xbox One, PS3, PS4*, Xbox 360
Dev: EA Sports
Pub: Electronic Arts
Release: September 9, 2014
Players: 1 (2+ Online)
Screen Resolution: 480p-1080p
Mild Violence
Hockey, Hockey, and More Hockey
by Joshua Bruce
I wouldn't describe myself as a hockey fan. I don't dislike it, but I've never been particularly drawn to the sport. To be honest, I don't think I've played a hockey since the Sega Genesis. So, I won't be able to draw any comparisons to other recent games in the franchise and I won't be able to give you a fan's perspective. I'm coming into this review with as little experience with the franchise as possible, so all I will be able to offer you is the unbiased views of a hockey neophyte.
When I first loaded up NHL 15, I immediately looked for a tutorial mode or training camp mode to learn the control system so I didn't make a fool of myself in the actual game (which was inevitable), and I found practice mode. While it was indeed a welcome feature, it wasn't as robust as other EA Sports games. I was expecting challenges, NPC players, and tutorials. What I got was an empty sheet of ice to skate around on and a goalie to smack pucks at. As a newbie, I would have appreciated a little more meat on the bone here, but alas, it seemed I was doomed to suffer defeat at the hands of a vengeful computer controlled team.
After a few minutes of testing out the control scheme--what little could be tested in the limited environment--I decided practice mode had given me everything it had to offer. I jumped right into a normal scrimmage game and began to feel my way through the rest of the control setup. It didn't take long to figure out, which was a welcome surprise. As you might imagine, movement and puck handling were controlled by the left and right thumbsticks respectively, while shooting, checking, and special moves were mapped to individual buttons. Simple enough, but as you progress in skill, you will be able to use the controls in different ways. For instance, slap shots and wrist shots are mapped to the controller face buttons, but later if you become more adept, you can use the right stick to take shots. It's just a basic example, but the Superstar Skill Stick gives advanced players more depth to play with on the ice.
Overall, the control setup was quite comfortable and felt fast and aggressive during gameplay. The players felt as though they were actually on ice and the movement stick was perfectly synced to deliver an authentic feel to the skating. Even for a non-hockey fan, the gameplay was fast and furious, with little intermission except for the scheduled ones.
After a humbling experience on the ice in my first game, I decided to dive into some of the other features NHL 15 had to offer.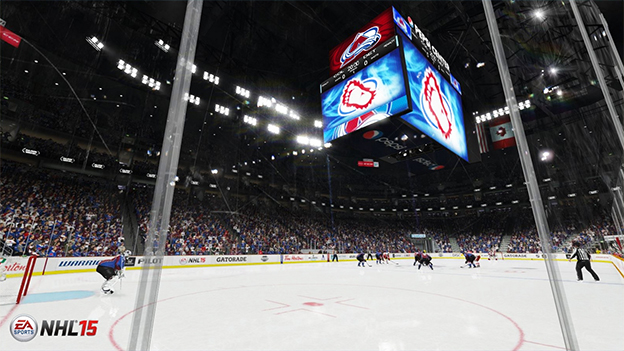 My favorite had to be Be-A-Pro mode, where you create your own player, put him through the draft process and begin your career in the NHL. Completely divergent from the core game of NHL 15, you ONLY play as your player, so you have to make every second on the ice count. I found this to be an interesting change of pace from a normal game where you control all players on the ice. Spending time on the bench or in the penalty box motivates you to do things differently so you can spend as much time in the game as possible.
In the hub menu, you are given season expectations by your coach which you must complete to stay in his good graces and making progress toward those expectations gives you more ice time and move you from a fourth line backup to an NHL superstar starter. As you progress, you earn points to assign to your player, making you a better player and increasing your stats in the player growth section of the hub. But more to the point, you can actually tell the difference in your player as you progress. He or she (yes, you can make a female player) feels faster, stronger, and better at shooting. I spent quite a bit of time in Be-A-Pro but as with all good things, it had to end so I could move onto other game modes.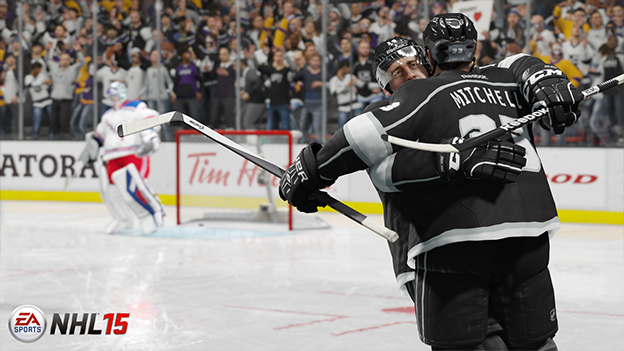 Other game modes include Be-A-GM, NHL Moments Live, and of course Ultimate Team mode.
Be-A-GM lets you control the business side of your franchise, controlling free agency and drafts, salary caps, and various other minutia to create the hockey dynasty of your dreams. You can play this mode concurrently with other modes in the game, which offers a level of controllability to the game that should satisfy hardcore players.
NHL Moments Live lets you relive great moments in recent NHL seasons. Selecting a game from the menu, you are given the task of recreating history or rewriting it in a game modeled after a real game that took place in the current or last season of NHL play. As the current season progresses this year, new moments will become available to play, giving new and fresh content to hockey fans.