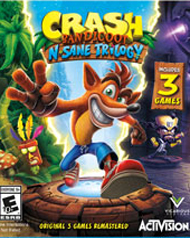 System: PS4
Dev: Vicarious Visions
Pub: Activision
Release: June 30, 2017
Players: 1 Player
Screen Resolution: 480p-1080p
Cartoon Violence, Comic Mischief
Crash Returns With a Smash
by Patrick Tretina
Crash Bandicoot N. Sane Trilogy is a nostalgic walk down memory lane that will reinvigorate the original PlayStation Bandicooters while simultaneously captivating a new generation of gamers. The trilogy reboot brings together three of the wackiest and best games featured on the original PlayStation, Crash Bandicoot, Crash Bandicoot 2: Cortex Strikes Back, and Crash Bandicoot: Warped, for a challenging yet polished, presentation that feels brand new. The release couldn't have come at a better time and should make for an exciting experience in between the hot dogs, sodas, and epic display of fireworks this holiday season. Crash Bandicoot N. Sane Trilogy is a treat and should keep you coming back for more.
The Crash Bandicoot brand was built on the harvesting loot model that drove players to come back for more, even after they kept failing to get past certain difficult, level-specific obstacles. That same itch to collect every apple, gem, icon, relic, and whatever the game throws at you is still alive and well. In fact, the loot collection defined my gameplay during my review sessions. I enjoyed navigating through the levels, but nabbing up every apple from every box was my main objective. It got to the point where I couldn't stop to capture my experience until I cleared the level at 100%. I can honestly say my Crash motivations haven't changed in nearly 20 years.
The overall look of Crash Bandicoot N. Sane Trilogy is very well done. Vicarious Visions clearly spent a good chunk of time pouring over polishing the pixels, refining the colors of each and every asset, adjusting the lighting, and building brand new character models that fit within the revamped levels. Each game within the trilogy is exceptionally remastered, all without losing the nostalgic feel of the original titles. In other words, each game looks like a brand new PlayStation 4 title, but you can physically feel the old Crash Bandicoot title in the palm of your hands as you navigate our old pal with precision. It is easily one of the best ports we've seen in a long time. So much so, I hate using that word with this offering.
Crash Bandicoot N. Sane Trilogy also features redesigned cinematics that take full advantage of this era's high-definition technology to bring players a more immersive and exciting experience. The cut scenes look much more polished and seem to make more sense this second time around. A few of the characters might look slightly different than they used to, Cortex and Uka Uka in particular, but they still manage to retain the spirit of their original appearances.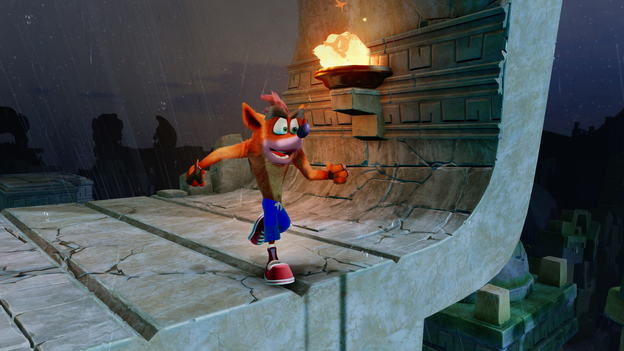 The trilogy as a whole sounds much better when compared to the late 90's originals. Each level comes packed with a catchy tune that aids in progressing the narrative forward. While each unique track isn't tied back to the original title, they do perfectly capture the essence of the Crash Bandicoot name. I couldn't help but find myself jamming out to that sweet sound of drums beats and perfectly choreographed xylophones. The sound effects have also received an upgrade since the last time we saw these three titles. The sounds of enemies being destroyed, boxes being smashed, and loot being collected have all been refined to match the quality players come to expect from a PlayStation 4 title.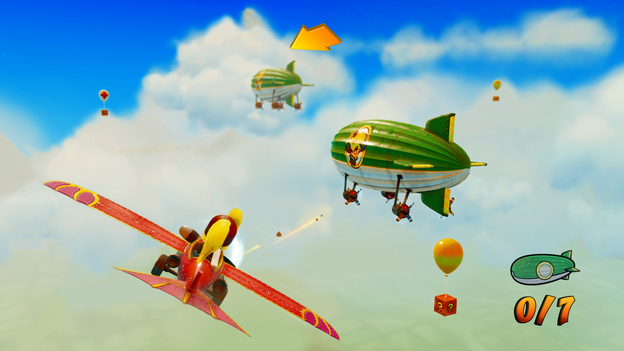 Crash Bandicoot N. Sane Trilogy presents the games in a linear fashion, subtly guiding players to play the original Crash Bandicoot first, followed by Crash Bandicoot 2: Cortex Strikes Back, and then finishing up with Crash Bandicoot: Warped. I recommend starting with the first game if you're unfamiliar with the series, in part because it is the initial installment and kicked off the whole storyline.. This will allow you to dive right in and learn to navigate our pal Crash with ease and find out about his quest and world. However, if you're a super OG fan and you still remember every angle of every chapter, head right to Crash Bandicoot: Warped; you'll thank me later.