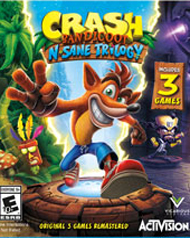 System: PS4
Dev: Vicarious Visions
Pub: Activision
Release: June 30, 2017
Players: 1 Player
Screen Resolution: 480p-1080p
Cartoon Violence, Comic Mischief
Crash Bandicoot: Warped is easily the best game in Crash Bandicoot N. Sane Trilogy. The first two are still decent titles, but they lack depth featured in the third entry. Crash can finally get his duck and slide on in between riding a T-Rex, a tiger, or a jet-ski in the various chapters. Crash Bandicoot: Warped also featured the super-charged body slam, double jump, and the epic laser-guided bazooka. You just can't top blowing enemies up with a bazooka. It is hands downs the highlight of the collection, thanks to fresh puzzles, additional characters, and a few secret caves that are begging to be explored.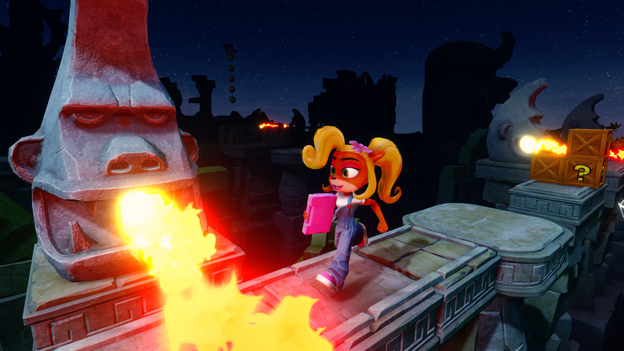 There certainly are a lot of positives to be happy about, but the one thing we can't get over is the constant frame rate jumping. Yes, Crash Bandicoot N. Sane Trilogy is a cartoon-themed game with visuals that certainly have a lower ceiling than most realistic-theme games. However, the frame rate issues were inexcusable as I kept experiencing a drop to what seemed like 30 FPS. Again, such a thing is not the end of the world, especially since that's my own issues with the game, but it's definitely a downfall in my book.
When all is said and done, Crash Bandicoot N. Sane Trilogy delivers and feels like one of the better remakes CheatCC has covered. You can tell a lot of thought and hard work went into making this compilation a solid product. From a consumer perspective, it's not a bad deal to pony up and receive three full length games for essentially the price of one. From a nostalgic perspective, it's worth every penny and will send you right back to the late 90's for some good, wholesome PlayStation gameplay. The final verdict is, Crash Bandicoot N. Sane Trilogy is a solid product that will be a treat for anyone, both pre existing fans and newcomers alike.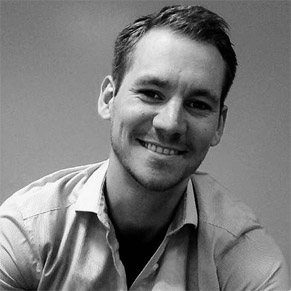 By
Patrick Tretina
Contributing Writer
Date: 07/03/2017
Game Features:


Take control of Crash as he runs, jumps, and spins through 30 levels of intense action on three different Australian islands. Only you can help Crash save the animals, save his girlfriend, and foil Dr. Cortex's plot.

The evil Dr. Neo Cortex is back...out this time to save the world? And he's asking for help from his arch nemesis, Crash Bandicoot? Is this just a conniving plan to lure Crash into Cortex's next dastardly experiment?

Oh yeah...he's back...AND he's ready! It's a Whole New Time-Traveling Adventure! All new-style gameplay action - scuba dive, ride a motorcycle, a baby T-Rex, and go free-roaming airborne in a plane!