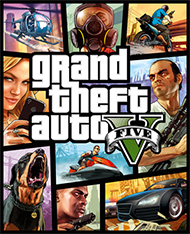 System: PS4*, Xbox One, PC, Xbox 360, PS3
Dev: Rockstar North
Pub: Rockstar Games
Release: November 18, 2014
Players: 1 (2+ Online)
Screen Resolution: 480p-1080p
Intense Violence, Blood and Gore, Nudity, Mature Humor, Strong Language, Strong Sexual Content, Use of Drugs and Alcohol
In fact, it is great new addition. One that I know many of my friends will also greatly enjoy. It open Los Santos in a new way. Seeing the environment how your characters do had to be a challenge for the developers and one I can say they achieved rather well. It doesn't just stop at the beautification of Los Santos. There are new animations, often time specific characters animations, you will experience when you climb a ladder, parachute, shoot a gun from cover, driving a car, etc. For example, Franklin will flip people off while driving and Michael I have only been able to get him to angrily honk the horn. Simple thing, but having, again, that level of detail to characterization is a huge thing. It opens up so much potential for the future of the franchise. Further more, the traffic is insane. I mentioned earlier there was more of it and it felt very realistic to how you'd expect traffic to be, but it is crazy how annoying the traffic can get. Annoying in a good way. It gives reason for you want to flip people off or angrily honk the horn. Computerized, believable, road rage--it's fantastic!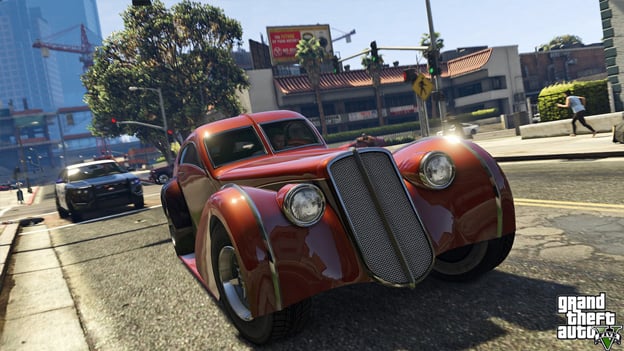 The voice acting is exactly what you remember. Some characters are greatly voice acted while others are annoying to the point of appreciation (which I think was the point). Either way, the voice is executed perfectly for the narrative of the game. The radio stations are just as good as before and now there are several more songs for you to check out while cruising around. Over 150 brand new songs will play over the radio, in addition to this impressive number; you will also have more talk radio segments from several returning DJs like Danny McBride (as Duane Earl on Blaine County Talk Radio), and several others. I highly recommend a few instances of sitting in the car listening to some of the radio stations and their talk shows (just like I did in Vice City–I need a remake so bad).
GTA V was a great game last year. Now it's more than just a great game, it's damn near perfect, and I don't say that about many games. The attention to detail Rockstar has put into this new version is above and beyond what we are used to getting and set a new bar for all other developers out there wanting to re-release a great title on next-gen platforms. If you've never played (hell even if you have) GTA V, now's the time to experience all the greatness Rockstar has put into this version. And if you happen to know someone who works for or with Rockstar's development team, tell them thank you for this and to get started on remaking Vice City for me!
By
Matt Walker
Editor-In-Chief
Date: November 18, 2014
Game Features:


New weapons, vehicles and activities.

Additional wildlife.

Denser traffic.

New foliage system

EXCLUSIVE CONTENT FOR RETURNING PLAYERS: A host of new, exclusive content also awaits for players returning from the PlayStation®3 and Xbox 360 versions including rare versions of classic vehicles to collect from across the Grand Theft Auto series such as the Dukes, the Dodo Seaplane and a faster, more maneuverable Blimp; activities including wildlife photography and new shooting range challenges, new weapons and more.