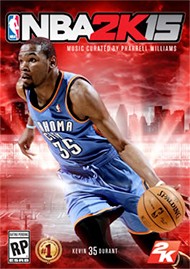 System: PC, PS3, Xbox 360, PS4*, Xbox One
Dev: Visual Concepts
Pub: 2K Games
Release: October 7, 2014
Players: 1 (2+ Online)
Screen Resolution: 480p-1080p
Mild Lyrics
As an added bonus, you can now take your MyPlayers online. Some of the most fun that I've had with the game are simple one on one and two on two pickup games. However, you can even play full five on five games and everything in between. All of this is integrated into the MyPark suite, which basically simulates locations, rather than teams or players. You can also participate in online events and challenges, and even play in online games for virtual rewards. Overall, you will be spending most of your time in the online modes, and along with the game's improved netcode, this is probably the greatest appeal of NBA 2K15. Of course, it's still early in the game's life-cycle and there always can be server problems in the future.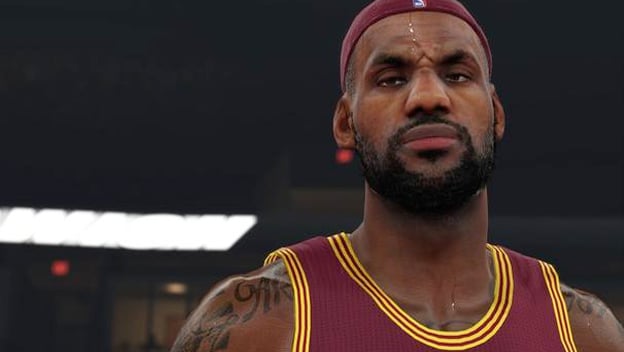 A lot of other modes have also been expanded. MyGM, for example, has grown to become more narrative as well. You'll need to scout players, draft them, train them, and become involved with all other corners of managing a team. Every single aspect has interesting little hitches that can change the way the game plays. For example, your scout can cut corners and lead you to drafting a bad player. Your players can get angry with your draft choices, or your intensity of training, or your decisions on where to take the team, which effects their trust in you. Owners and coaches and other key players can put pressure on you to make decisions that you may not think are in the team's best interest. Then there are injuries and substitutions to contend with, win/loss records, salary caps, and more. It does a far greater job of telling the story of what it's like to be a team manager, which is to say, constantly trying to please a million different people.
Overall NBA 2K15 is a fun game. In fact, all of the NBA 2k series manage to be fun games. It's just a question of whether or not you want to purchase this one, if you purchased the last one, and that's hard to say. I enjoyed the revamped MyCareer and MyGM modes, but in the end I really just wanted to spend more time online. The online suite is nice, of course, but the gameplay simply hasn't changed much. Basically NBA 2K15 is an expansion pack for NBA 2K14, and it's a good one! But don't expect to be blown away by something entirely new and different. You are getting the same game again, just with a few extras, and it's up to you whether or not that's worth a full price purchase.
By
Angelo M. D'Argenio
Contributing Writer
Date: October 7, 2014
Game Features:


MyCAREER: Experience the life of an NBA player in an all-new storyline.

MyPARK: Take your MyPLAYER online in this massive-multiplayer playground mode.

MyTEAM: Build your fantasy dream team with cards from every era by earning and buying MyTEAM packs.

PlayStation® Exclusive Content: Dominate on The Stage for higher stakes, exclusive on the PS4? through 11/7/14. 10,000 Virtual Currency Bonus and an Exclusive MyTEAM Card Pack for PlayStation®Plus Members

Gameplay: NBA 2K15 features a number of significant gameplay improvements, including approximately 5,000 new animations, all-new defensive AI, shooting systems, new team-specific play sets, and more control over rebounding, steals, and blocks making players feel engaged in every basketball decision and action. Upgraded broadcast-style presentation hosted by Ernie Johnson and Shaq delivers authentic commentary and analysis to the action.