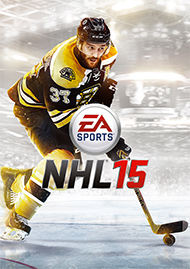 System: Xbox One, PS3, PS4*, Xbox 360
Dev: EA Sports
Pub: Electronic Arts
Release: September 9, 2014
Players: 1 (2+ Online)
Screen Resolution: 480p-1080p
Mild Violence
Finally, the beloved Ultimate Team mode makes a triumphant return. If you've ever played an Ultimate Team in any EA game, you know how it works–You buy packs in the store for random cards to bolster your team to Stanley cup glory. Playing games earns you coins to spend in the shop, and more expensive packs earn you better cards. But watch out, players are only contracted for a certain amount of games so you will need to extend contracts on players with contract cards to keep the players you want. Ultimate Team mode takes a lot of maintenance, but adds a different dynamic that allows players to create a dream team if they are willing to put in the time.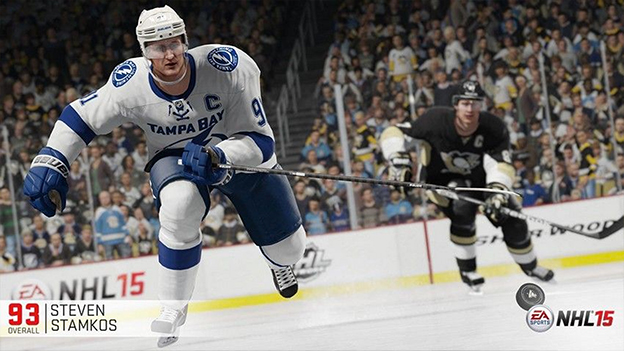 Throughout the game it was hard not to notice the heavy improvement of the visuals on NHL 15. Unlike many first attempts on a new platform, NHL 15 didn't look forced or cheap, the graphics were solid and the player models looked as realistic as any sports game I have ever seen. Camera angles zoomed near flawlessly to create the intense action and pace of a real hockey game. Aside from the gameplay visuals, the intermittent replay shots and crowd shots were an amazing step up from previous generation games. Each crowd model in individually rendered (9,000 of them) which adds another layer of realism. There were some player model glitches during gameplay, but were minor and infrequent.
However, it seems that EA still has not mastered the soundscape of a sports game. Every EA Sports game I have played in recent years suffers from the same issues–repetitive announcers and forgettable sound effects. The soundtrack for in arena songs was solid, but only a minor highlight in an overall drab sound package. Thankfully, the rest of the game is a solid outing and doesn't suffer much at the hands of the lackluster sound package.
So, am I a hockey fan now? No, not really. But I did enjoy my time with NHL 15 quite a bit. In the end, NHL 15 will please its fans by delivering the expected amount of features with realism and visual fidelity. It won't make many new fans based on gameplay alone, but part of any sports game is being a fan of the sport already, and living in Kentucky I don't get exposed to much hockey.
It boils down to this: if you like hockey, you will probably like NHL 15. It definitely has enough gameplay options to keep a hardcore hockey fan busy for months. If you aren't a hockey fan, it's a toss-up whether or not you would like NHL 15, just like any other sports game. But I will say that NHL 15 shows a lot of movement in the right direction on the new platforms and is a strong basis to make even better games for years to come.
By
Joshua Bruce
Video Director
Date: September 10, 2014
Game Features:


True Hockey Physics - For the first time in any sports game, real-world physics affects every player through every on-ice collision with the new 12 Player NHL ® Collision Physics. Completely rebuilt Real Puck Physics result in a more realistic feel to every puck interaction. Everything on the ice, including the ice surface itself, is live which leads to the unpredictable and authentic puck spins, rolls and bounces seen in a real NHL game.

The Next-Generation Hockey Player - The Next Generation Hockey Player has been rebuilt from the ice up using Authentic Player & Equipment Models which has three distinct layers - the body, equipment, and jersey. Each layer interacts independently, making every contact with the puck or other players even more realistic. Combined with Unprecedented Player Likeness NHL 15 delivers groundbreaking player likeness, emotion and animation.

Superstar Skill Stick - Now all the tools of an NHL superstar are in your hands. The revolutionary Skill Stick has evolved to give even more control to the player. Protect the puck, receive passes without breaking stride, and discover an arsenal of sweet new dekes, all with an intuitive right stick control scheme that is easy to use but packed with depth.