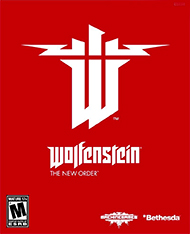 System: PS4, PS3*, PC, Xbox 360, Xbox One
Dev: Machine Games
Pub: Bethesda Software
Release: May 20, 2014
Players: 1
Screen Resolution: 480p-1080p
Blood and Gore, Intense Violence, Strong Language, Strong Sexual Content, Use of Drugs
I also want to give props to The New Order's level up style. This too is taken from modern shooters, as there is no XP or character advancement points. Rather, you get new abilities by doing certain things in game, a lot like earning perks used to be in Call of Duty. Use your knife a lot and you will get more knife abilities. Use grenades a lot and you'll be able to carry more. On one hand this does force you to try a whole lot of different play styles, but on the other hand, it naturally rewards you for the way you enjoy playing the game, which is neat.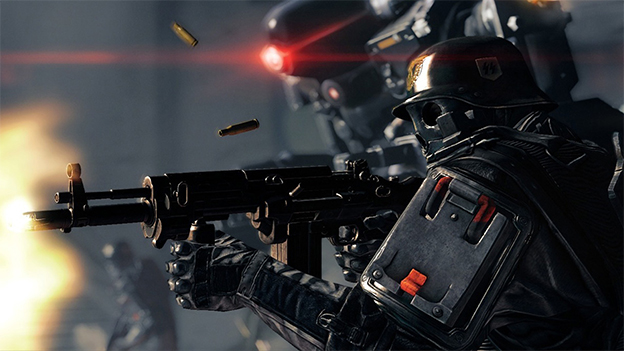 The one complaint I would have about the gameplay is that the shooting itself tends to get a little boring. The gun design is rather uninspired. True to old-school shooters, you really just have one pistol, one shotgun, one machine gun, so on so forth. Gun choice really doesn't extend past range, power, and noise production (for stealth sections). Using different guns doesn't feel different. In fact every gun in the game feels a little "spray and pray." You'll find yourself wanting to take repeated breaks simply because the gunplay starts to feel so dry.
Overall, Wolfenstein: The New Order isn't exactly the best FPS on the market. Its mechanics are shallow, its gunplay is simple, and its story is something out of World War II obsessive's wet dream. However, the things it gets right it does really well. The stealth is handled perfectly, the inventory and character progression are really well done, and the combination of regenerating health and pickups is actually something I wouldn't mind seeing in future shooters. Overall, Wolfenstein: The New Order isn't a must own title, but if you need an FPS to hold you over until Call of Duty: House of Cards Starring Kevin Spacey Edition, you could do a lot worse.
By
Angelo M. D'Argenio
Contributing Writer
Date: May 20, 2014
Game Features:


The Assault: Experience intense first-person combat as you go up against oversized Nazi robots, hulking Super Soldiers and elite shock troops - all rendered in stunning detail with the id Tech 5 engine.

The Action: Wildenstein's breath-taking set pieces feature intense mountain-top car chases, underwater exploration, player-controlled Nazi war machines, and much more - all combined to create an exhilarating action-adventure experience.

The Arsenal: Collect ultra-advanced Nazi-tech Break into secret research facilities and heavily guarded weapon stashes to upgrade your tools of destruction.

The Adventure: Hi-octane action and thrilling adventure weaved together into a tightly paced, super immersive game narrative.