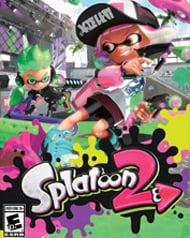 System: Switch
Dev: Nintendo
Pub: Nintendo
Release: July 21, 2017
Players: 1-8 Player
Screen Resolution: 720p-1080p
Cartoon Violence
On the handheld, Splatoon 2 looks gorgeous. It may only run at 720p, compared to the 1080p when docked, but the vibrant colors and the plethora of small details will have you looking for a crowd of strangers just to show it off to. The design is almost a carbon copy of the original Wii U title, but the quirky new cast and oozing personality makes it feel fresh.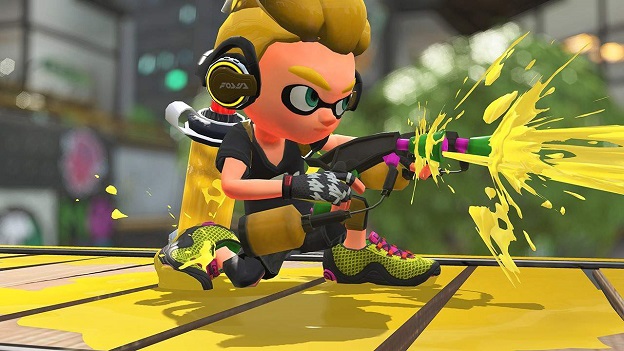 The entire audio library is also plucked from the previous game, from the funky music score to the various splotches, splatters, and bursts of the ink and incomprehensible Inkling gibberish. Splatoon created a completely unique sound and has solidified that originality in the sequel. My only complaint is that the track selection is a little sparse. There is room for a variety of different synthesized compositions, so hearing the same song again and again does grow weary.
The original Splatoon drew a lot of criticism for being light on content when it first released. Nintendo made sure the sequel did not draw that same condemnation. After hours in the single-player campaign, the cooperative Salmon Run, and dozens of Turf Wars, I'm still looking forward to every free minute I have to tackle a solo mission with a different weapon or hop into a quick PvP match for a few more coins to buy new weapons and fill my wardrobe. The closed off construction zones and empty alleyways have me intrigued as to what updates down the road will bring.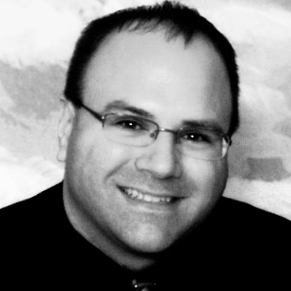 By
Sean Engemann
Senior Contributing Writer
Date: 07/18/2017
Game Features:


Turf War - Team up in fierce 4-on-4 multiplayer battles to see which team can cover the most turf with ink.

Salmon Run - 2-4 players can team up for co-op fun and defeat waves of enemy Salmonids.

New Weapons - Dual wield the new Splat Dualies and avoid getting splatted with the new Dodge Roll. Mainstays like the Splat Roller and Splat Charger have been remixed to include new gameplay mechanics, and all special weapons are brand-new.

Local and Online Multiplayer - In a first for the series, compete in local multiplayer Turf War battles, whether in TV mode or on-the-go in handheld or tabletop modes. Online battles also make a return.

New ways to play - Play with the Joy-Con controllers or the Nintendo Switch Pro Controller, both of which support motion controls for better aiming.

Fresh Updates - Similar to the Splatoon game for the Wii U console, updates will roll out post-launch, adding new content and in-game events.

Customize - Change your Inkling's style with different weapons, headgear, clothes, and shoes. Gear isn't just aesthetic; it offers different boosts in battle.