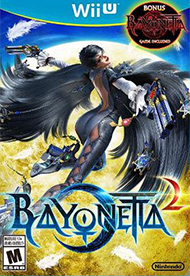 System: Wii U
Dev: Platinum Games
Pub: Nintendo
Release: October 24, 2014
Players: 1-2
Screen Resolution: 480p-1080p
Blood and Gore, Intense Violence, Partial Nudity, Strong Language, Suggestive Themes
Outside of the single-player Story mode, Bayonetta 2 delivers a quick and satisfying multiplayer experience called Tag Climax. As you complete Verses in the campaign, they become unlocked for multiplayer. You then challenge a series of six choices alongside an online partner, choosing how many halos to bet each round to increase the reward and difficulty. It's a cooperative match to defeat the enemies, but you're still working to build better a score than your opponent to win the round and grant you the luxury to choose the next Verse to tackle. Overall, it's fast-paced, exciting, and offers plenty of Halos as a reward.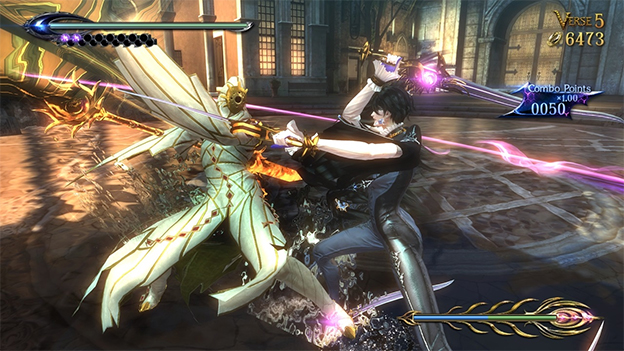 Bayonetta 2's music score is an oddly fluid blend of Japanese inspired pop and classical orchestrations. The many boss battles are where the music is highlighted the most, changing tone as the intensity builds. And it goes without question that the larger than life attacks from Bayonetta and her foes are matched equally with stunning sound effects. As for the voice work, though each character takes on a fairly stereotyped personality, it is delivered with gusto from the stellar cast of voice actors.
Despite the looming question about how well Bayonetta 2 will fare on the Nintendo Wii U, there is one thing for certain–if you're a fan of the series and own the console, you're in for a wild ride that will keep you stimulated for plenty of hours. It's absolutely a pure Bayonetta game, it's an absolute blast to play, and it absolutely belongs on Nintendo's growing roster of excellently crafted games for the Wii U.
By
Sean Engemann
Contributing Writer
Date: October 13, 2014
Game Features:


Initiate the new Umbran Climax technique to temporarily summon demons and boost Bayonetta's attack range whenever you fill her magic gauge.

Fight with new over-the-top weapons that open new possibilities to the way you battle, including the Kafka, a bow that shoots poisonous arrows; the Rakshasa, a pair of beautiful katana blades; and a giant rifle-inspired scythe known as the Chernobog.

Team up with a friend in Tag Climax, a two-player online co-op mode.

In online quick matches, you can wager halos, the in-game currency that you earn by defeating enemies. You receive a large sum back if you can prove you're a better fighter than your partner. Halos can then be traded in a story mode shop to unlock new techniques, buy accessories and pick up alternate weapon variations.

Every chapter ends with a medal ranking: Stone, Bronze, Silver, Gold, Platinum or Pure Platinum. The more skilled you are, the higher your ranking.

This game is approachable for players of all levels, with settings of three difficulty levels. Through Touch Play, you can play with the GamePad's stylus and touch screen, regardless of which difficulty you choose.