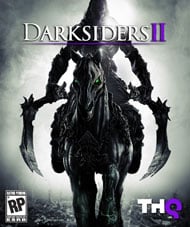 System: Wii U, PC, Xbox 360, PS3
Dev: Vigil
Pub: THQ
Release: August 14, 2012
Players: 1
Screen Resolution: 480p-1080p
Other than the frame rate and the platforming controls, the camera, too, appeared to have been improved. It's definitely been pulled out, making it far easier to read what's happening on screen at any time since it doesn't get jumbled in a mass of glowing enemy bits.
This, of course, doesn't say much about the flow of the game. The previous demo had been pulled from a later portion of the overall experience, supposedly the end of the game's first act, and had pacing issues in that single dungeon, as well as puzzles that were more obtuse than challenging. The biggest gripe, however, had been the platforming, which appears to have been altered for the better (the E3 demo, being set earlier in the game, did not allow Death access to either his phantom claw or most of his spells).
Still, it's a vast improvement over where the game had stood when I saw it only three months ago, and gives me a great deal of hope for the sequel, and its troubled publisher, when it comes out next month.
By
Shelby Reiches
Contributing Writer
Date: Jul 10, 2012
Game Features:


Wear the mask of Death and become the most feared of the legendary Four Horsemen, responsible for the destruction of entire civilizations and the death of countless souls.

Summon the dead, assail atop Despair, and tear down colossal foes beyond Heaven and Hell, making you the most chilling opponent on any battlefield.

Unleash the power behind the mask and become the terrifying force that everything fears, yet nothing can escape.