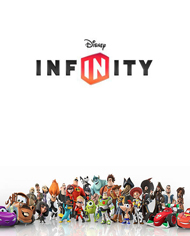 System: Wii U*, PS3, Xbox 360
Dev: Avalanche Software
Pub: Disney Interactive Studios
Release: August 18, 2013
Players: 1-2
Screen Resolution: 480p-1080p
Cartoon Violence
It's a Healthy Baby, With Plenty of Room to Grow.
by Sean Engemann
Disney's biggest venture into the gaming realm is now in full swing, and the pockets of many parents and fans are already feeling the pinch. The Disney Infinity Starter Pack comes with three high-quality collectible figurines and an equal quantity of open-world and action-packed adventures. There's also the Toy Box, a sandbox mode with hundreds of tools and toys available to let your creativity shine. It's a pricey entry piece at seventy-five dollars, and becoming addicted could lighten your wallet even further, with extra characters, adventures, and Power Discs available at launch and the promise of plenty more to come.
The expectations are high for this long-awaited title, which is why it will cut a little deeper when I tell you the game is not perfect. Beyond the several hours of adventuring in each of the three Play Sets, the Toy Box could consume hundreds more hours, so the value certainly isn't the issue. However, there are technical glitches, heavy controls, and a bit of redundancy in the Play Sets that keep Disney Infinity from reaching the stratosphere.
Let's begin then with the trio of campaigns included in each Starter Pack.
The Pirates of the Caribbean campaign contains an epic journey on land and sea. As with the other two Play Set adventures, your journey with Jack Sparrow is an original story, built around characters and locales pulled from the films. After placing the Play Set piece and Captain Jack's superbly crafted figurine onto the Infinity Base, you are prompted onscreen whether you would like to enter the world. Jack begins his quest on a dinghy, rowing into Tortuga where villain Davy Jones is in the midst of attacking. Main quests keep the plot moving forward, but you'll soon be able to take on optional side quests from the scurvy locals. After rescuing Gibbs from prison, you'll purchase a tattered but still impressive looking seafaring vessel, and then it's off to the open sea. This becomes the best example of the freedom the open-world Play Sets provide, allowing you to charge through waves and anchor at remote islands, where you are rewarded for you curiosity. The only downside to the Pirates Play Set is that even shallow water is deadly, causing you to reappear at a nearby dry location should you dip your toe in.
The Monsters University Play Set follows in the footsteps of cult movies like Animal House and Revenge of the Nerds–where a college campus becomes an arena for pranks and school rivalries. As the big, blue, yet not-so-scary monster Sully, you step through the school gates only to find Monsters University has been completely defaced by hooligans from FearTech. After a few tutorials to hone your scaring skills, you'll take the fight back to FearTech and respond in kind. The explorable areas may not stretch as far as they do in Pirates of the Caribbean, but there's enough breathing room and secret locations that you'll never feel claustrophobic. Also, the Monsters University Play Set is the most humorous of the three. Oh, and you get to customize your own Frat Row, complete with a bike stunt park. Sweet.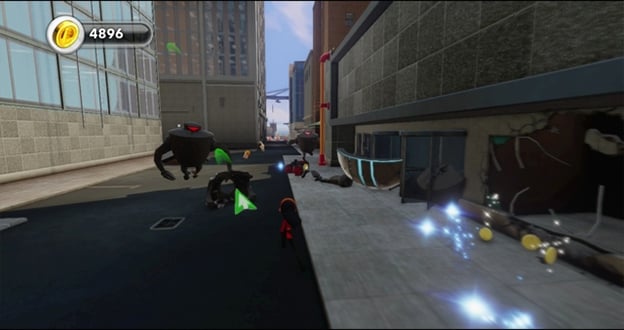 The Incredibles has to be the weakest of the Play Sets. Syndrome is wreaking havoc in Metroville, and it's your duty as Mr. Incredible to save the day by protecting citizens and destroying hordes of Omnidroids. The action is pure beat 'em up, and it does get redundant quickly. Plus, the backdrop of Metroville is a lot more sterile and not as interesting as the other two. However, if you're looking to pack a punch with combat, The Incredibles Play Set lets you dive into the fray plenty of times. Also, you'll be able to customize your own superhero headquarters and pack it with unlockable facilities.
The biggest drawback of the Play Sets is that although each has an original story, the gameplay is far too similar between them. Thus, you may play through your favorite of the three in its entirety, but after beginning a different adventure, find less of a desire to remain a completionist. Each campaign comes packed with its own achievements, called Gold Star Missions, as well as challenges with multiple difficulty levels, character-specific treasure chests, vaults that require every character from that set to unlock, and a specific currency to collect and use to purchase unlocked customization tools. With an open-world environment, there's a lot to keep you busy, but again, the gameplay just isn't varied enough between each Play Set.
My "heaviest" criticism would have to do with the controls. Characters move at a mild pace, and the camera pans just as slow, creating a cumbersome journey through large environments. There is no auto-lock feature for weapons, no map on screen to keep your bearings, and interacting with the environment can be finicky. I personally didn't have much of a problem with these issues, but for the younger audience to which this game is geared towards, it could be frustrating.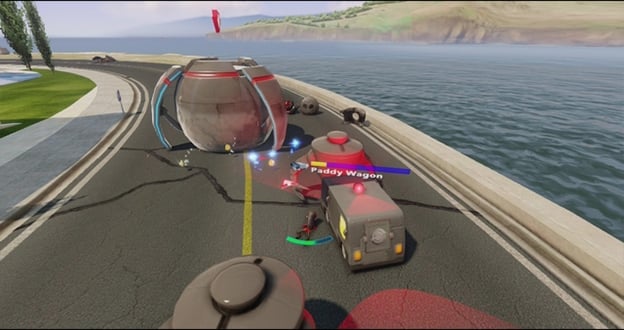 The control issues carry over into the Toy Box mode, which is by far Disney Infinity's crowning feature. Whether uploading a prebuilt creation or starting from scratch, you start with a modest array of design tools and set pieces, with hundreds more to unlock. Though eventually overwhelming, your inventory of tools can be separated into categories, and important tools, such as the Magic Wand, are a quick button-tap away. While you look at the array of toys, grandiose designs will spawn in your head, and chances are you'll be able to create your vision. What you'll yearn for more of is time. Bringing your elaborate designs to fruition could take many hours of trial-and-error experimentation. It certainly doesn't help that the game lags considerably when scrolling through the toy selection. Also, targeting different pieces to edit sometimes requires a steady hand. Disney's goal was to emulate the experience of dumping out a box of random toys and creating an adventure. They've certainly succeeded at letting your wildest imaginations come to life in a digital world; it will just take more than one afternoon to set up.
A Hall of Heroes (which showcases the characters and Power Discs you've collected and expands as you progress), character-specific mini-game attractions, tutorials called Mastery Adventures, and Toy Box achievements called Feats round out the already content-heavy game.