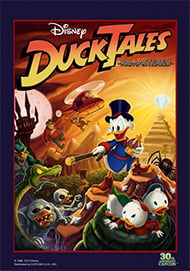 System: Wii U, PS3*, Xbox 360, PC
Dev: WayForward
Pub: Capcom
Release: August 13, 2013
Players: 1
Screen Resolution: 480p-1080p
Fantasy Violence
Not to mention, the DuckTales Remastered music is absolutely perfect. The original tracks have been recreated and remastered in such a beautiful, wonderful way. The original themes have been enhanced by new technologies instead of fancy layering or a full orchestra replacement. DuckTales Remastered sounds better than I remember, and I am thankful for it.
Still, any faux pas is easily forgiven because DuckTales Remastered makes one very important change: Scrooge's pogo attack is now assigned to its own button. Those of you who've played the original game know how important this is. I can't tell you how many times I'd go back to DuckTales, start playing, and then forget the right button presses and timing to trigger the pogo. It involves pressing A to jump and then pressing and holding B and down at the same time. If it sounds awkward, that's because it is, and it usually took about a level to re-perfect the art of pogo-ing each game. With DuckTales Remastered, the pogo just works. However, people who prefer the old pogo controls can still go with them.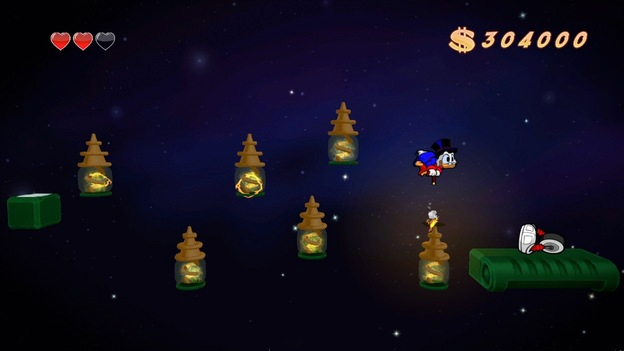 There are also four different difficulty levels this time around. Easy, Normal, and Hard are immediately available, and Extreme needs to be unlocked. Easy and Normal are identical, with the only difference being unlimited lives and a map in the former. It's the higher levels that start getting nightmarish. If people care about unlockables, I recommend replaying, as the money earned throughout the levels can be spent on bonus artwork for an in-game gallery.
All this boils down to one thing, which is that DuckTales Remastered is fun. I had a ball going through the game and rediscovering areas I explored endlessly as a child. There may be inconsistencies, and I'm sure there will always be people debating about how things could have been better, more accurate, or generally more solid, but I think WayForward and Capcom succeeded in making an utterly entertaining escapade.
DuckTales Remastered performs as well as expected. WayForward has proven, once again, that if someone wants a platformer with perfect 2D, cartoon-y visuals, there's only one developer to trust. They've worked with Capcom to perfectly tap into the nostalgia factor that made DuckTales a classic when we were young and DuckTales Remastered a solid gaming experience today. Sure, a few things are different and a bit more involved and embellished than before, but it's lovely overall. If someone already has more than a passing interest in DuckTales, then DuckTales Remastered will satisfy their needs.
By
Jenni Lada
Contributing Writer
Date: August 15, 2013
Game Features:


Relive the classic TV series from the 1980s - Follow the adventures of Scrooge McDuck and his three nephews, Huey, Dewey and Louie, as they fend off enemies, such as the Beagle Boys and Magica DeSpell, on their quest to obtain the five most impressive treasures from across the world.

Redefined hand-drawn visuals - Developer WayForward has taken all the original visuals from the 8-bit game and significantly enhanced and recreated them as hand-drawn sprites, across a backdrop of beautifully re-envisioned level backgrounds.

Authentic Disney experience - Some of your favorite Disney characters are brought to life by many of the original voice-over talent from the classic DuckTales TV series, and stage backgrounds take their inspiration from the classic TV episodes.

Learn to pogo - In an all new tutorial level, learn the basic playing skills, including Scrooge McDuck's iconic pogo jump and cane swing .

Visit the museum - Track your achievements, progress, and status on the leader boards in Scrooge McDuck's new Museum .

Cash in your coins at Scrooge McDuck's Money Bin - A new playable area, Scrooge's Money Bin allows players to track the amount of wealth accumulated and even take a swim through his latest spoils.

Digitally enhanced soundtrack - Built from the original versions.